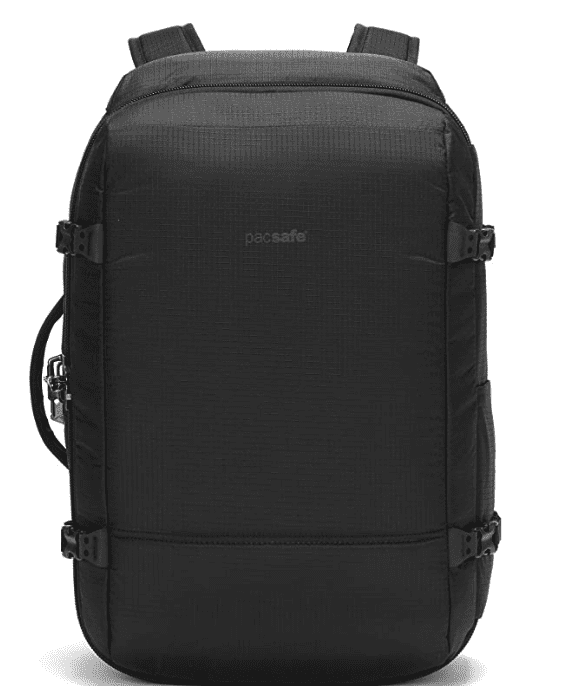 From Flights to Daily Commutes, Keep Your Gear Safe With the Best Anti-Theft Backpacks
If you purchase an independently reviewed product or service through a link on our website, Rolling Stone may receive an affiliate commission.
If you're traveling or moving around in crowded settings like music festivals, an anti-theft backpack is a great solution for people on the go who want peace of mind knowing their belongings are protected when eyes can't always be on them. This is going to be an important decision to make, and not just any backpack (even the anti-theft ones) will be a match for everyone. Here are some key features to look for when making the purchase that's going to fit both your body and the protection you need.
In This Article
How We Chose the Best Anti-Theft Backpacks
Anti-Theft Backpack Buying Guide
The Best Anti-Theft Backpacks to Buy
Anti-Theft Backpack Buying Guide
From zippers to RFID-blocking tech, these are the features to consider when choosing your pack.
Lockable Zippers: We highly recommend a backpack with lockable zippers for anyone who wants to keep their belongings safe. If the zipper itself doesn't lock down on its own, go for a backpack with zippers that can be locked together, making it difficult for someone to sneakily open your backpack and swipe your items. Some backpacks even come with a lock included, but you can step it up with a better lock purchased separately.
RFID-Blocking Technology: This is most likely something you've seen pop up in recent years, most specifically on things like wallets and phone cases. In short, RFID-blocking technology prevents thieves from scanning your credit cards, passports, and other items with RFID chips. This is an absolutely essential feature for travelers, and this simple and silent feature can save you from the disaster of having your information stolen. Look for backpacks with RFID-blocking pockets, or even entire compartments, to stash your most important items.
Slash-Resistant Materials: Some of the more brazen thieves might try to bypass the locks and pockets altogether and slice your pack open for a grab-and-run. That's why good anti-theft backpacks are made with slash-resistant materials, like metal mesh or cut-resistant fabric. The whole purpose is that this makes it significantly harder for thieves to cut open your backpack and steal your belongings, even while it's not on you.
Hidden Compartments: Aside from the RFID protected pockets, hidden compartments are another feature to consider when purchasing one of these anti-theft packs. They may or may not be protected from digital theft, but the purpose of these pockets or compartments is that can only be accessed from the back, or when the backpack is safely off your shoulders. If you don't already have a travel belt under your clothes, this is a similarly great place to store your passport, wallet, or other important items that you want to keep out of reach even for a thief that has a few minutes to poke around in your unattended pack.
Comfortable Design: While security features are undoubtedly important, this also needs to be comfortable to wear. Comfort isn't a luxury here, it's a necessity, so look for backpacks with padded straps and back panels, which will make it easier to wear for extended periods of travel. Also, consider the size and weight of the backpack, even without any items. An empty pack that's heavy on its own might be significantly uncomfortable once you add in all your items, and add to your back and shoulder pain every day that it's used.
What Are the Best Anti-Theft Backpacks?
Want to invest in the most secure anti-theft backpacks for your next trip? Here are our top picks.
BEST OVERALL: Pacsafe Vibe Backpack
BEST WATERPROOF PACK: Lovevook Travel Laptop Backpack
BEST FOR TRAVEL: Yorepek Travel Laptop Backpack
BEST DESIGN FOR GADGETS: Ambor Laptop Backpack
MOST COMFORTABLE: Qinol Travel Laptop Backpack 
Pacsafe Vibe 40-Liter Anti-Theft Backpack
It's entirely possible to prioritize both security and style. For proof, look no further than the Pacsafe Vibe 40-Liter Anti Theft Carry-On Backpack. This excellent pack is designed with a whole host of features to keep your belongings safe, including lockable zippers, RFID-blocking technology, and slash-resistant materials. With a 40-liter capacity, there's plenty of room inside for gear, whether you're a student or vacationer, and it even includes a padded sleeve for a 15-inch laptop. Design-wise, the material is stylish and shiny, plus is available in multiple colors.
Buy Pacsafe Vibe Anti-Theft Backpack
Lovevook Travel Laptop Backpack
No matter if you're trekking through water, woods, or thick crowds of commuters, this pack has your back.
A hidden zipper and a secret pocket on the back make it a perfect spot to hide valuables, but there's also a spacious main compartment that can hold multiple books, clothes, even a 15.6-inch laptop. It also boasts several smaller compartments, including dual side pockets, a front pouch, and an interior pocket for safely keeping track of smaller items.
Padded shoulder straps and a breathable back panel (to prevent sweating) make this comfortable to have on your body for long stretches. It's also available in a range of colors, and the waterproof design makes it a better choice for those who enjoy outdoor activities or live in areas with unpredictable weather.
Buy LOVEVOOK Travel Laptop $41.99
Yorepek Travel Laptop Backpack
While most backpacks in the bunch here are built to fit a 15-inch laptop, the Yorepek can hold a 17-incher with ease (and still has plenty of space for books, folders, and other school or travel gear). It features multiple compartments and pockets to keep everything organized. It also has a handy USB charging port so you can fuel up your phone while you walk or wait.
Its high-quality materials can weather the wear and tear of daily use, and the straps are padded for extra comfort on your shoulders. And when you need to use it as a carry-on, a luggage strap makes it easy to attach to your rolling luggage.
All of these features are noteworthy, but the main anti-theft design is still the central focus. There's a hidden zipper and a combination lock that keeps your belongings safe and secure. And the entire thing is water-resistant, so getting caught in the rain poses no danger to your devices.
Buy YOREPEK School Backpack $39.99
Ambor Laptop Backpack
It may look pretty minimal from the outside, but inside, there's a surprising amount of space inside this Ambor pack, including space for a 15.6-inch laptop. The hidden zippers and combination password lock offer protection against thieves, while still providing a space for your USB charger and headphone cables to poke out of. It's also designed to be water-resistant to keep your electronics dry inside.
Buy AMBOR Laptop Backpack $30.99
Qinol Travel Laptop Backpack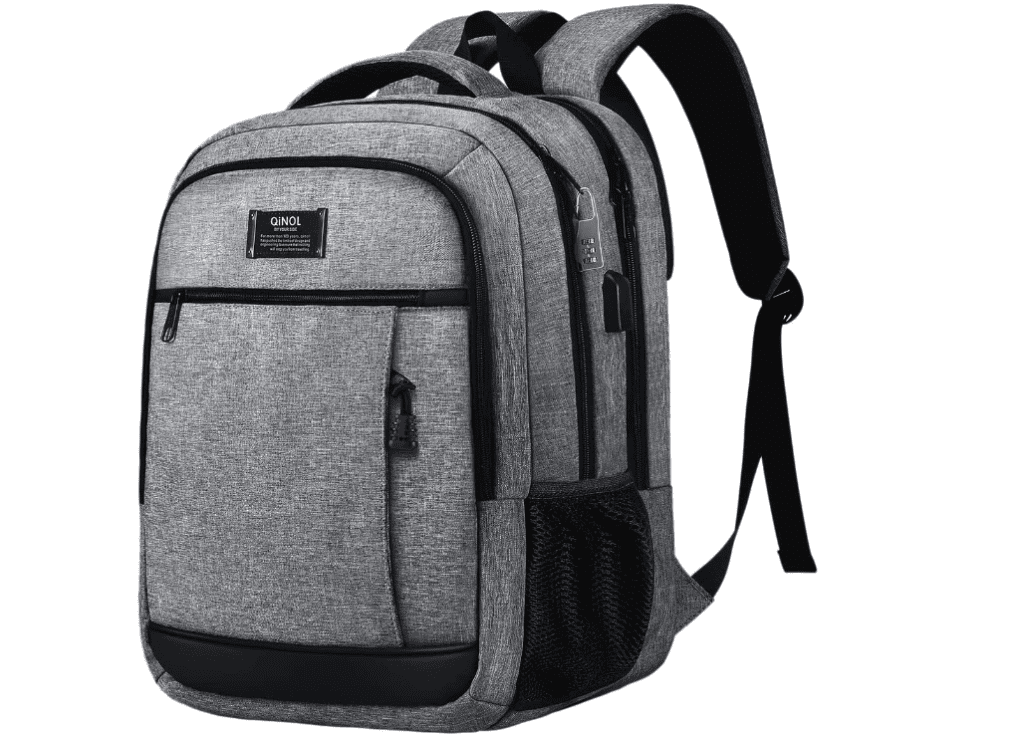 If you're traveling on a budget, a good anti-theft backpack shouldn't have to break your bank account. This one's affordable and provides the basics of protection you'll need on your journey, as well as spaces for not one but two laptops under 17-inches in their larger 17.3-inch pack. The straps are also more comfortable than many we tried, and the shoulder strap is detachable if you prefer to use it as a messenger bag.