From (CBD) Pillows to White Noise Machines, Here's How to Get Better Sleep
If you purchase an independently reviewed product or service through a link on our website, Rolling Stone may receive an affiliate commission.
If there's one thing we can all agree on, it's that we could all use a little more sleep sometimes. But that's easier said than done. Whether it's a busy schedule, annoying neighbors or anxious thoughts that keep you up at night, finding time to really sink into our beds for undisturbed slumber is harder and harder to come by.
But there's hope. From apps that help you fall asleep to melatonin and CBD for sleep, a number of companies are launching new ways to tackle insomnia. It's not just products either — the Hotel Figueroa in Los Angeles recently introduced a "Rest & Recovery Suite," decked out with everything from temperature-regulating mattresses from Eight Sleep and personalized Pluto Pillows, to noise-cancellation headphones and lavender room spray (more on the hotel later).
What Are the Best Products for Sleep?
There's no need to take sketchy sleeping pills anymore these days — we've rounded up the best products that can help you fall asleep faster — and stay asleep for longer too.
As someone who used to lie in bed for hours before falling asleep — only to toss and turn all night — I can confidently say that I sleep a lot better these days, and these items all have something to do with that. I settle into my bed faster, I feel less anxious when I sleep, and I wake up refreshed, rejuvenated and ready to face the day.
1. Cocoon by Sealy Chill Mattress
If you spend hours tossing and turning in bed, it might not be you that's the problem—it's your mattress. Sealy is known for its "Chill" mattress, which is great if you find yourself getting achy from traditional mattresses, or tend to run hot in bed. The company says its super soft knit layer on top features a "proprietary phase change material." It basically just means the material absorbs and dissipates heat, and the mattress is noticeably cooler, so you won't feel stuffy or suffocated.
The medium-soft feel of the mattress is great for people who really want to sink into their bed rather than feel like they're sleeping "on top" of the bed. If you're a multi-position sleeper deals with back pain and neck pain, this has just the right level of plushness for a mattress, and its responsive memory foam really helps ease and cradle your joints in bed. Laying down on mattresses that force you into a certain sleeping style or position can leave you waking up feeling tense. With the Cocoon by Sealy Chill Mattress, you can relax right into the memory foam, which immediately adapts to my positioning.
A lot of trendy mattresses can feel cheap and flimsy, but this one is as comfortable as it is durable, and built to last. Everything ships in an easy-to-handle box, so you can get straight to that good night's sleep you've been looking forward to.
Buy Cocoon by Sealy Chill Mattress $799+
2. evn Sleep Powder
If you've been tossing and turning like me, this Sleep Powder from Evn is just the solution. It blends into into a delicious nighttime drink and combines ingredients like magnesium, passionflower, L-theanine, melatonin, vitamins, and minerals. It's dairy-free, keto-friendly and gluten-free as well.
All you have to do is pour one scoop into milk (of any kind), tea or hot water and mix it thoroughly. Drink it about 30 minutes before bedtime to enjoy a deep and restful sleep. This powder is best designed for individuals with irregular sleep patterns or those who consistently face sleep difficulties. That said, if you're a busy parent with an unpredictable sleeping schedule or a work-from-home employee who's always stressed, this powder will work wonders for you too.
We've been able to test the Sleep Powder out and it really does work — promoting restful, deep sleep when used correctly. If you don't want the "grassy" taste of a CBD oil right before you knock out, evn's Sleep Powder has a pleasant cocoa flavor that tastes more like a pre-bed treat than a medicinal tincture.
3. AM/PM CBD Oil Bundle
Sometimes, melatonin just won't cut it when it comes to a snooze supplement. Fans of CBD products will enjoy Cornbread Hemp's AM/PM CBD Oils, which come in two different varieties, but the Whole Flower drops are specifically tailored for night time use.
Feel total relaxation with this full spectrum cannabidiol CBD oil, which contains the highest legal levels of THC, so you can forget about a restless night of sleep. These also come in Original and Extra Strength, which has 30 servings of 50mg of CBD per bottle, particularly useful if you have a hard time getting yourself down for the night and falling asleep. Just place the desired amount of oil under your tongue before you head to bed, though the taste is particularly heavy on the cannabis flavor, so if you have a sensitive palate you might be better off with the sleep chews further down on this list.
We also like that Cornbread Hemp's CBD oils are free of preservatives, sweeteners and GMOs, and are USDA-certified organic, so you can get that quality night time comfort you deserve.
Buy Cornbread Hemp AM/PM CBD Oil $59.98
4. CBD Pillow
You're going to need a pillow to use with your mattress, and for the past few months or so, I've been using the CBD Pillow.
One of the more innovative sleep-related products we've seen, this is a memory foam pillow that's actually infused with CBD. The patented process allows the manufacturer to bond millions of micro-capsules of CBD into the pillow. Friction over the night causes the capsules to "burst," releasing micro doses of CBD that can be absorbed through your hair and skin to help regulate sleep.
Unlike topicals or edibles, the CBD Pillow releases tiny doses of CBD while you sleep, so you don't get that jolt of feeling high — only to be met with a sudden come down. CBD gimmick aside, the pillow itself is actually super well-made, with a plush yet supportive feel and a cozy, hypoallergenic cover. A bonus: the CBD pillow comes with a 10-year guarantee.
5. LUNA Weighted Blanket
BEST WEIGHTED BLANKET FOR SLEEP
You're either a "too cold" or "too hot" type of person in bed, and I've always run on the cooler side of the spectrum. That's why you'll always find me curled up in a good, all-season down comforter or cozy blanket. Last year though, I still found myself tossing and turning at night — that's when I decided to give a weighted blanket a try.
As the name suggests, these blankets are weighed down with thousands of tiny, non-toxic beads, that are evenly distributed and woven under a soft, hypoallergenic fabric. The idea is for you to feel "hugged" and "held" while you're laying in bed, with the weighted blanket also keeping you in one position to prevent you from shifting in your sleep. If you're prone to stress or anxiety, a weighted blanket could also help keep your nerves at bay.
These blankets range in weight from five pounds to thirty pounds. I've found my most comfortable sleep somewhere in the middle, with a 15-pound blanket (brands recommend finding a blanket that's around 10% of your body weight). It's just heavy enough that I can't get it loose in the middle of the night, but not so heavy that I feel suffocated. And that's the other misconception about weighted blankets: they're heavier than a normal comforter, but contrary to what you may think, they're not stuffy or sweaty at all. In fact, the one we've chosen from Luna uses a natural cotton material that's super breathable.
Another reason we like Luna: the company donates a percentage of all sales to mental health organizations across the country, to help those suffering from severe emotional and mental well-being, and anxiety.
Buy LUNA Weighted Blanket $76.49
6. Healist Sleep Chews
Get the benefits of CBD (think stress relief, better sleep and a more relaxed state of mind) in a tasty, raspberry-flavored gummy. These CBD chews contain a calming blend of full-spectrum CBD hemp extract with sleep aid melatonin. Each gummy delivers 10mg of CBD, with 30, 60, or 90 chews per bottle.
Like any sleep practice, you have to be consistent about your use to get the maximum effectiveness from CBD products like these. Charlotte's Web recommends taking the Sleep Gummies at the same time every night, keeping track of the quality of your sleep for the first week to find what works best for you.
What we love: reviews say you'll wake up feeling refreshed and well-rested without the typical grogginess from sleeping pills.
Buy Charlotte's Web CBD Gummies: Sleep $29.99
7. Sunday Scaries CBD + CBN Oil For Sleep
MOST EFFECTIVE CBD FOR SLEEP
Prefer an even easier (and potentially tastier) way to incorporate CBD into your sleep routine? We like Sunday Scaries' sleep oil, which combines the power of broad spectrum CBD oil and CBN isolate plus the calming properties of chamomile, GABA, L-Theanine, lemon balm and valerian root to help you ward off the nighttime jitters and help you doze off faster.
The CBD oil itself tastes a little like a vanilla creamsicle; add 1/2 a dropper directly under your tongue, or add it to a glass of water or your nighttime tea (see next item on the list).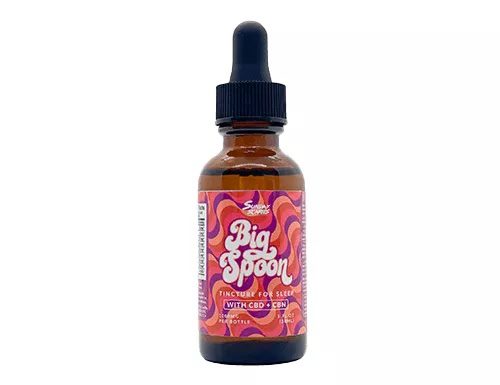 Buy Sunday Scaries CBD + CBN Oil $47
8. Bigelow Sweet Dreams Herbal Tea
Everyone loves a cup of tea before bed but are you drinking the right kind of tea? Green tea, chai tea or even jasmine tea all contain caffeine, so drinking a cup before bed could actually create the opposite effect and keep you awake.
Try this "Sweet Dreams" herbal tea instead, which features a blend of chamomile, hibiscus, real peppermint leaves, rose petals and orange blossoms. Bigelow is one of the largest tea providers in the world, and the company says this tea is designed to help calm and "soothe you for bed."
Don't take their word for it — the Bigelow Sweet Dreams Tea currently has a 4.8-star rating (out of five) from more than 24,000 reviewers online.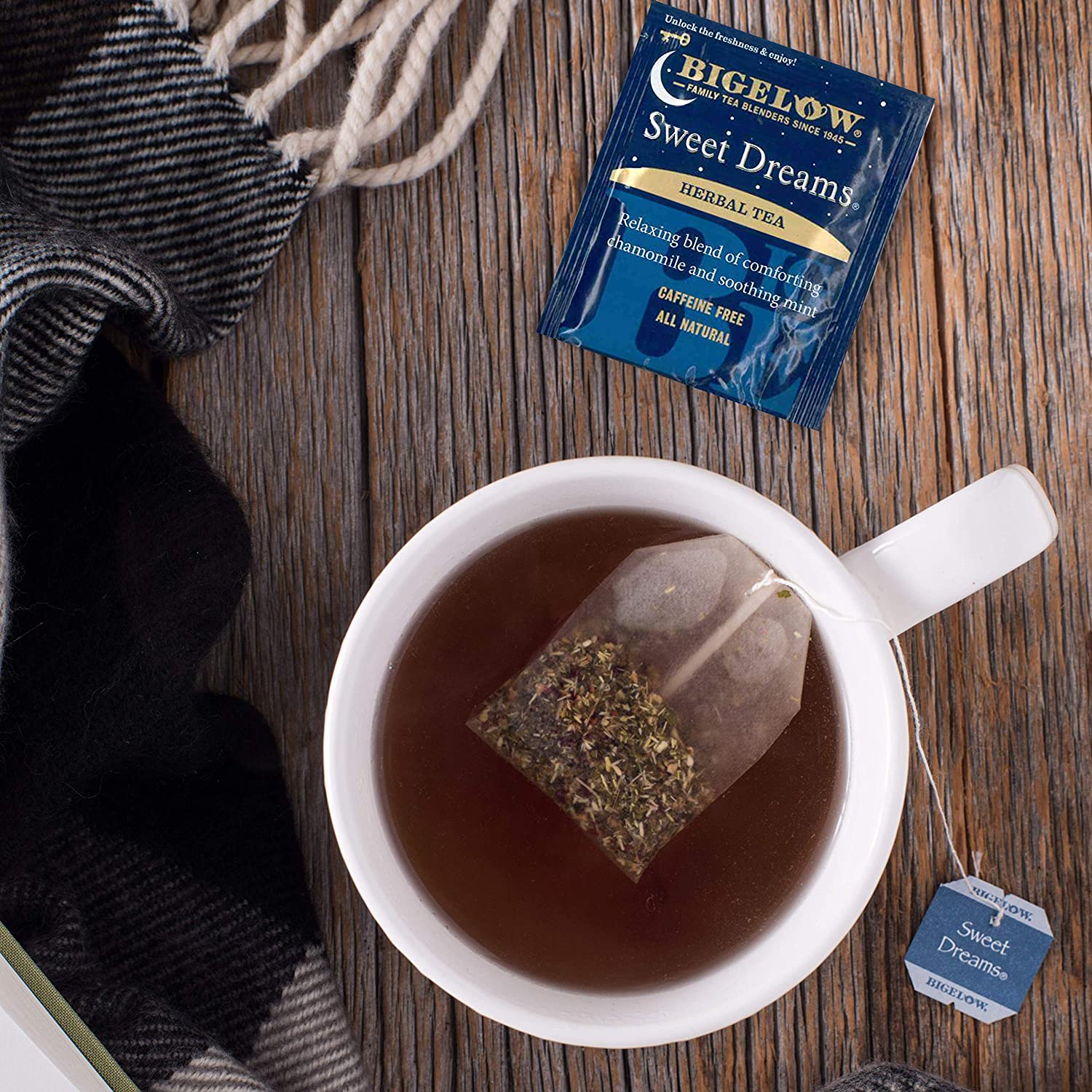 Buy Bigelow Sweet Dreams Tea (20-Pack) $18.16
9. Loftie Clock 
BEST ALARM CLOCK FOR SLEEP
Not all alarm clocks are created equal. For anyone who's ever used their phone as a morning alarm, or for playing relaxing white noise, this all-in-one clock, white noise machine, and night light eliminates the need to use sleep-disrupting blue light products in your bedroom. Loftie's smart clock will give you the gift of a screen-free bedtime routine, and you'll wake up feeling all the more better for it.
The two-phase alarm mimics the way we naturally wake up, and you won't need a separate app to access Loftie's library of stress-relieving, soothing sound baths, meditations, breathwork guides, and more. Plus, the warm glow from the built-in night light signals your brain that it's time to start thinking about drifting off.
Never worry about your alarm not going off again either, since this clock has a backup battery to make sure that your time is accurate and your alarm will still wake you up, even if you lose power.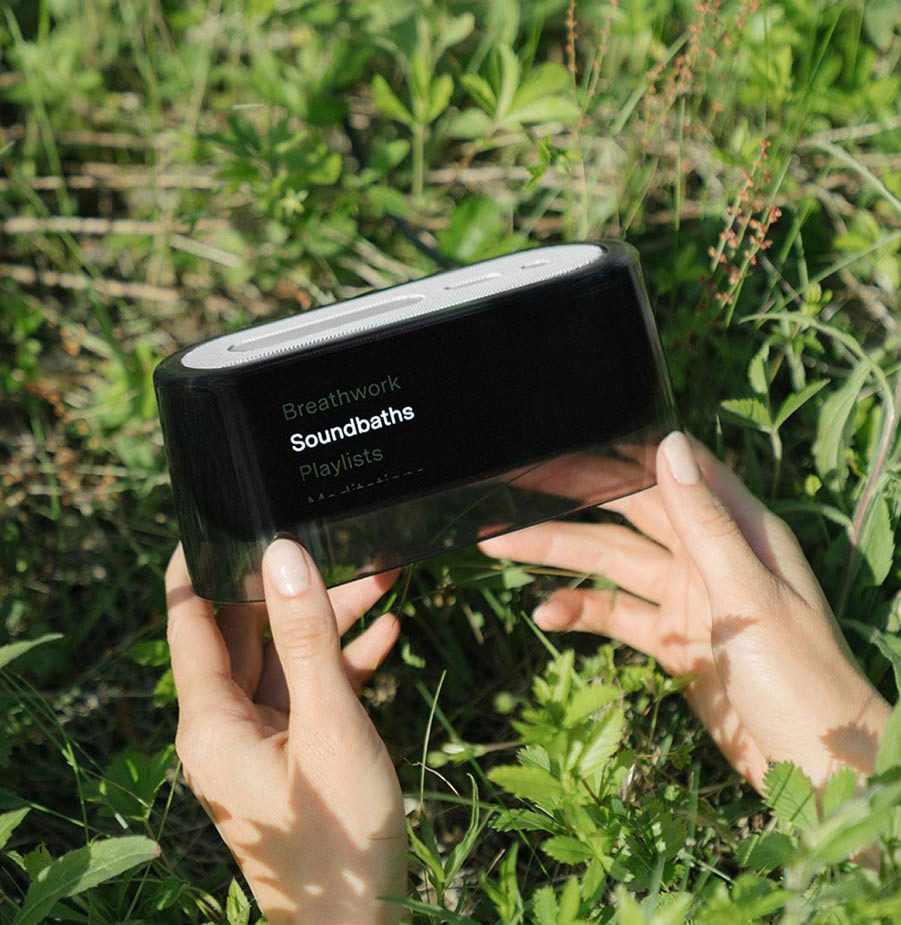 10. LectroFan White Noise Sound Machine
BEST SOUND MACHINE FOR SLEEP
White noise machines are a funny thing. The words "noise" and "machine" make this seem like a device that would keep you up, when in fact, this LectroFan Sound Machine does the exact opposite. By churning out different levels of white noise — essentially indistinguishable sounds that operate at different frequencies — you're able to mask any everyday noise that's around you. So if the birds or sirens are keeping you up at night, you can "block out" their sounds by sleeping next to a white noise machine.
The quiet humming of white noise also lulls you to sleep, keeping your mind from wandering and encouraging a gentle slumber.
I've kept a LectroFan device by my bed for years, and I've even picked up the palm-sized LectroFan Micro 2, to take with me on my trips. Now that I'm working from home, these white noise machines are also great to keep on in the background to help me focus, whether I'm reading, responding to emails or writing a new article.
Buy LectroFan White Noise Machine $49.95
11. Vitruvi Stone Diffuser
Let's face it: those reed and oil diffuser sets you found online look great, but they serve more as decor than actual scent diffusers. To really get the most from your essential oils, you'll want to upgrade to something like this Vitruvi Stone Diffuser.
Scent is one of our strongest senses, and many sleep experts recommend setting a calming scent to help you fall asleep. This diffuser works by dropping 20-25 drops of 100% essential oils and then scenting your whole living space with the touch of a button. You can choose between a 4-hour constant flow and an 8-hour intermittent setting, so you'll be surrounded by peaceful scents all night long.
The Vitruvi diffuser automatically turns off when time is up or water runs out, so you won't have to worry about setting it at night and leaving it on. The diffuser has an impressive range for its compact size and can cover a room up to 500 square feet.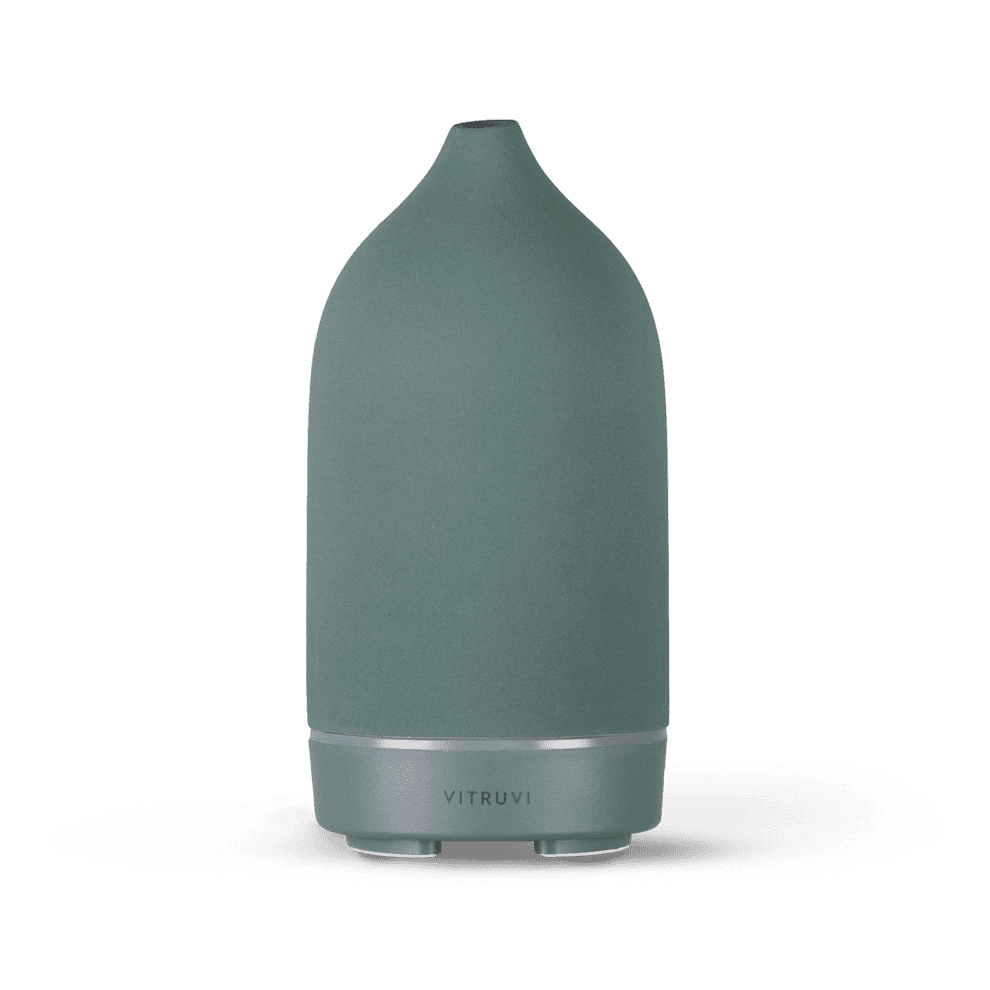 Buy Vitruvi Stone Diffuser $123
12. TOPOINT Bluetooth Headphones for Sleep
BEST HEADPHONES FOR SLEEP
Headphones aren't just for listening to music or taking conference calls anymore — these days, a number of manufacturers are making headphones to help you sleep.
We like this pair from TOPOINT, which wraps gently around your head without messing up your hair or making you sweat. The concealed, built-in speakers are thin and flat, so they won't disrupt your sleep, even if you like to sleep on your side. The moisture-wicking fabric won't cling or stick to your skin (you can remove the fabric liner to wash too).
Pair the headphones with your phone to set your favorite nighttime playlist, or use it to run white noise through the speakers. In addition to playing audio, the wrap-around design of these headphones helps to block out ambient noise without the need for earplugs.
A bonus: these headphones could come in handy if you're sleeping next to a snorer.
Buy TOPOINT Bluetooth Headphones for Sleep $19.99
13. Bose Sleepbuds II 
Earplugs are always a good option when you want to drown out the noise (and we've rounded up some our favorites), but you can also get a set that's specifically designed for sleeping. Bose's Sleepbuds might look like headphones, but they're made from a soft silicone so they'll be comfortably secure, even if you toss and turn or sleep. They're slightly smaller than regular wireless earbuds, for example, to ensure a better fit. The durable earbuds hold up to all-night wear, and the material won't irritate your skin.
Keep in mind, these earbuds work to muzzle rather than completely cut out noise. Bose's noise masking technology isn't necessarily noise cancelling; you'll also want to make sure the earbuds are firmly inserted all the way into your ear canal for them to properly work, but get the fit right and the noise-blocking design of the buds will cover up most unwanted night time disturbances.
You won't have to stream music or play a podcast to calm your racing mind, since these earbuds deliver relaxing and noise-masking sounds through the Bose Sleep app to help you fall asleep and stay asleep. They've got you covered on battery life too—get up to 10 hours per charge, enough for a full night's rest.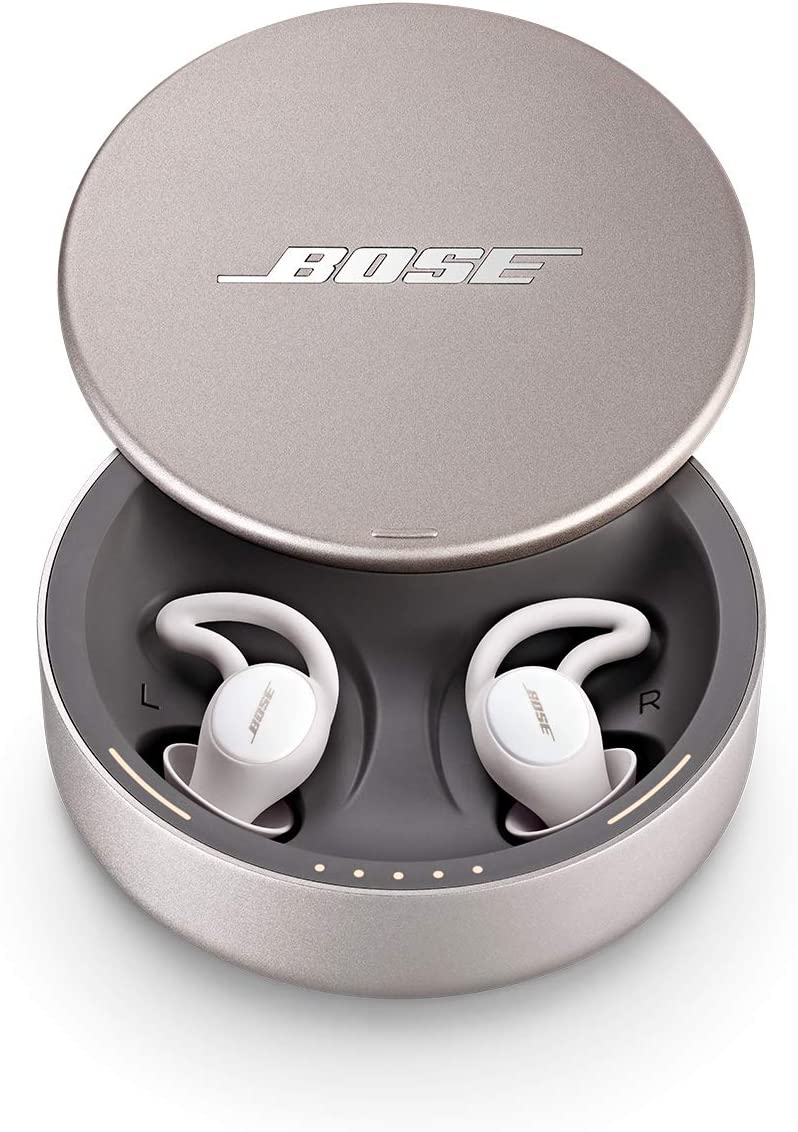 14. ThisWorks Deep Sleep Pillow Spray
Confession: I stole a bottle of this sleep spray once from a bougie hotel I was staying at. The blend of botanicals and essential oils (think: lavender, vetiver and camomile) did wonders for my nightly routine, helping me relax and calm down before bed.
Just a few spritzes on your pillow will help deliver a more soothing, rejuvenating experience, with the natural, aromatherapeutic blend and a subtle scent helping to lull you to sleep.
The good news: you don't have to check into a pricey hotel — or risk arrest — to score a bottle of this stuff now. It's available for purchase online.
Buy ThisWorks Deep Sleep Pillow Spray $52.00
15. Brooklinen Luxe Core Sheet Set
Chances are you've seen an ad for Brooklinen's massively successful sheets around, but they're our overall pick for the best bed sheets for a reason. These Lux sateen sheets offer a silky step-up from regular percale cotton, and their breathable feel is a great, natural way to help you catch more z's.
The Lux sheets are made of long-staple, 480 thread count sateen cotton. What that means: the sheets and pillow cases have a buttery-smooth feel that's made to last, and a slight sheen too. They also come with handy "long" and "short" side labels for making the bed easily, plus they're OEKO-TEX certified to be free from chemicals. Brooklinen's sheets are a breathable and cozy enough for any kind of sleeper, whether you run too hot or too cold.

Buy Brooklinen Luxe Core Sleep Set $127.50+
16. Everlywell Sleep and Stress Test
If you really want to find out why you're tossing and turning at night, consider taking one of these at-home tests from Everlywell. The easy-to-take test measures three vital hormones that are needed for a restful night's sleep, and the results could help you determine why you've been struggling with sleep lately — and how to fix the problem. The test also measures your cortisol levels, the hormone associated with stress, and comes with personalized reports and action items based on your specific results.
Buy Everlywell Stress & Sleep Test $199
17. Hotel Figueroa Rest & Recovery Suite
The aforementioned Hotel Figueroa's Rest & Recovery Suite is a true hidden gem when it comes to finding some R&R in the midst of your busy lifestyle. Located in downtown LA, the hotel is right in the middle of the action yet the Rest & Recovery Suite is surprisingly serene. The high floor and well-insulated rooms keep out much of the street noise below, giving you plenty of time to enjoy the suite's amenities.
Speaking of amenities, one side of the room is dedicated to "rest," with a super comfy Eight Sleep mattress that adjusts for temperature on both sides of the bed throughout the night; fluffy Pluto Pillows (that can be customized for your sleeping style and preferred loft); noise-cancelling headphones and a sound machine to play your favorite sleep playlists or white noise track; and cozy sheets and blankets that had us drifting into dreamland as soon as we touched the bed.
We also appreciated the FORME fitness mirror-style system in the room, which was perfect for a post-nap stretch in the afternoon and then a full-body workout in the morning.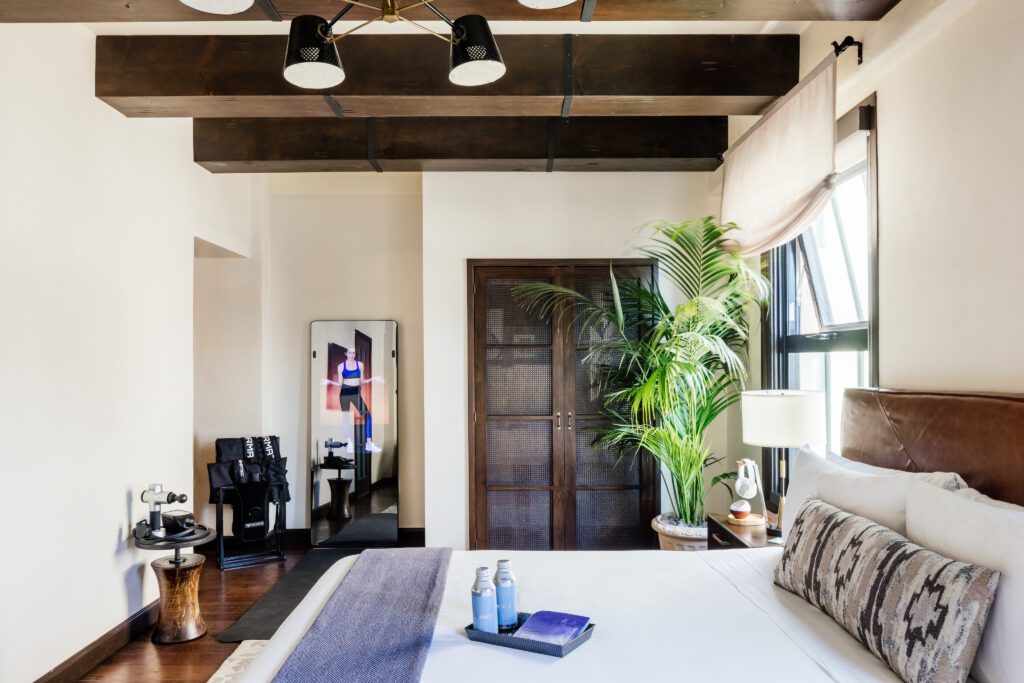 The other side of the room features products designed to help with recovery — think the popular Hyperice massage gun and compression system; tasty supplements from Beam; and everything from bottled water to green juice. The "rest" room was a perfect place to unwind and de-stress in the sanctuary of a large, open-concept space with bright windows and high-beamed ceilings.
The takeaway from our stay at the Hotel Figueroa: the best sleep products only work as well as the space in which they're being used in. And when it comes to getting a good night of sleep, this is a bedroom we can really get into.