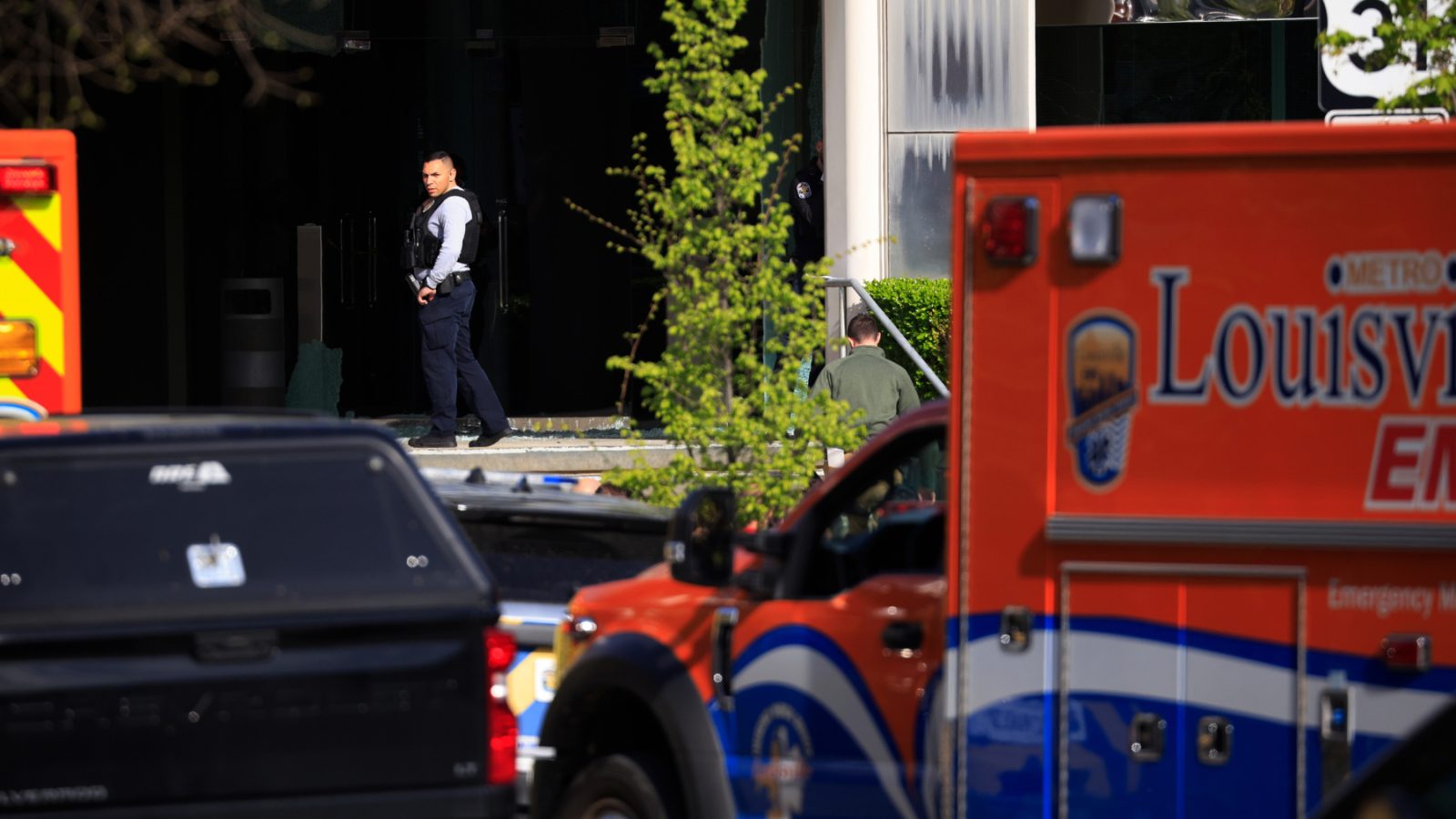 Five Dead, Including Gunman, After Shooting at Bank in Louisville, Kentucky
Five people are dead, including the gunman, after a shooting at a bank in Louisville, Kentucky Monday morning, April 10.
At a press conference, Deputy Chief Paul Humphrey of the Louisville Metro Police Department said that authorities received a call about a possible active shooter at the Old National Bank at around 8:30 a.m. ET.
"Within three minutes of being dispatched, officers arrived on scene and encountered the suspect almost immediately still firing gunshots," Humphrey continued. "Officers exchanged gunshots with that suspect and ultimately that suspect did die at the scene."
Later in the day, the police confirmed the identity of the shooter: Conner Sturgeon, a 23-year-old white male, who was employed at the bank. Authorities said Sturgeon's "weapon of choice" was a rifle. The four people killed were identified as Thomas Elliott, 63; Joshua Barrick, 40; Juliana Farmer, 45; and James Tutt, 64.
Additionally, nine people were taken to the University of Louisville Hospital with injuries, including two responding officers. As of 3 p.m. ET, three had been released and three were in non-critical condition. The other three victims, however, were still in critical condition, including one of the officers, Nickolas Wilt, a 26-year-old who'd just graduated from the police academy. Wilt, after being hit in the head, underwent brain surgery and is now in critical but stable condition.
Kentucky Governor Andy Beshear also revealed that one of the people killed, Thomas Elliott, was "one of my closest friends." Beshear said Elliott — a senior vice president at Old National Bank bank, according to LinkedIn — helped him build his law career and become governor, and gave him advice on being a father.
"He was one of the people I talked to most in the world, and very rarely were we talking about my job," Beshear said. "He was an incredible friend."
Of the other victims, Beshear called them "amazing people, whose families grieve them, whose communities will mourn and will miss them. These are irreplaceable, amazing individuals that a terrible act of violence tore from all of us."
This story was updated at 3:22 p.m. ET with the names of the shooter and victims.