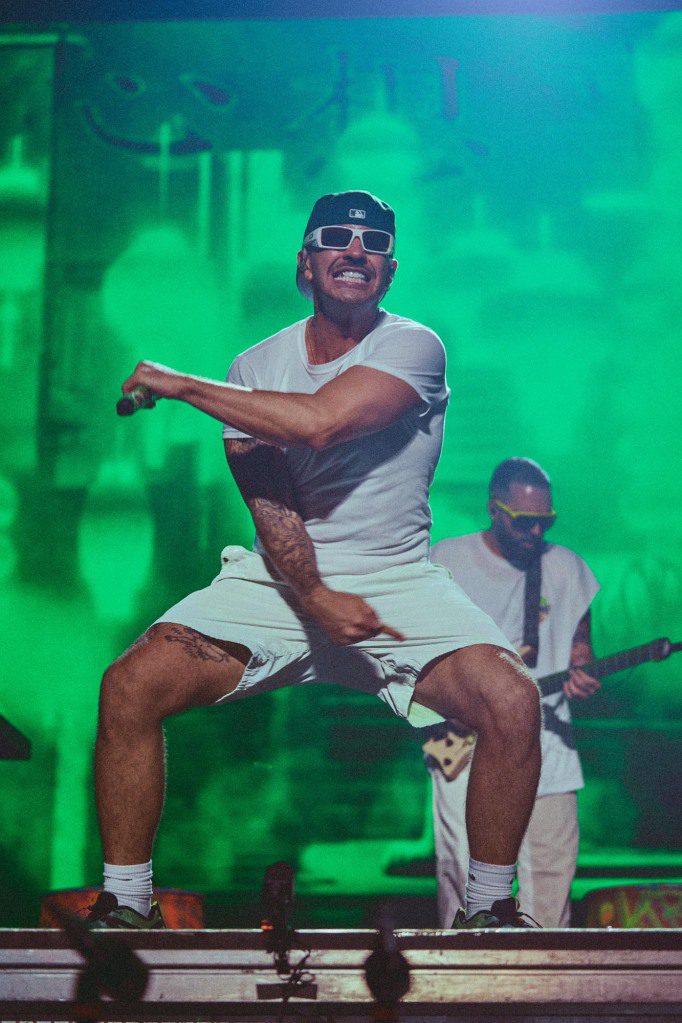 Feid Triumphs During Back-to-Back Shows at El Choli in Puerto Rico
Colombian reggaeton star Feid looked out into a crowd of 18,500 people during his second sold-out show at Puerto Rico's José Miguel Agrelot Coliseum on Friday night. Nearly every person was wearing green, just as he'd asked fans to do, and matching light-up wristbands given out at the entrance. He'd announced he'd be playing these two concerts days before, a flash reveal that surprised his Boricua fans and broke the record for selling out the venue (tickets for his first show were gone in less than an hour). He's arguably the fastest-rising Latin urban music artist in the world, and all night, he had proof right in front of him.
The two Puerto Rico shows were the latest stops on his ongoing Ferxxo Nitro Jam Underground Tour. On Friday, he kicked things off by sharing a video he posted last month, in which he reflects on a motorcycle accident that he had in December 2021 that left him with a broken leg and that threatened to derail his career. He showed those fears are nothing to worry about now with an opening performance of "Chorrito Pa Las Animas," as he skipped and danced from side-to-side, looking nimble and entirely in his element. Two tables used by his DJs resembled makeshift junkyard items while large background screens shifted repeatedly, making the stage look like an  abandoned warehouse and Super Mario-esque scenes, complete with a digital chibi-stylized Feid exploring them.
Feid, whose name comes from the way "faith" sounds when it's pronounced with a Spanish accent, knows that when you're in the cradle of reggaetón you need the perreo to reach a high bar, something he achieved. Songs like "Fumeteo," "Lady Mi Amor," and "Monastery" brought everyone to their feet. At one point, he and longtime guitarist Pedro Mejía sat down for an acoustic medley of "FERXXO 81" and "Tengo Fe", demonstrating how his songs still work in stripped down form. The songs are also a reminder of Feid's beginning as a writer; he got his start scribbling shots for artists like  Nicky Jam and J Balvin.
There weren't many guest stars, but Feid doesn't have a ton of collaborations to pull from. Álvaro Díaz made a surprise appearance to perform "Llori Pari" off his own album Felicilandia, and Young Miko stopped by for a performance of "Classy 101" that riled up the crowd. Before going their separate ways, Feid credited Díaz for being one of the first people to show him around Puerto Rico many years before, listing off local venues and bars where he got drunk at and learned to love the people and culture.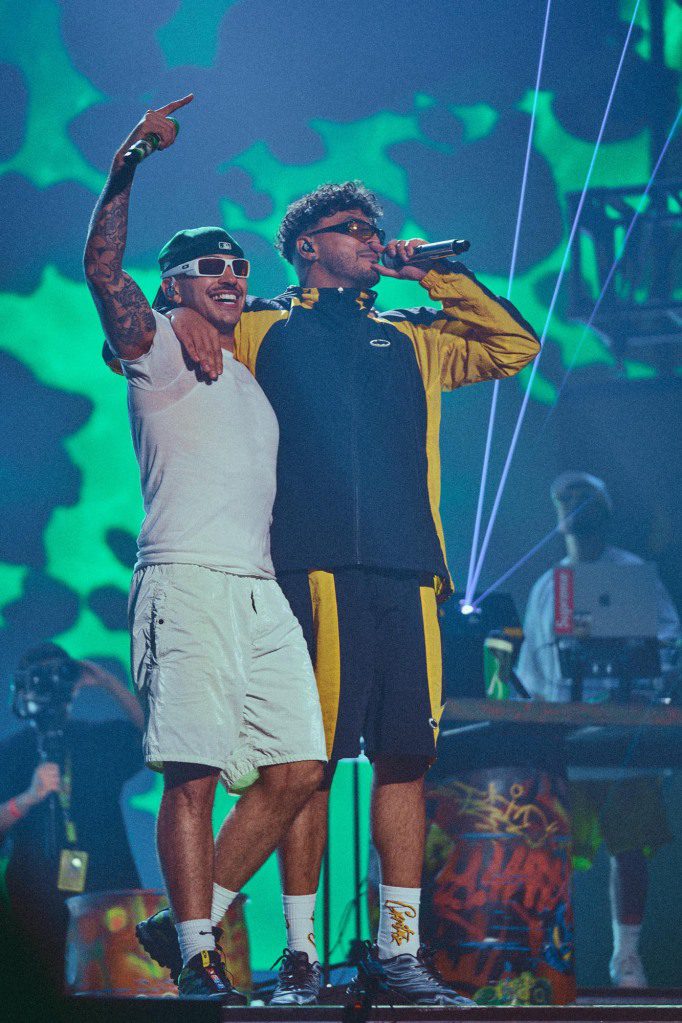 At one point, two large light installations shaped like Xs were lowered down from the ceiling as Feid addressed his fans before singing "X20X". He gave a passionate speech about how important it is to never take relationships — familial, friendly, or romantic — for granted and encouraged everyone to cherish the people who bring joy into their lives. He's never shed his Colombian vocabulary for the sake of crossing over, even when inside Latin America, where dialect and slang can change drastically from country to country. Here in San Juan, more than a thousand miles from Medellín, he peppered his sentences with a few words some might not have been as familiar with, but his message broke through loud and clear.
He started winding down the night by incorporating the crowd into the show, doing an a capella version of "Ferxxo 100" that had the entire coliseum singing along. Soon, he closed the show with one of his biggest hits, "Feliz Cumpleaños Ferxxo." There were no encores, but after nearly three hours of show it didn't seem like his fans needed one. Feid did what he set out to do, giving everything and nothing less — with the faith that he could triumph until the end.