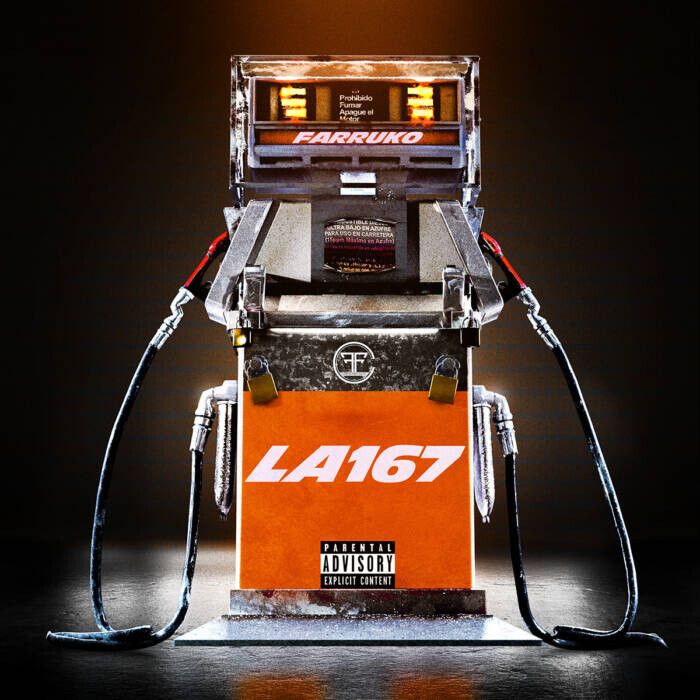 Multi-platinum singer-songwriter and two-time Latin GRAMMY award winner, Farruko, releases his highly anticipated album LA 167. The project finds the global chart-topping reggaetonero further defying industry standards — creating an eclectic ambiance fit for various subcultures and genres. Intentionally crafted to honor the intersections of his hometown of Bayamon and the legacy of his late grandfather, the album displays a Farruko that is nostalgic, festive, vulnerable, and proud.
"[LA 167] is the record, this is the moment, this is the story. It's an act that will mark my career, my family and it will ultimately mark who I am as a person." – Farruko
Buy/Stream LA 167: https://Farruko.lnk.to/La167
Named after the principal highway that passes through his hometown of Bayamon, Puerto Rico, the album is a special, sentimental ode to the highway and a particular gasoline station that once belonged to his late grandfather. With LA 167, Farruko reclaims his grandfather's legacy, while simultaneously proving his ability to reach the masses with homegrown messages and diverse, diasporic instrumental selections. To achieve this, he revisited the most nostalgic perreo beats, incorporated the "pilita" or EDM trends popularized in the neighboring country of the Dominican Republic, and his traditional love for Jamaica's reggae—all while remaining loyal to his grittier influences like his trap, drill, and reggaeton essence.
Acknowledged as one of the leading musical phenomena within the Latin music industry, Farruko's statement is clear with LA 167. Opening the project are outstanding, chart-topping tracks like "La Tóxica," which debuted in the top 10 of  Billboard's "Latin Digital Song Sales" list and in the top 15 of "Hot Latin Songs, it peaked at no. 1 in 9 countries, #1 on Billboard's Hot Latin Songs and Latin Streaming Songs, and scored him a 2021 Latin GRAMMY® nomination in the "Best Reggaeton Performance" category, as well as "Pepas"— his latest global anthem which landed him the #1 spot on Billboard's "Hot Dance/Electronic Songs," "Dance/Electronic Digital Song Sales," "Dance/Electronic Streaming Songs," and "Latin Digital Song Sales" charts. The track currently ranks at #7 on Spotify's Global Top 50 chart, with over 272 million total streams, surpassing 2.7 million daily streams, and at #1 on Billboard's "Hot Latin Songs" chart for 6 consecutive weeks. Last week, Farruko recruited internationally renowned superstar DJ , David Guetta for the official remix version of the global hit.
Joining forces with culture giants such as Bayamon-native Ñengo Flow for "Cucaracha," an alternative track sampling Paquita La Del Barrio's "Rata De Dos Patas," and Yomo for "Baya," reinforces his intentions of giving those before him their flowers through collaboration. His sensible and more vulnerable sides are found in ballads like "$" and "My Lova" — a ballad-turned-reggae track that speaks on heartbreak and karma.
In honoring his island and culture, he delivers tracks like "Jibaro," which finds Farruko reconnected with his "Calma (Remix)" collaborator Pedro Capo. The song opens up with the sweet sounds of "el coqui," a frog endemic to Puerto Rico, and lyrically turns to a poetic ode to his rural, country roots. He brings on DJ Adoni for guaracha-EDM records "F*LOVE" and "El Incomprendido." Other collaborators found in LA 167 include Jay Wheeler, Brray, Secreto, Noriel, Luar, White Star, India Martinez, Lenier, and Jamaican dancehall singer Mavado.
Along with the album, Farruko releases a high-energy new video for LA 167 highlight "El Incomprendido" ft. Victor Cardenas & DJ Adoni. The ideal follow-up to "PEPAS," "El Incomprendido" keeps the party going, incorporating elements of electronic music – particularly an interpolation of the 1999 eurodance classic "Better Off Alone" by Alice DJ – while sirenic synths and celebratory trombones dueling atop a reggaeton-influenced backbeat. Alternating sweet singing and hard-nosed raps, Farruko crafts an anthem that will blast out of hookah bars for the foreseeable future. Directed by Mike Ho, the video picks up where "PEPAS" left off, as Farruko and company drive their ATVs from the desert into a beachside town to throw the biggest party the town has ever seen. ATVs do donuts in a nearby parking lot as Farruko parties at night by the seaside with cage dancers, the famed DJ Adoni, and a number of beautiful women.
Farruko is no stranger to the repeat button, and with 8 successful studio albums, multiple international collaborations throughout his artistry that include artists like Shaggy, Sean Paul, Alicia Keys, as well as Nicki Minaj, 21 Savage, and Travis Scott for standout track "Krippy Kush", his versatility and ability to conquer the masses despite language proves he has become one of the most innovative exponents of the reggaeton genre. His eighth studio album "Gangalee" debuted #2 on Billboard's "Top Latin Albums" chart, entered the global "Billboard 200" chart, and was certified 7X Multi-platinum. The album features singles such as "Nadie", Inolvidable", "La Cartera" alongside Bad Bunny, and "Delincuente" with Anuel AA. Likewise, his single "Calma (Remix)" with Pedro Capó became a generationally iconic hit within Latin music and received a Latin GRAMMY® award as well as a Platinum certification by the RIAA. In 2020, Farruko received two ASCAP awards for songs "Calma" and "Si Se Da."
Sitting on 41.9 million monthly listeners on Spotify, over 8.4 Billion streams across digital platforms, and ranking the 30th most listened to artist in the world; his music transcends borders and languages. This has impacted the Latino community in such a way that his career has been recognized by HBO in a documentary focused on his career entitled, "Farruko: En Letra de Otro.
Characterized as the definitive artist of this generation, Farruko illustrates his natural approach to both commercial and rooted styles with LA 167. This November he will kick off his first US Tour making stops in 15 cities. He recently made history selling out Puerto Rico's renowned Coliseo arena during a presale for 2 nights for his upcoming homecoming shows of  "LA 167 Tour."