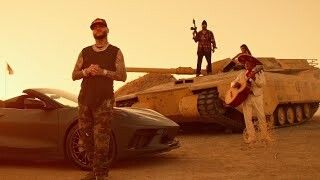 Puerto Rico-born superstar Farruko is one of the most versatile artists in Latin music, incorporating the sounds of the music that he loves into his vast sonic tapestry. Taking a trip to the sandy hills that mark the border between Mexico and California, Farruko shares "Baja Cali," his latest music video. The song takes inspiration from "corridos tumbados," the red hot genre that mixes traditional guitars with 808s and trap beats. Farruko tells a story from the point of view of a Tijuana cartel boss, mixing in true details from his own life with the kind of braggadocious boasts of illicit dealings common in corridos.
Directed by Mike Ho, who worked with Farru on the party-positive clips for "PEPAS" and "El Incomprendido," "Baja Cali" is a sweeping and cinematic clip, set at the border between the U.S. and Mexico in Baja California, with shots of the barrier that divides Baja and California. Surrounded by advanced weaponry and mariachi musicians, Farru exults in his boss status, posting up at a gas station similar to the one owned by his grandfather in Puerto Rico and surveying his binational kingdom.
Watch "Baja Cali": https://youtu.be/FR3o7LZAIKw
"Baja Cali" is the latest standout clip from LA 167, the two-time Latin GRAMMY award winner's brand new album. Named after the main highway that runs through his hometown of Bayamón, PR, the project finds the global chart-topping reggaetonero further defying industry standards — creating an eclectic ambiance fit for various subcultures and genres. Intentionally crafted to honor the intersections of the culture of Bayamon and the legacy of his late grandfather, the album displays a Farruko that is nostalgic, festive, vulnerable, and proud. Home to the global hit "PEPAS," LA 167 currently sits at #2 on Billboard's Top Latin Albums chart, after reigning at the #1 spot for two weeks, and resides at #62 on the Billboard 200 after debuting at #26.
Buy/Stream LA 167: https://Farruko.lnk.to/La167