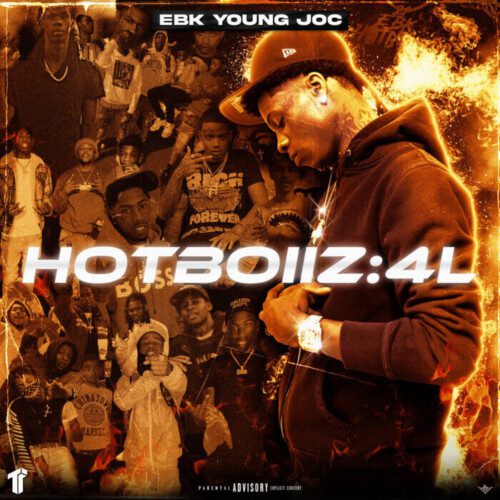 EBK Young Joc shares new album HotBoiiz: 4L
EBK Young Joc, the Stockton, CA rapper defining the newest sound of West Coast hip-hop, has just shared his album HotBoiiz: 4L, along with a new video for "Fear Factor" (feat. FredoBagz). As EBK Young Joc ensures that HotBoiiz: 4L is a family affair, featuring only a tight-knit group of close collaborators. Together, they follow Joc's lead, and pour themselves into each track in pursuit of a shared vision: on HotBoiiz: 4L, Joc sets out to honor lost loved ones such as his older brother Mobbalay, and fallen friends Young Slo-Be and Bris, fulfilling the dreams they once shared with fierce determination. On the new single "Fear Factor", Joc links up with Oakland, CA rapper FredoBagz, as the two trade bars over a thumping, head-spinning synth and a booming bass. At 21 songs, the album marks his most expansive, impassioned offering to date. Whether trading no-nonsense verses, unflustered by brawny, reverberating 808s on fiery collaborations, or rattling off reflective rhymes as pitched vocals warble behind him––Joc's gruff, matter-of-fact flow cuts through the noise with ease.
With the release of his debut mixtape 21 Jump Street in 2019, EBK Young Joc solidified himself in the Northern California rap scene as one of the region's most promising stars. He then followed up in 2020 with The Fresh Prince of Belair, marking his clear-cut ascension and by the end of 2021, Joc was widely recognized as a frontrunner in his scene. He released two projects in 2021, Forever 21 and Nightingale Legend, with the latter being described by SPIN as, "a refinement of all that's made him a luminary in Stockton's continued rap renaissance". In May of 2022, Joc released his project City Of God, an impressive showing of the craftsmanship and finesse that have made EBK Young Joc the new star of Stockton.
© 2023, Seth "Digital Crates" Barmash. All rights reserved.