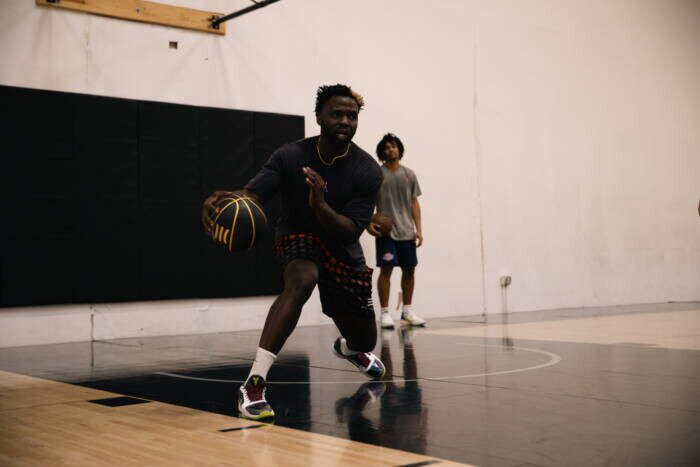 Dribble2Much Drops Video For "Crazy In The Park" and Interview with HipHopSince1987
NBA trainer, influencer, and hip-hop artist Dribble2Much just released the video for his new song "Crazy In The Park" via Kayenne Group/EMPIRE.
Dribble2Much has become extremely well-known for training some of the NBA's elite players such as Kevin Durant, Chris Paul, Anthony Davis, DeMar DeRozan, Paul George, Jamal Crawford, and more. He's even helped some of music's biggest names like Drake and 2Chainz fine-tune their basketball techniques.
Besides being one of the most sought-after basketball trainers in the league, Dribble2Much is also an artist, toting the line of trainer-turned-rapper, and it's displayed in his video for "Crazy In The Park." The visual follows Dribble2Much and a close friend as the video documents their shared love for basketball from childhood to adulthood, a role played by WNBA player Te'a Cooper, while Dribble2Much boasts about his skills on the court.
The lauded basketball trainer and hip-hop artist have teamed up with various other artists on wax including Travis Scott, Trippie Redd, OT Genasis as well as NBA star Damian Lillard and NFL football star Le'Veon Bell.
Earlier song releases like "Ankle Bully," "Let it Fly," and "Swishhh" have been featured in the top-selling video game, NBA2K. At the top of this year, Dribble2Much unleashed the new anthem for Duke University's men's basketball team called "Go Crazie," which the team played after home-game victories.
His impressive resume doesn't stop there as he previously served as the ball-handling coach for the Dallas Mavericks as well.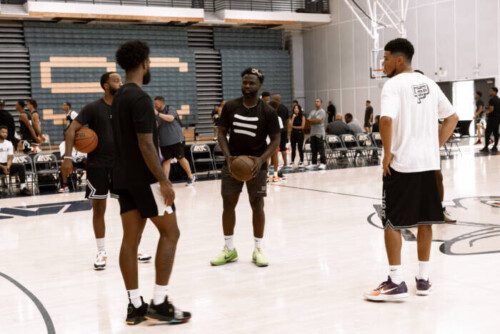 Dribble2Much is a positive role model incorporating the worlds of basketball and music. As a trainer and coach, he is equally respected as he is with his music and visuals. He has built a career with a huge social media following by mixing the worlds of hip-hop and basketball together in a unique way. His career is built on self-improvement rituals from the gym to the recording studio he is dedicated and has a fierce work ethic. The athletic and music worlds go hand in hand for him as he effortlessly navigates his time to the fullest. His music has an international sound to it with universal themes that are relatable to everyone. He started off musically in mixtape mode flipping popular beats into basketball songs to support his social media content. His material started going viral inspiring him to go harder into creating fully original music.
He is consistent and versatile and can make good music on a wide range of production. His catalog is growing and his fanbase is constantly expanding. He is a gifted freestyle rapper and is becoming an expert songwriter at the same time as developing an original flow and sound to his lyrics and melodies. He has classic records like "Ankle Bully", "Sauce", and "Swishhh" that are equally as great as his newer anthems like "Go Crazie", "Coach Rappin", and "Crazy in the Park".
He has multiple features on NBA2K soundtracks including the anthem "Dribble2Much" featuring Problem. His dream of being on the NBA2K soundtracks helped to merge the world of gaming with sports and music. You can witness some of this journey on his youtube vlog series. His journey is well-documented and inspiring. His future looks bright as he has a ton of music and visuals to drop with goals of performing at arenas fully merging the worlds of sports and music together in his own unique way.