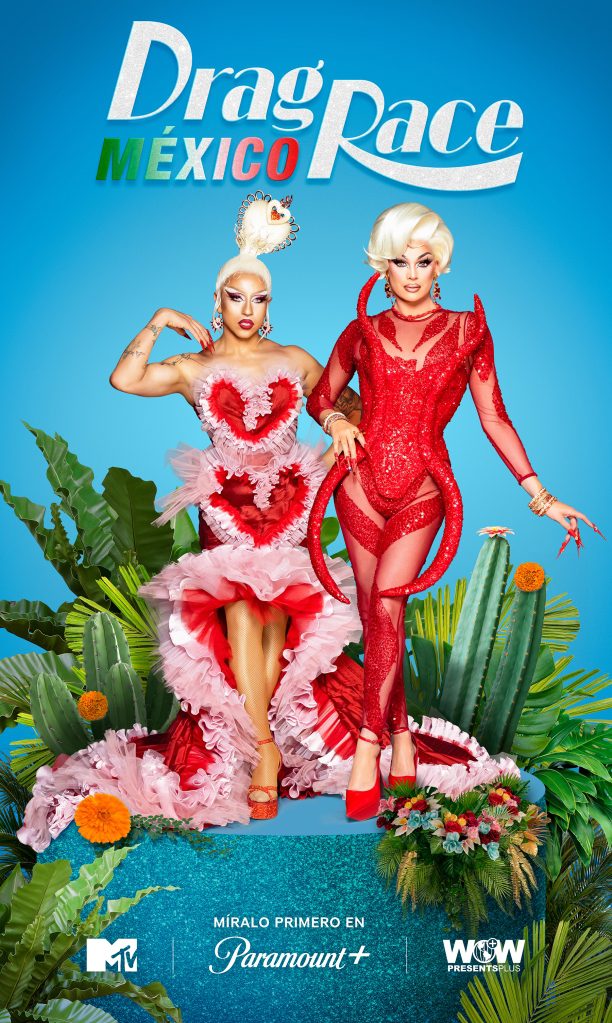 'Drag Race' Alums Valentina and Lolita Banana Will Host New Mexican Franchise
Dragas mexicanas, start your engines! Valentina and Lolita Banana will host the first-ever iteration of Drag Race Mexico, Rolling Stone can exclusively reveal. Both stars are expected to make the announcement at DragCon in Los Angeles Friday.
The two hosts will guide local queens to become Mexico's next drag superstar as contestants face off in acting, fashion, and comedy challenges for a cash prize. The show's contestants will be revealed at a later date.
"With Drag Race Mexico, you can find the tenacity of the Mexican heart," Valentina tells Rolling Stone. "Some come from the city, others from small pueblos so you're getting a diversity of culture."
"My heart is just so happy with our queens," she adds. "I'm proud of Season One and the collective love of the group. It's beautiful."
Getting the call to host was "very rewarding" for her after doing everything she could to be in a position to do so. "It was the happiness of a manifestation," she says.
Valentina also takes pride in improving her Spanish fluency for the show. "I think a lot of people doubt me in that aspect and they're going to be seeing how Mexican I really am," she says. "I'm a big person of intention: You have to do the work."
"I wouldn't say I'm perfect or the most qualified either. I have to grow into this position. Before me, in Mexico, there was the great [late] Francis, and Ricky Lips, I acknowledge those that came before me," she adds, referring to two Mexican drag stars of the past. "I myself, as a Mexican-American young drag queen, have to work very, very hard to prove myself and improve my artistry."
Valentina has long been a fan-favorite of the Drag Race franchise. She earned the title of Miss Congeniality on Season Nine, earning her a return to All-Stars 4. She built her drag around paying tribute to her Latina roots, often taking inspiration from the likes of Selena Quintanilla and other Mexican icons. Since participating on the show, she's starred in film La Usurpadora, Netflix's La Casa de Las Flores, in Camila Cabello's music video for "Don't Go Yet," and in Fox's Rent: Live as Angel.
"People are going to see another side of Valentina that is not under the pressure of competition, but is there to guide the situation in a position where I'm not under so much pressure to win a challenge, but rather I get to have fun and enjoy and observe and help," she says. "That's the difference this time."
As for her looks, Valentina enlisted Mexican brand Olmos y Flores to create all but one of them. "I'm very honored to be wearing prendas mexicanas handsewn with artisan techniques. I'm going to be extremely glamorous," she says, before quoting an iconic line from her season. "I'm going to be perfect, beautiful, look like Linda Evangelista. Oh! You're smiling! I'm gonna give it to you. And you're not ready."
Meanwhile, the Paris-based Banana launched her career there performing at the restaurant Acqua e Farina. She became the first-ever Mexico-born contestant in Drag Race history, competing on the first season of Drag Race France last year, reaching Fourth Place.
"I'm very lucky and fortunate to have a comadre to share this experience with. We have an incredible chemistry and take care of each other on set," Valentina says. "We've embraced this experience together as hosts. It's an honor to share the spotlight with Lolita."
As for the music to be expected on the show during lip-sync battles, Valentina is tight-lipped. "What you'll get is incredible music," she says. "We're really hot in the music industry right now."
Drag Race Mexico will be made available on Paramount+ in Latin America, and on World of Wonder's streaming service WOW Presents Plus in every other country outside of the U.S. American viewers will get to watch when it streams on Paramount+ at a later date.
The Mexican iteration of the beloved reality competition show is the latest country-specific spinoff of Drag Race, following versions in countries such as France, Belgium, Spain, Sweden, Thailand, and the Philippines.
Although this is the first Drag Race franchise in Mexico, fans of the art form tuned into La Más Draga, a YouTube-hosted competition series similar to Drag Race. It's unclear if competitors of that show will appear on Drag Race Mexico. Fifí Estah was the winner of the show's latest season.
Fenton Bailey, Randy Barbato, Tom Campbell, and RuPaul Charles will executive produce the show.