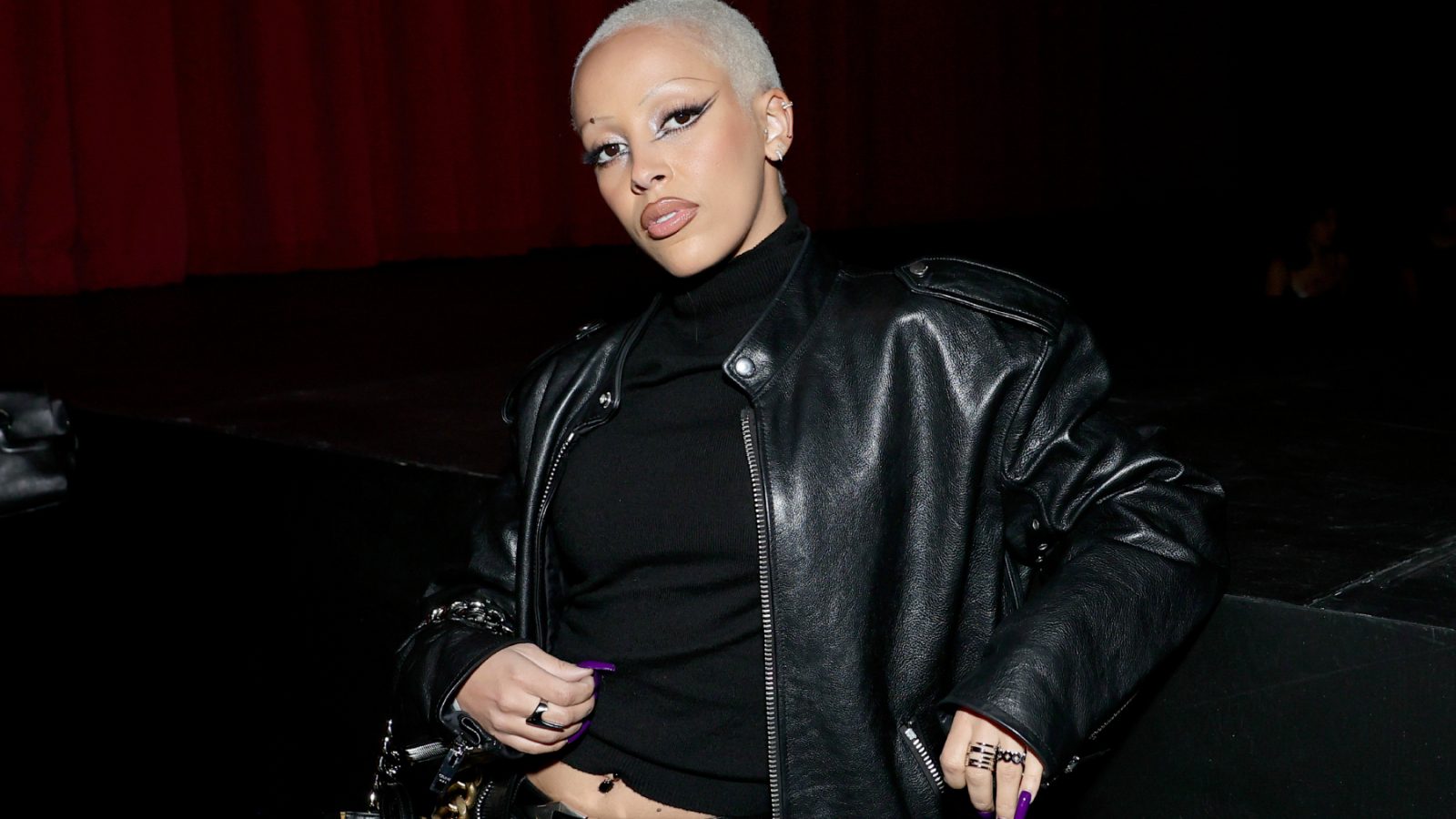 Doja Cat Bites Back on Scorching Rap Single 'Attention'
Doja Cat stayed true to her word of leaving pop to the side and opted for some hot rap verses on her new single "Attention," which dropped Friday.
The song opens with the sound of a harp before she starts to sing softly and hauntingly over a drumbeat, while the accompanying music video features Doja roaming the streets of Los Angeles.
"Baby, if you like it, just reach out and pet it/This one doesn't bite, it doesn't get aggressive," she sings in the pre-chrous. "Show you how to touch it, hold it like it's precious/It don't need your lovin', it just needs attention."
She then begins to rap in the first verse about herself and addresses her decision to leave the Weeknd's After Hours stadium tour. "My taste good, but I just had to redirect my cookin'/I could've been an opener, I redirect the bookin'," she raps. "I read it all, the comments sayin', 'D, I'm really shooketh'/'D, you need to see a therapist, is you lookin?'/Yes, the one I got, they really are the best/Now I feel like I can see you bitches is depressed." Doja had said in May 2022 that she was skipping the Weeknd tour due to tonsil surgery.
In the second verse she raps about other rappers who "fall in the beef" with musicians they look up to. "I'm sorry, but we all find it really entertainin'/'Cause we don't wanna see them steppin' forward on their faces," she raps. "And we all wanna be the one that see the devastation/Nothin' in it, but ain't the bad press good?"
Tanu Muino (Harry Styles' "As It Was," Cardi B's "Up,") directed the new "Attention" visual. The surreal music video features Doja in a white tee, jeans, and leather jacket while she evades shrieking fans and people on the street wearing strange flesh-colored masks. Doja in the nude and drenched in what appears to be blood, flashes momentarily on the screen before appearing one more time at the very end.
On Twitter, the pop star shared what appeared to be some blood-splattered single art with an upside-down letter "A," along with a date ("6.16.23") and a drop of blood emoji.
Doja's use of the drop of blood emoji in the announcement may offer some clues about the song buried in some of her other recent tweets. On May 24, she paired the emoji with the missive, "scarlet was here." On June 9, she used it again, writing, "scarlet's watching," and then this past Monday, June 11, she wrote, "let myself heal, scar finally sealed."
In the single's teaser trailer, cameras flash and crowds clamor for the rapper. "Look at me, look at me," she says in the clip. "You looking?"
"Attention" marks Doja Cat's first proper solo release of the year, and just her second overall after appearing on SZA's "Kill Bill" remix. Last year, Doja Cat released "Freaky Deaky" with Tyga, as well as a contribution to the Elvis soundtrack. Her most recent album, the massive Planet Her, arrived in 2021.
She spoke to Rolling Stone earlier this week about her upcoming album and how she's opting to drop music that leans more into hip-hop and rap.
"It's no longer called First of All. I've been messing around with name ideas for the album and have like 8 of them that I'm deciding between," she said. "I'll be announcing the real title soon. I've been reconnecting with the music that I was raised listening to; Erykah Badu, John Coltrane, Nineties hip hop…the music that influenced me as a kid. I think my new music will bring some of that inspiration forward."
Doja has been trolling about her old music over the last several months. Doja called Planet Her and her 2019 breakthrough Hot Pink "cash-grabs" and told her fans they "fell for it." 
She added: "now i can go disappear somewhere and touch grass with my loved ones on an island while yall weep for mediocre pop." (Around the same time she also joked that she was changing her stage name to "Emcee Flapchunks the 3rd.")
Even before all that, in April, Doja was making similar remarks, teasing songs with titles like "Wet Vagina," and insisting she'll release "no more pop," while calling her rap verses "mid and corny." She also said her next album would be a "rock/spoken word" record titled Moist Holes.