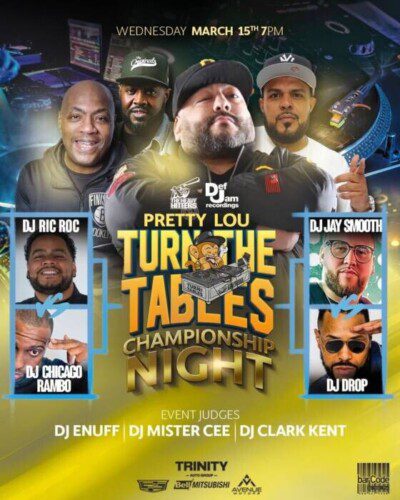 DJ Pretty Lou Presents "The Turn The Tables Championship Night"
On Wednesday, March 15th, 2023 Heavy Hitter DJ Pretty Lou will host the final four of the Turn The Tables Championship Night at Barcode in Elizabeth, New Jersey. Semifinals of the tournament include DJ Ric Roc vs DJ Chicago Rambo and DJ Jay Smooth vs DJ Drop. Winners will receive a $10,000 cash prize. The event starts at 7 pm. 
Final guest judges include DJ Enuff, DJ Mister Cee, and DJ Clark Kent.
The event is sponsored by DEF JAM, Avenue Motors, Trinity, and Bell Mistubishi. 
WHO: DJ PRETTY LOU
WHAT: TURN THE TABLES CHAMPIONSHIP NIGHT
WHEN: WEDNESDAY MARCH 15TH, 2023 @ 7pm
WHERE: BARCODE 429 N Broad St, Elizabeth, NJ 07208
Tickets can be purchased on the Barcode website. 
© 2023, Seth "Digital Crates" Barmash. All rights reserved.