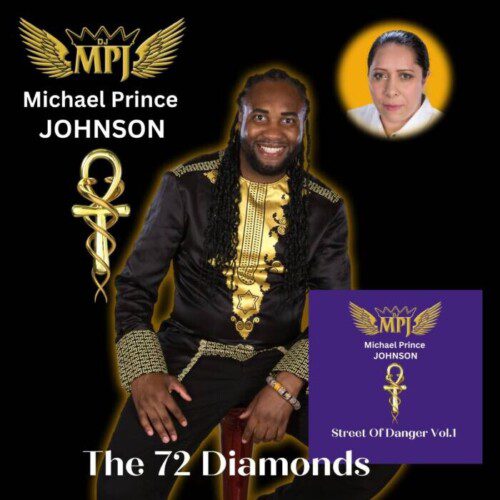 Discover the Musical Brilliance of Michael Prince Johnson's 'Street of Danger Vol.1'
We are excited to inform you about the availability of Michael Prince Johnson's new EP, 'Street of Danger Vol.1.'
With six incredible songs that showcase his immense talent as an instrumental musician, composer, producer, songwriter, and DJ, this EP is a must-listen for anyone who loves music that speaks to the soul. The EP 'Street of Danger Vol.1' is available on Youtube, Apple Music, Amazon Music, Spotify, and other digital platforms.
Johnson is a versatile and creative musician, a widely recognized virtuoso in playing kalimba, shekere, calabash, and surdo. His technical proficiency, creativity, and innovation have garnered him critical acclaim and a devoted following among music lovers.
Johnson's immense talent and influence on the music industry have made him one of the most important instrumental musicians of our time.
He's also an accomplished instrumental musician, blending genres like Electronic Dance Music, African traditional music, instrumental hip hop, R&B, soul, amapiano, funk, pop, and rock. What also sets Johnson apart is his storytelling ability. He's known as 'The King of Instrumental Storytelling,' with music themes about African history, sociology, psychology, love stories, world history, and current issues. Johnson's unique blend of instrumental music has earned him worldwide recognition.
His music has been featured on top radio formats and radio charts in the US, UK, Canada, Australia, New Zealand, Peru, Egypt, Korea, Austria, and other countries. Its total global airplay covers 3000 radio stations in 160 countries from 6 continents and reached 500 million listeners.
Johnson has been recognized by industry-leading publications such as LA Weekly, Hip Hop Since 1987, Billboard, Vents Magazine, All Hip Hop, and many more. With his innovative approach to playing instruments and his meaningful songwriting, Johnson has become one of the leading figures in the global music scene, and leading artists in the Austrian music scene.
Johnson's previous hit song, "Let's Go Crazy," was a top debut at number one on WRRN Classic Greatest Hits 92 (US), CKXFM 96.1 BOB FM (Canada), and MyTuner Radio (Austria). "His songs received radio airplay among the top songs of artists such as Prince, Madonna, Michael Jackson, AC/DC, Beatles, Elvis Presley, and others. "Some of his most popular songs include "Let's Go Crazy," "Black African Civilization Kemet-Egypt," "History Of Epidemics," "You Are Important," "War Produced The Death and Destruction," "Importance of Nature," "Time for Wedding," "Erotic Desire," "I Give My Name To Her," and "Say My Name."
With over 70 albums and 600 songs, Johnson has established himself as a prolific artist. Not only did he compose, arrange, and perform all of his music, but he also took on the role of self-producer and mixer for every album and song. It's a remarkable feat that speaks to his talent and dedication to his craft.
In addition, all of his albums and songs are self-produced, composed, arranged, performed, and mixed.
The music genre of EP 'Street of Danger Vol.1' is amapiano, house, dance, and instrumental hip hop with the theme of being aware of decisions and the consequences in your life. The EP includes international hits like "Street Of Danger Vol. 1," "Madness," "Think About My Information," "Don't Trust Everyone," "Violent Mind," and "You've Arrived in the Bad World." The EP 'Street of Danger Vol.1.' is already available on Apple Music, Youtube, Spotify, and other digital platforms.
Johnson is a member of the music duo group The 72 Diamonds with his wife Michaela Queenie Johnson.
Let's embrace the power of music and get lost in the beauty of Michael Prince Johnson's 'Street of Danger Vol.1'! Be sure to visit the website www.spiritofmusicmagazine.com to stay up-to-date on the latest music news and reviews."
© 2023, Tedfuel. All rights reserved.