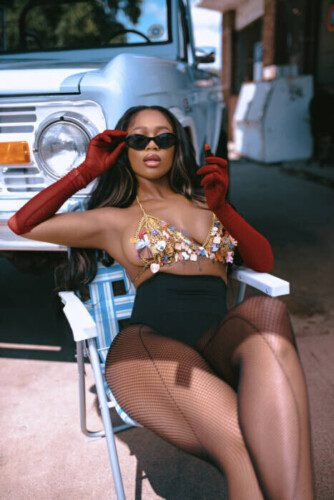 Photo Credit: SHAWN HANNA
Hip-hop rising star Dess Dior returns with her new single "It B*tch Freestyle." "These b*tches be bitin' my style, they're piranhas," Dess Dior confidently raps on the track. She has reason to be so sure of herself, she's been rapping since she was 12 when she started a group with her best friend.
When Dess raps "Post up on an island cuz I'm gettin' sick of the States," it's a sentiment anyone can relate to given the state of the country, but Dess isn't here to get political. The music video finds her hopping between the studio and a luxury vehicle, she doesn't need much more than her sheer presence. "B*tches ain't up on this fashion shit – they still on that?," she jabs, all while cavorting about, her dominance all but leaping off the screen. When she points to the camera it nearly feels she's calling you out personally, it practically stings. If nothing else, you can count on her for sheer honesty: "they say I'm too blunt, I'm just honest, I keep it a buck." She certainly does, and "It B*tch Freestyle" bleeds the confidence she's been making her name on. It's the perfect representation of just what she does best.
DESS DIOR SOCIALS:
Spotify / Instagram / Twitter / YouTube / TikTok