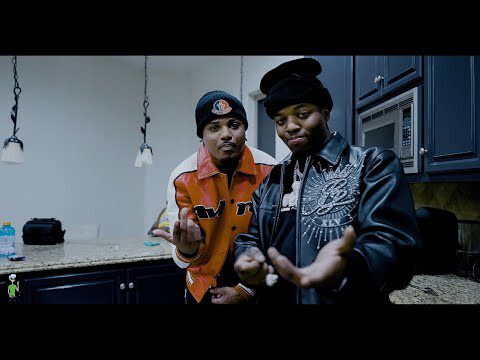 Deeski & Lil Zay Osama have "Seen It All" in new video
Lil Durk and Only The Family have made a name for themselves by delivering sinister street stories straight out of Chicago. Today, OTF shares the video for "Seen It All," a highlight from their recently released compilation mixtape Loyal Bros 2. Featuring Deeski and Lil Zay Osama, the track is backed by hypnotically fast-paced piano arpeggios and thumping drums. The two rappers deliver nonstop, cut-throat bars, establishing their prowess in the Chicago streets: "We gon' risk it all, for my dog, you gon' get stuffed in coffins." Lil Zay Osama taunts his competition on his cold-hearted verse: "My opps be on fan shit, ah ha, you on a mission." In the video, the menacing duo slides with their crew throughout the city, hitting their crib, the strip club, and the streets.
"Seen It All" is the latest in a line of action-packed video from Loyal Bros 2, following the gripping Durk and Future track "Mad Max", Durk's solo banger "Hanging With Wolves," the Doodie Lo and Kodak Black collab "ISTG Pt. 2," and the ice cold posse cut "Thug," featuring Doodie Lo, Chief Wuk, and Icewear Vezzo.
Highlighted by several brand new tracks by Lil Durk, including the Deeski collab "Block Is Hot," Loyal Bros 2 touts the benefits of keeping a tight circle of devoted vultures who were around before the fame and fortune. Curated by the Chicago-bred superstar, the new tape showcases the raw lyricism and melodic instincts of the label's roster of talent, which now boasts luminaries like Doodie Lo, Booka600, Chief Wuk, C3, Deeski, BoonieMoe, OTF Jam, and more. On "We Did It," one of the tape's highlight tracks, BoonieMoe welcomes a verse from the late great King Von. With additional guest spots from Kodak Black, Trippie Redd, PGF Nuk, BIG 30, Lil Zay Osama, and many others, Loyal Bros 2 is available everywhere via Only The Family/EMPIRE.
The fifth compilation mixtape by Only The Family, Loyal Bros 2 follows up 2021's Loyal Bros and 2019's Family Over Everything. Stay tuned for much more from OTF in 2023.
© 2023, Seth "Digital Crates" Barmash. All rights reserved.