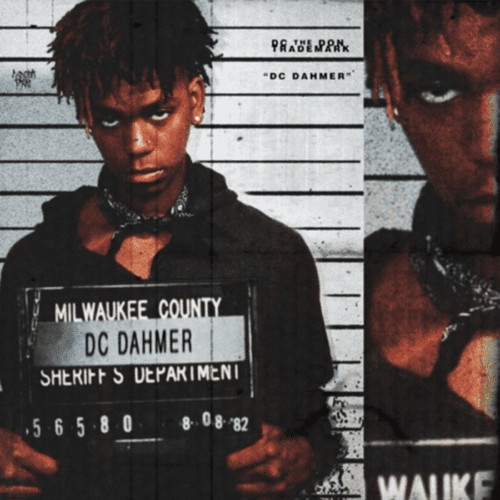 DC The Don Officially Releases New Mixtape, Prepares for SXSW and Tour with $NOT
A versatile talent who mixes angelic singing with demonic rhyming, DC The Don has always cut a unique figure in the music industry. Rewarding his day one fans and giving his new followers a glimpse of the past, the Milwaukee rapper officially re-releases his DC DAHMER mixtape, now available on streaming services. Originally shared on SoundCloud in 2018 on Halloween, DC DAHMER is a fascinating portrait of the then-19-year-old's burgeoning talent.
The new re-release of DC Dahmer comes with two brand new tracks: the lilting and heartfelt "Mood Swings!," produced by Trademark, and the transporting, guitar-led "LSD Freestyle." Both new tracks fit in seamlessly with the original material, demonstrating how he's continued to explore and refine the sounds he first experimented with on DC Dahmer.
The original tape sounds nearly as fresh as it did upon its first release. The music leans into the Halloween theme, with songs about serial killers and horror film monsters: DC offers blistering torrents of terrifying triplets on songs like "GMFU" and "Freddy Krueger." On the other hand, DC DAHMER offers a glimpse at the rapper's melodic side, with highlights like the emo-inflected "Heartbreak Summer 2 " and  Featuring appearances from WavyPat and DC's close friend, the late great Sad Frosty, DC DAHMER is available on all platforms via Rostrum Records.
The re-release of DC DAHMER is the latest salvo in what's shaping up to be busy year for the 23-year-old artist. In January, DC released the endlessly creative new mixtape SACRED HEART (+), home to standouts like "SRT / UMBRELLA" and "SHUTUP!" Following in the wake of 2022's "FUNERAL Tour," DC plans to hit the road again this year, starting with a performance at Restless Fest, a SXSW showcase happening today, March 15th. In May, DC The Don hits the road with $NOT on his "Get Busy Or Die Tour," where he will be a supporting act alongside Night Lovell. The rapper is hard at work on his third album FUNERAL, the follow-up to 2022's My Own Worst Enemy, which has racked up over 55 million streams on all platforms to date.
Stay tuned for much more from the genre-bending rapper as 2023 moves along.
Stream DC DAHMER: http://DCTheDon.lnk.to/DCDahmer
Buy tickets for the "Get Busy Or Die Tour": https://snot.xyz/tour
Buy tickets for SXSW's Restless Fest (2pm on 3/15) in Austin, TX HERE
© 2023, Seth "Digital Crates" Barmash. All rights reserved.