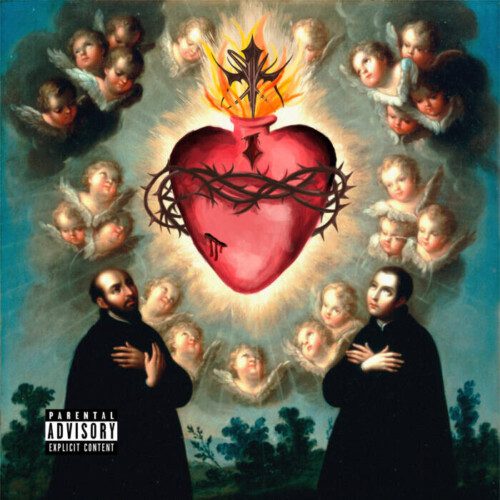 DC The Don Brings 'SACRED HEART (+)' Mixtape to DSPs, Shares Video for "SRT / UMBRELLA"
Animating his introspective verses with vibrant flows and a tireless youthful energy, DC The Don raps like each bar is a blessing. After surprising fans by closing out 2022 with the release of his new SACRED HEART (+) mixtape as a SoundCloud exclusive, DC returns to bring the mixtape to all platforms. Featuring digital, yet carnivalesque production that captures DC's jovial approach to complicated subject matter, highlighted on tracks like the bass-thumping "NASKAR" and the pop-punk inspired, "BREAK IN HALF," SACRED HEART (+) is available everywhere now via Rostrum Records.
Along with the DSP release of his mixtape, DC shares his new video, "SRT / UMBRELLA," which arrives following the cut for "SHUTUP!" Featuring the projects opening two tracks, "SRT" and "UMBRELLA" the video sees DC taking his Charger Hellcat for a joyride alongside a baddie in mime-style makeup, enjoying her company as he remains weary of the performative affection that follows the fame: "Tryna geek-geek, come to my place/She tryna be my friend like we on MySpace/I already got me a bad ho in my place/so enough with the fake love in my face."
SACRED HEART (+) marks DC's first full-length project since My Own Worst Enemy, his second studio album, released last February. The project, which has racked up over 53 million streams on all platforms to date, tells a loose narrative about DC's inner conflict, which manifests as a battle between two distinct personalities: the wholesome RAG3 KIDD and the demonic DONNY. Blending elements of rap, pop-punk, hyperpop, and more, MOW3 percolates with the energy of a young artist testing the limits of what he's capable of accomplishing–and having fun while doing it. Last month, DC wrapped up his "FUNERAL Tour" across the U.S. and Canada, which was a rousing success, selling out shows in Milwaukee, Cleveland, Philly, New Jersey, Colorado, Montreal, and more.
Stay tuned for more from the young artist, including his upcoming third album FUNERAL, as his star continues to rise!
© 2023, Seth "Digital Crates" Barmash. All rights reserved.