Could This Oaxacan Town Become the 'Burgundy of Mezcal?' 
If you purchase an independently reviewed product or service through a link on our website, Rolling Stone may receive an affiliate commission.
There's a drastic change in terrain as you drive southeast from the energetic Oaxaca City into the Sierra Madre del Sur range, where mezcal has been produced there for centuries. About an hour in, the roads wind into rugged slopes studded with majestic agaves including the most common variety, espadin, and the wild and elusive tobalá, which thrives in these higher altitudes. 
While mezcal is distilled all over the state of Oaxaca, it was one specific palenque, or small distillery, that captured the heart and imagination of Rafael Shin, a first-generation Korean Mexican who was born in Mexico City. Set near a quiet Zapotec minority town of 1,800 called San Juan Del Río, established in 1620, it was the fifth-generation family-run business belonging to a local maestro mezcalero, or master artisan, named Don Rogelio Juan Hernandez. 
"Everything we studied — all of our favorite mezcals we tried — the common denominator was San Juan Del Río," Shin says. "Agave is very specific. With the altitude here, you get extreme temperatures. When it's cold it's cold, and when it's hot, it's really hot. This stresses the agave, which creates more flavor, and challenges the roots to go deeper, which develops minerality. Don Rogelio really knows how to pick the right plot of land." 
So in 2020, leaving behind a career in finance, Shin created Agua Mágica, which translates to "magic water." He hopes to position San Juan Del Río as the "Burgundy of mezcal" — in other words, a region whose subtle, elegant mezcals are globally renowned for their sense of place. The brand's inaugural expression, an ensamble of both espadín and tobalá, is just that: light and fresh on the nose with hints of cooked banana that unravel into a peppery, nutty palate. 
"Bordeaux wines are famous for their production methods and winemaking techniques, but Burgundy is by contrast more terroir-oriented and grape-forward," Shin explains, "In Burgundy, a specific vineyard or region will bear a given classification regardless of a wine's producer. It's typically geographically-focused." 
Specifically, Shin hopes to establish what he calls "the premier cru of San Juan del Río," to bring notoriety to the area's mezcal — and in doing so create opportunities for the mezcaleros behind it. And there's perhaps never been a better time: according to a recent IWSR report, mezcal is forecasted to see a 10.5% compound annual growth rate between 2021 and 2025. 
But there are also challenges: in San Juan Del Río and neighboring areas, there is no private property — all of the land is communal, which historically meant that selling to brokers was the only option for growers. "About 90% of what you've tried in the U.S. is sourced through these brokers," Shin says. "Small families sell into the broker system, which sells to bigger brands."
Because of this, Shin's approach centers heavily on empowering small businesses with the necessary means, ranging from capital to science, to grow their operation. Rather than simply selling agave to Agua Mágica, Don Rogelio is partnered into the brand, benefiting from immediate working capital as well as business consulting and the expertise of the brand's in-house chemical scientist, Sara Aguilar, who has worked in mezcal for decades.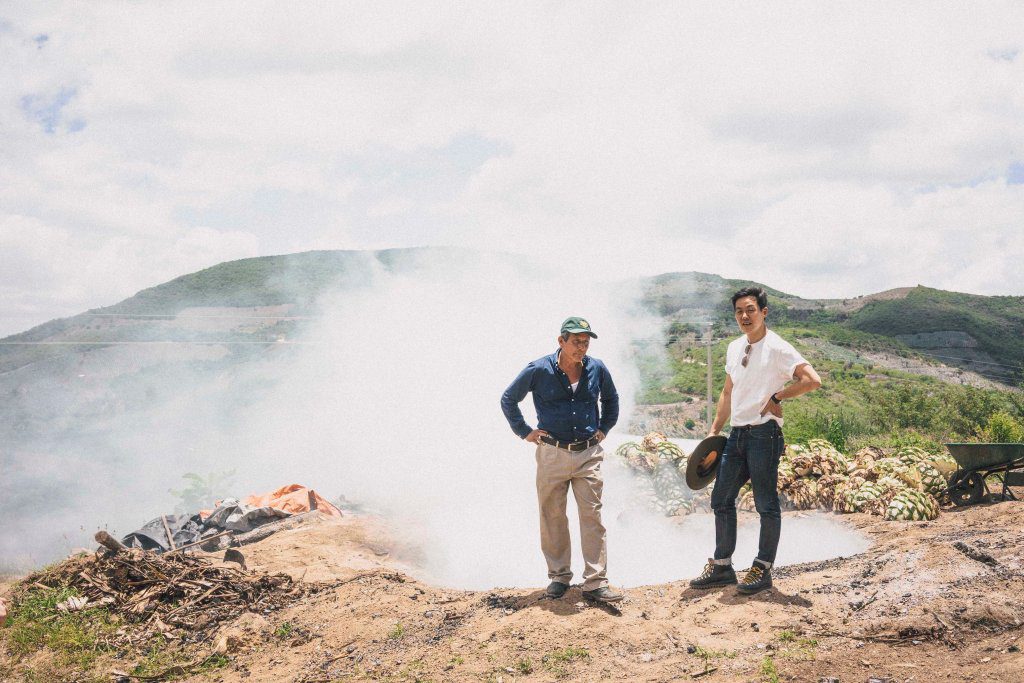 "As a small family-owned business, it's extremely hard to scale mezcal," Shin explains. "If you want to sell a liter of mezcal, you have to plant an agave, wait seven years, make the mezcal, then sell it at a converted price. By providing up front capital to start planting the agave, we can free the mezcalero up to increase his palenque, which costs around $5000 and so would normally take years to save." 
Less than two years in, the approach has already paid off — both for Don Rogelio, whose son Julio is now opening up his own palenque as well, as well as for Agua Mágica, which is appearing at top venues in both Mexico and the US. It's on the menu at star chef Enrique Olvera's Cosme and Pujol, as well as Soho House, the American Bar, and Pebble Bar, whose investors include the likes of Mark Ronson and Pete Davidson.  
For Shin, who plans to continue collaborating with Don Rogelio on some exciting yet-to-be-announced expressions with different agaves, Agua Mágica is about both creating a product of beauty as well as uplifting the communities that have cultivated the tradition of mezcal over lifetimes and generations. 
"Oaxaca is so ancient in many ways, but mezcal is still relatively new in this kind of market, so the nuanced discussion about terroir is not there yet," he says. "That's why we want to help our mezcaleros build their own road to market and pay for quality. Over time, the product will continue to improve. That's how you create value."