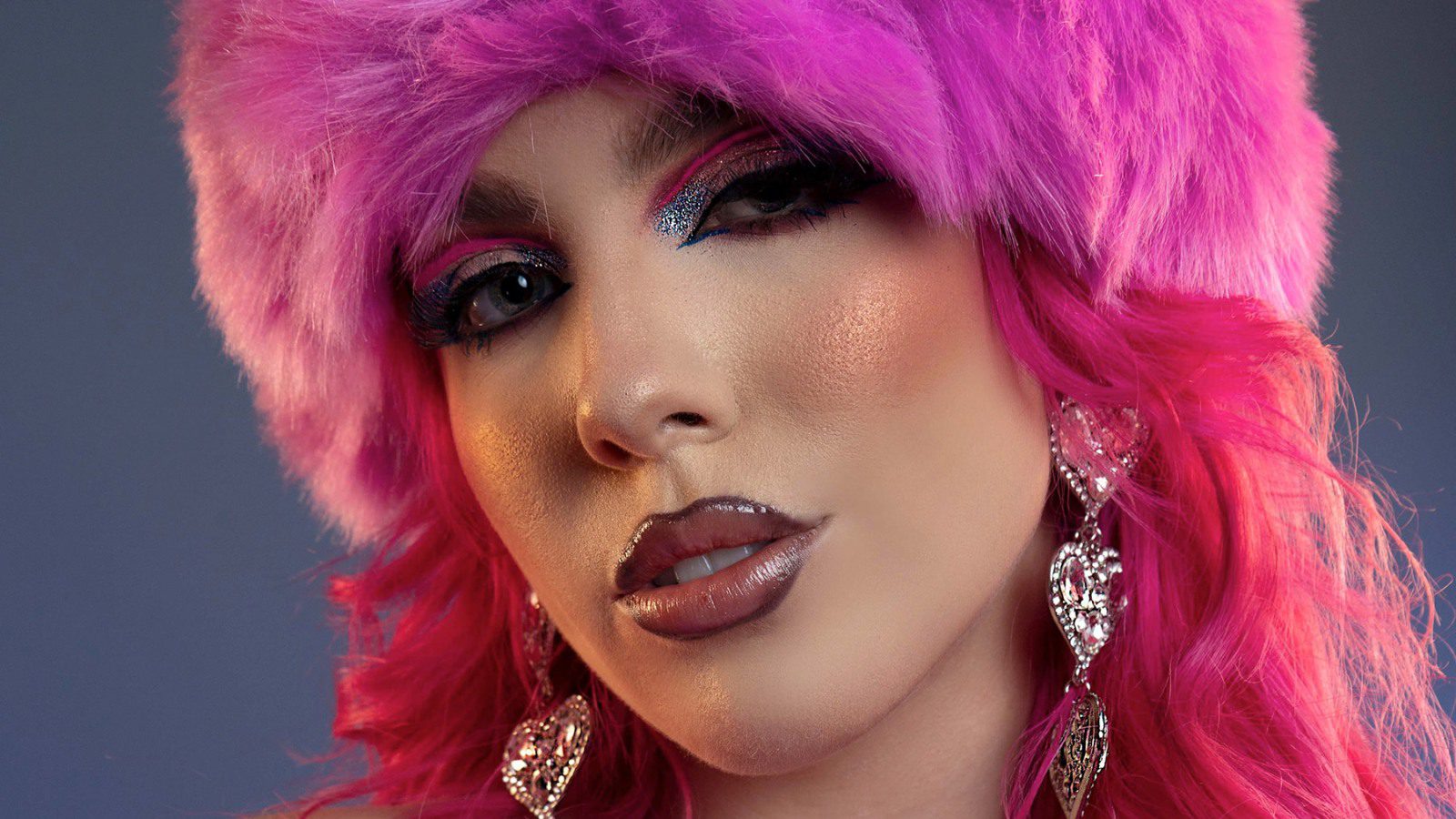 Chrissy Chlapecka Wants Everyone to Feel 'So Hot'
If you have been regularly using TikTok for the last few years, you've probably stumbled across Chrissy Chlapecka's videos. With their energetically baby-voiced delivery and bright pink hair (and outfits), Chlapecka (who uses both she/her and they/them pronouns) has been leading the charge on reclaiming the pejorative "bimbo" as a term of self-empowerment for the "girls, gays, and theys" following their account.
In breathy videos, Chlapecka is dressed up in mini-skirts and bikini tops, cheekily espousing sex-positive affirmations and proudly shifting the narrative around a word that had been negatively tossed at pop culture's most derided and misunderstood figures, from Marilyn Monroe to Pamela Anderson.
While Chlapecka is one of many influencers rehabbing the term, they've been dominating that corner of TikTok for the last couple years. Now they're ready to parlay viral fame into making their long-held music-driven ambitions come true.
"I really wanted to be a Broadway star," Chlapecka, who cites Bernadette Peters as an early inspiration, tells Rolling Stone over Zoom. They majored in musical theater for a semester in college before taking a different approach to achieving a future in the spotlight.
"I didn't want to feel very confined by the box I think musical theater could put you in," they say. "Not that it's a bad box to be in, but I just saw myself being somebody outside of that…someone with pink hair and tattoos and everything like that."
Chlapecka breaks free of any box with the release of "I'm So Hot," their debut single, which dropped last week. Since beginning to promote the song on TikTok in January, the reaction has been overwhelmingly positive and hungry for the catchy new tune to make its mark. Harking back to the shimmery early-Aughts club-pop of Britney Spears' Blackout era and Paris Hilton's "Stars Are Blind," "I'm So Hot" is a sexy dance anthem that could make Chlapecka a strong contender for pop's next It Girl. 
The 22-year-old began working toward their musical ambitions last year, taking monthly flights from Chicago to L.A. to work out of studios with friends like producer Kundo and the DJ Alex Chapman, who helped Chlapecka find their voice. In August, Chlapecka linked up specifically with producer Dallas Caton and songwriter Alexandra Veltri and came up with "I'm So Hot," one of the first songs they worked on together. 
"We had connected very fast," Chlapecka says of co-writer Veltri. "It was already a safe environment to just be creative." One day, they texted Veltri about wanting to write a song with the line "I'm so hot I'd fuck myself" — Veltri requested Chlapecka save that one for her. 
For Chlapecka, the song is emblematic of their own self-confidence journey, which they say began around the age of 20 when they first joined TikTok and found thousands (soon to be millions) of people who supported them as they were. "It's still an everyday struggle and everyday thing like I'm working out, because you don't become self-confident and love yourself overnight," they say. 
Part of loving themself has been dealing with repercussions from sexual trauma they've endured. "It made me feel like my body is damaged, which isn't true, of course," Chlapecka says. "This song is a love letter to myself and anyone who has really experienced difficult times with sex and loving themselves because those are two really, really sensitive things."
"I'm So Hot" has already become their personal "bad bitch anthem." It's an extension of the brand Chlapecka has established online for their 5 million TikTok followers and beyond, one that reclaims sex and power as something both personal and beautiful. 
Coming up, Chlapecka will film a video for the single and then let people hear the other songs they've been cooking up for the last several months. They anticipate two more tracks to come out in April and then more around Pride Month in June. They'd love to put out an EP this year as well.
"There will be much more music to come and a lot of music just like 'I'm So Hot,'" Chlapecka says, "so people can get more of that fun, early 2000s vibe back."