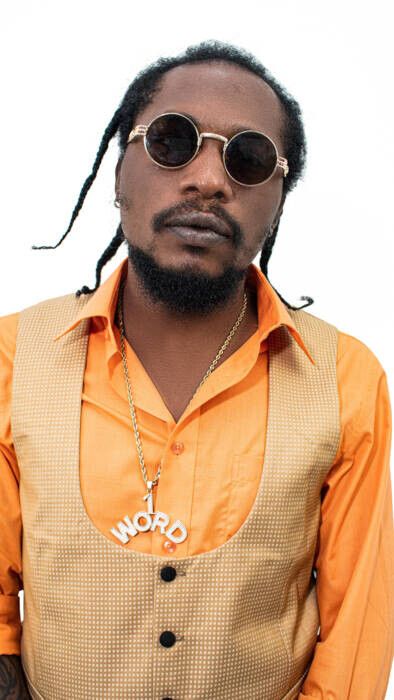 Influenced by the legendary Jimmy Cliff and iconic Vybz Kartel, emerging artist Jafrass found kinship in both these artists' respective creativity and delivery. But it is an unlikely ally that encouraged his artistry; "My grandmother would drink rum on occasions and when she was feeling it, she would always call me to deejay for her; she was my first fan!"
Although music has always played a role in his life, Jafrassprofessional career started when he serendipitously was introduced to coveted producer Notnice, the latter lead to his signing to the imprint label Notnice Records, "from them Time until now a just history" stated the fledgling artist.
Since recording his debut single, "Floss Boss" on Notnice's Detox Riddim, Jafrass has honed his craft by delivering a modest discography and toured both locally and internationally. Armed with these experiences, the recording artist has delivered his musical entrée by way of an 8-track journey into his mental and emotional landscape, "Faith" EP is the perfect soundtrack to a still-unfolding talent ready to be heard in his fullness. "Each song has a different message, the EP doesn't really have one feel, it's more like different sides of me, there are girls songs, Conscious songs, and street songs. The title of the EP is self-explanatory, it came from the fact that so many times I felt like giving up but faith brought me this far an me firm, that is also why it is the lead single" – he explained
The EP also features collaborations with Nordia Mothersille, Jah Vinci, and Squash. "Well Nordia is a part of the Jah Vinci team, plus me and Jah Vinci have great chemistry from (if they know ) so having him on the EP made sense, and I know that's something the fans will be looking out for. Squash a me fam from long time, done know the wul a we a Mobay youth. So me reach out to him tell him me have a song pon the EP weh me a hear him pon, him say send it and that's how we get House Party"
Watch Newly released visuals for Jafrass – Drug Smuggler ft NordiaMothersille
https://www.youtube.com/watch?v=OTA9aNp25GA
Jafrass – Faith EP by Notnice Records (August 20) via ONErpm, is now available for pre-order/pre-save with the lead title "Faith" available as an instant track!
https://onerpm.link/faithEP
Tracklisting
Faith feat Nordia Mothersille
Drug Smuggler feat Nordia Mothersille
My Type
House Party feat Squash
Fun
Avoid Mi feat Jah Vinci
Death Come
Crime Lord
Named 'Producer of the Year 2019' by the International Reggae and World Music Awards (IRAWMA), Notnice Records staked its place in music history time and time again. Specifically, with such hits as "Ramping Shop" (duet from Dancehall Superstar Vybz Kartel and Dancehall Superstar Spice) with its chart-topping positions, singles with Jah Vinci, Alkaline, Popcaan, and a year ago his Billboard charting album Kyng Midas(Shatta wale, Sean Paul, Popcaan and more).