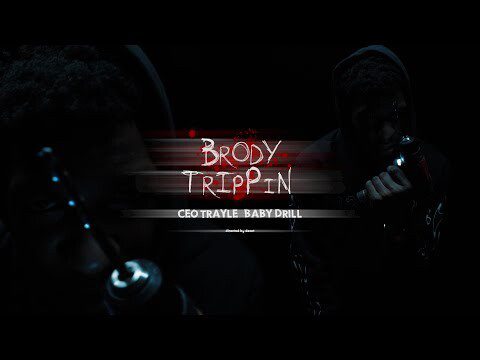 CEO Trayle and Baby Drill Connect for "Brody Trippin"
CEO Trayle separates himself from the pack with his villainous pen and devious delivery. Unfazed as his opposition flounders, Trayle teams with fellow Atlanta-based riser Baby Drill to share the new video single, "Brody Trippin." The track finds the pair of tough-talking street rappers taking stone-faced amusement in their mismatched opposition's inadequacies as they perfect their hustle: "Yo mama say don't hang with us, we criminals/N****s don't talk that s*** on IG, post subliminals."
The video for "Brody Trippin," directed by Decat, sees Trayle and the Young Nudy-co-signed Baby Drill hauling more hardware than Home Depot employees, wearing black hoodies in place of orange aprons as they hatch their plot. Navigating concrete corridors with power tools in tow, the scenes appear to capture a heist in progress, before the pair finds themselves surrounded by amps in a studio. With the kind of noise they're making, they don't need to bust open vault's to get a bag.
"Brody Trippin" arrives following Trayle's highly acclaimed mixtape, HH5, which Pitchfork ​​gave its coveted Best New Music designation. HH5 establishes Trayle as one of the slickest talkers in a stacked ATL scene, twirling his soft-spoken and erudite delivery like a cartoon villain twirls his mustache. Creeping over instrumentals like Freddy Kreuger slips through a subconscious, Trayle juxtaposes his sly wit with moments of pathos, toeing the line expertly on tape highlights like "We So Young" and "Took Some Time." HH5 features some of Trayle's most expansive production to date, with contributions from Dun Deal, OG Parker, Go Grizzly, Trauma Tone, and Trayle's frequent collaborator Stribb, among many others. Home to standout singles like "Chokehold" and the complicated relationship anthem "I Love You But…," featured on Drake's OVO Sound Radio, HH5 is available everywhere via Do What You Love/10K Projects.
HH5 was the crowning achievement in a breakout year for CEO Trayle. Capitalizing on the momentum of Trayle's viral 2021 hit "Ok Cool," which generated over 60 million streams and earned a remix from Gunna, 2022 saw the release of Vier, a four-track EP released in July alongside a Q&A with The FADER, and the 8-song mixtape The Collection, home to highlights like "Of Course," the tape's closing track. Trayle made a splash in Fall 2022 with his From The Block freestyle, where he performed his song "Song Cry," which racked up over 2.2 million views on YouTube.
With HH5 in the books and much more music to come, CEO Trayle is primed for a major 2023 and beyond!
© 2023, Seth Barmash. All rights reserved.