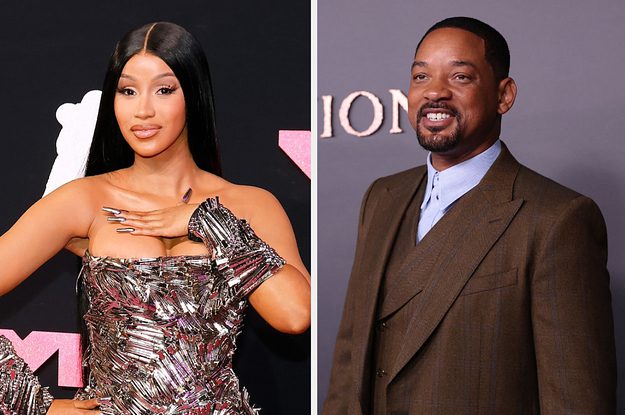 Cardi B Calls Will Smith 'Unproblematic' Amid Duane Martin Sex Rumor, Seemingly Blasts Tasha K
"Libras, we be getting tried, we be getting tried. And then when we outburst, we outburst so fucking heavy that we become the ones in the wrong," she continued, seemingly referencing Smith's infamous Oscars slap. "I feel like y'all doing that to Will Smith."
Cardi also appeared to indirectly refer to controversial gossip blogger Tasha K, who interviewed Brother Bilaal, the man who claimed he saw Smith and Martin engaging in "anal sex." Cardi has had her own legal dealings with Tasha K, who owes the Bronx native millions in a defamation case.
"And I don't like that some people never fucking change. I'm so tired of people picking on that man," Cardi added. "Your job as a journalist, you should be able to detect that somebody is bullshitting or not. 'Cause anybody can say something about anybody. Look what happened to me in 2018 when a bitch—I didn't even know her fucking name was saying that she know me. … Anybody can say a fucking fake ass story about you and people gonna fucking fake ass believe it. So it should be your job to detect whether something is a lie or not."
A representative for Will Smith denied the allegations, saying that the "story is completely fabricated and the claim is unequivocally false."
Bilaal told Tasha K earlier this week that in 1993, he walked in on Smith and Martin—who appeared in one episode of The Fresh Prince of Bel-Air—being intimate in a dressing room.
On Wednesday, Jada Pinkett Smith told The Breakfast Club that the accusations were "ridiculous," and that they're seeking legal action. She also called Bilaal's claims a "money shakedown." When Jada was asked to elaborate, she said it had to do with Will's recent memoir.
"It's based around this person's idea that they, in some way, were doing business around Will's book, and that they spent money or what-have-you, and that they needed to be compensated," she said. "So he already tried to do this money shakedown. Will was willing to give him a certain amount, and he didn't take it. So this whole situation is based on that."