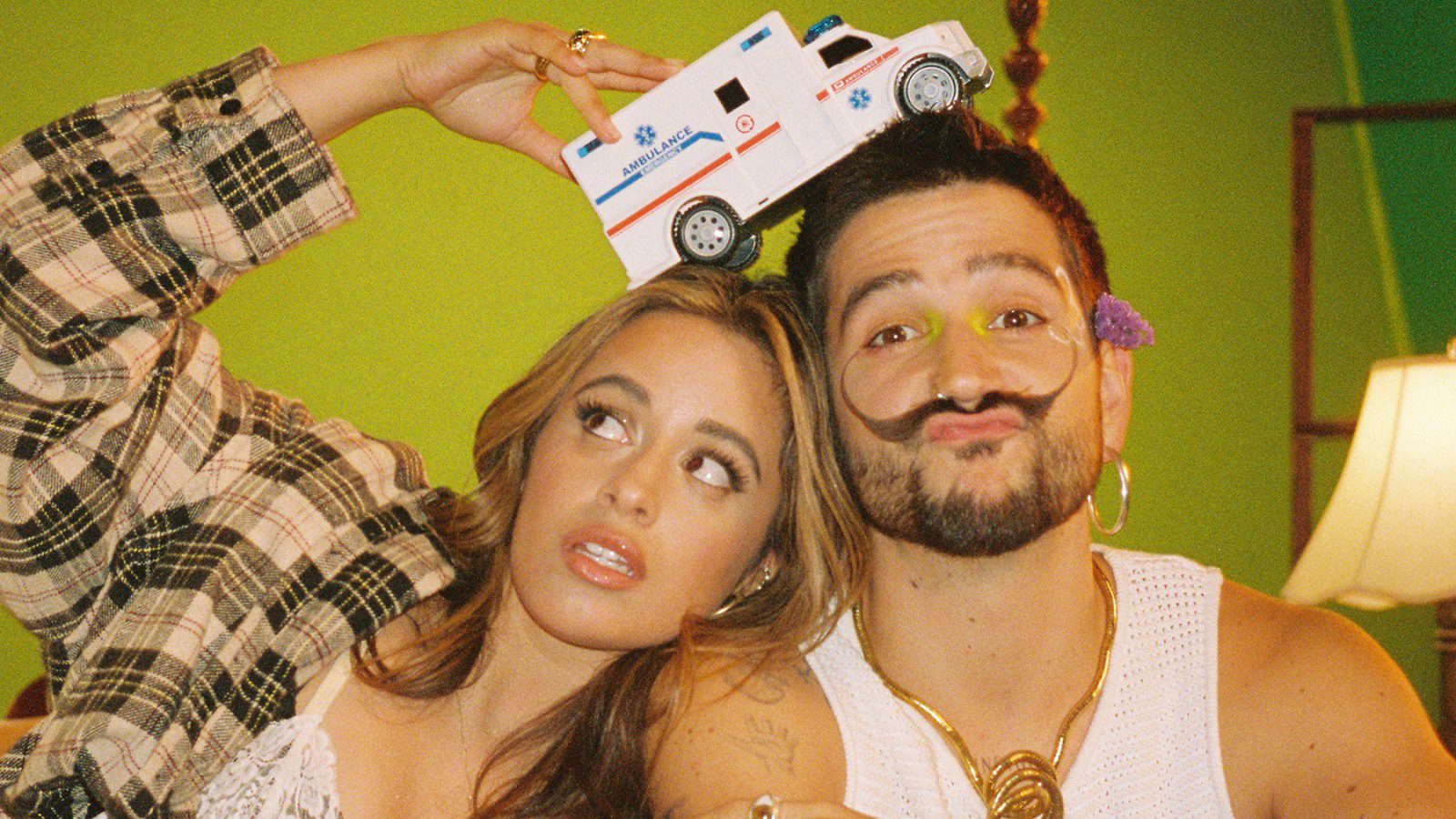 Camilo and Camila Cabello Sing From the Roof of an 'Ambulancia' in New Video
Camila Cabello and Camilo are two loving free spirits in a dreamscape in the new music video for their collaboration, "Ambulancia."
The video, released Tuesday, follows the two Latin stars posing in front of a campy green screen as they sing about their love. "I had turned off my heart/But when I saw you, it was put on fire on its own," sings Cabello. "The fire won't turn off/Even if the desert turns into the sea."
The music video — directed by Camilo's wife, Evaluna Montaner — features silly visual effects and changing backdrops as their duo's makeshift bedroom catches on fire.
"Camila is a great friend and someone who I admire, so writing 'Ambulancia' and performing it live together for the first time at my show was very special to me," Camilo said in a press release. "Evaluna shot the music video on top of a real ambulance, and I'm so proud of how it came together – it's one of my favorite music videos we've ever done."
The music video's release comes a few months after Camilo welcomed the former Fifth Harmony star onstage during his tour stop at Los Angeles' Microsoft Theater in November.
"I love her as a songwriter, as a singer," Camilo said as Cabello joined him on stage. "She's been with me as an artist and as a person. I can't believe I have a song with her. She's a great human."
When Camilo released his album De Adentro Pa Afuera, he spoke to Rolling Stone about tapping Cabello for the song, calling her a "close friend."
"When I started the first line of the song with my guitar, I was like, 'Absolutely, this is a song that I have to do with Camila.' I sent it to her through a voicemail," Camilo said at the time. "I was like, 'Girl, I have this, and I think you're going to love it. Please listen to it and let me know honestly if you like it or not. Let me know if you see yourself here or not.' And she was like, 'Bro, I love it!'"
He added, "When she sent her acapellas, her voice, and the parts that she wrote, it was mind-blowing for me. It's one of my favorites and it's a very special one."
Among the songs featured on Camilo's album were "Alaska" with Grupo Firme, "Bebiendo Sola" with Myke Towers, and "Índigo."