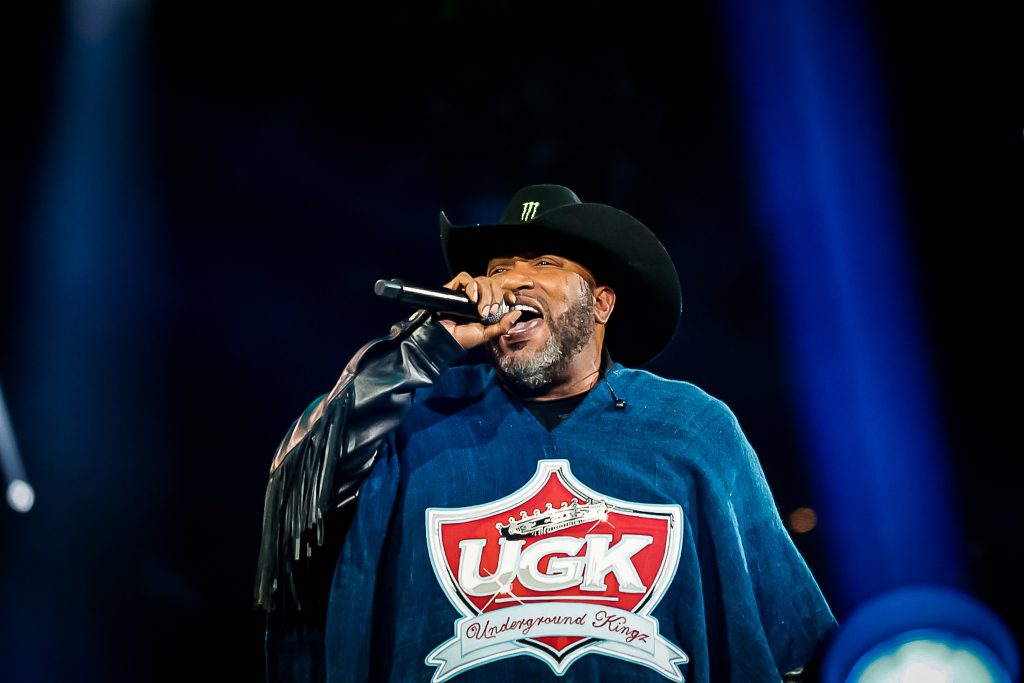 Bun B Talks Fashion, the Rodeo and H-Town's Hip-Hop Legacy: 'I Want to See the Next Generation Win'
If you purchase an independently reviewed product or service through a link on our website, Rolling Stone may receive an affiliate commission.
Founded in 2017, the menswear label PURPLE has quickly become a staple for both streetwear and luxury elitists alike, earning that "IYKYK" label that fashion brands seem to always covet. Now, PURPLE is stepping up its game even more with the launch of their men's denim line, and they've tapped a hometown icon to help promote the collection.
PURPLE co-founder and Houston native, Luke Cosby, teamed up with fellow Texan, Bun B, on a special event to celebrate the denim line during RODEOHOUSTON weekend. 
The partnership between the two kicked off with Bun B's performance during the Houston Livestock Show and Rodeo, where PURPLE designed a handful of custom outfits for Bun B to wear on the stage.
The looks included a a pair of bootcut jeans with black resin and black studs on the sides; and a leather trucker jacket with tassels along the arms and a crystal design representing the state of Texas on the back. At one point during his performance, Bun B changed into a poncho with the UGK emblem logo — a nod to the legendary hip-hop duo he co-founded with Pimp C.
Buy Purple at Neiman Marcus $75+
"I grew up in H-Town and Bun is an icon who has continuously put the city, fashion, music and culture on his back," Cosby tells Rolling Stone, about why he chose to partner with the rapper. "Working together with him was seamless and we were able to truly create some pieces that not only pay homage to UGK and their legendary endeavors, but also a city teeming with diversity and life."
To end the weekend, Bun B and his award-winning Trill Burgers made a guest appearance at Neiman Marcus located in The Galleria. The Trill Burgers were served with fries to fans and customers at the experiential launch with PURPLE custom packaging for the burgers handed out to all who attended.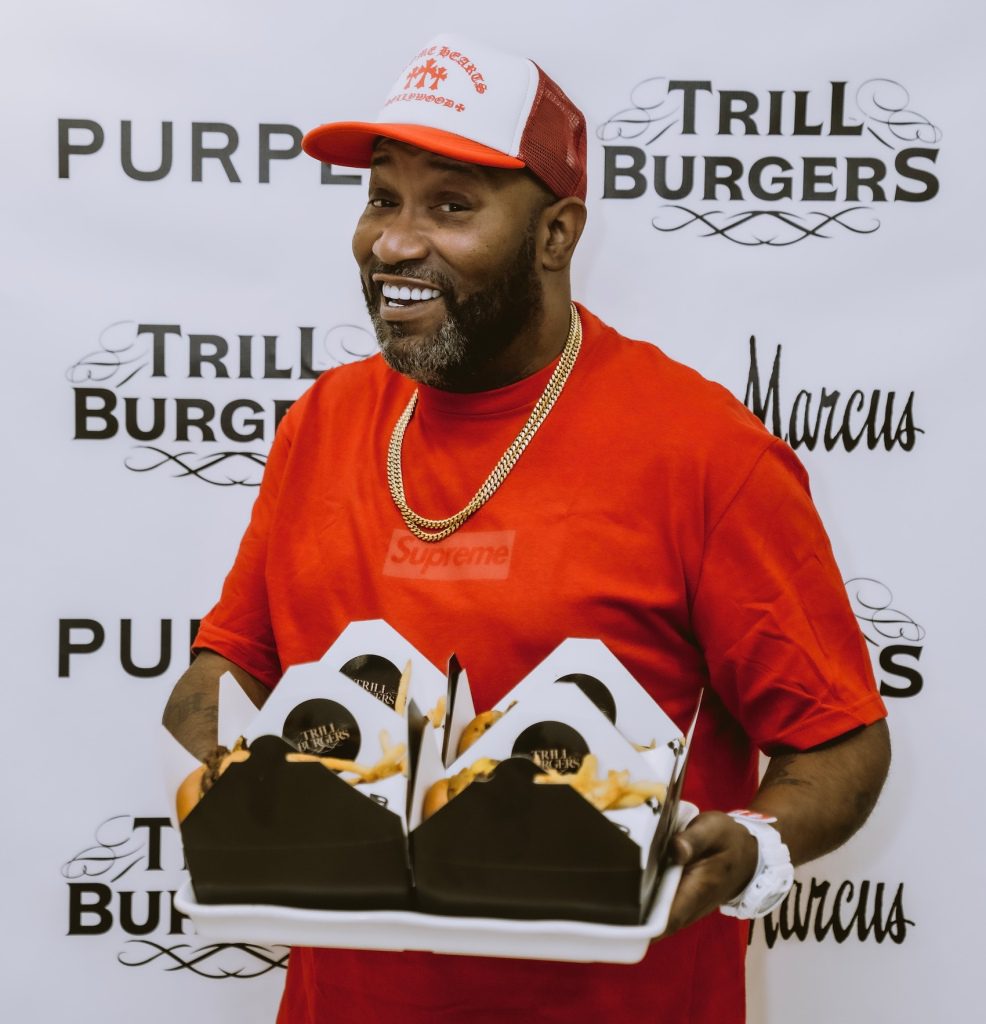 Rolling Stone caught up with Bun B to talk about the partnership between PURPLE and Trill Burgers, why it was important for the H-Town legend to take the stage at the Rodeo, his classic UGK albums and the new generation of rappers coming out of Houston. 
You and PURPLE have teamed up all weekend for RODEOHOUSTON starting with your performance at the Houston Livestock Show and Rodeo that they created custom garments for — how did this idea came together to pair you with PURPLE?
[PURPLE co-founder and owner] Luke represents Houston in the same way I do and I've tried to be as supportive of him and his brand as much as possible. As a new company you need new eyes on your product. I understand that very well working for the Trill Burger brand. So I've just been trying to help my friend get more eyes on his brand, help him elevate his product. And I mean, what a difference a year makes. We've known each other for more than a year, but our professional partnership has only been about a year. But just the ground that he's been able to cover, the cultural impact he's been able to make, man I'm really happy for him.
My company is probably only a year or two younger than his and so in the same way that I reached out to help him build his brand he's been reciprocating with us. If he does a pop-up, we'll show up and provide food for him, with Neiman's in particular. Then when we have an event, he'll partner with us and provide us with limited-edition packaging for our burgers and fries. So him being this great design visionary and us having this great product, it's a match made in heaven.
What's the reception that you have been getting from the trill burgers, especially with the custom PURPLE packaging?
Well, I mean it's all about elevating these products, right? Luke makes denim but it's an elevated experience with his denim and his clothing in general. And for us, it's just about elevating our product because we don't look at ourselves as the average burger, the same way that Luke doesn't look at his brand as the average denim, so it's all about elevating the experiences. One of our goals has been to make our product, which is a burger, a priority in spaces where burgers are not a priority. So having a burger be a focal point with a brand like Neiman Marcus is huge. Neiman Marcus doesn't sell food, right? They sell clothes and other things for luxury and high-end lifestyles, but the fact that they recognize the impact of my burger and allow my burger to help them sell shoes shows that we're more than just the average cheeseburger.
Our burger is not the average burger and it's an elevated dining experience in the same way that PURPLE denim is elevated in clothing and Neiman Marcus is elevated in retail. So I think the collaboration of all three of us makes total sense because we all represent the same thing.
Luke is from Houston and talked about you putting the city's fashion, music and culture on your back. Why do you think hip-hop has always had such an influential role in fashion?
Because we're a reflection of the environment in which all this culturally impactful music and identity comes from. Typically, rappers don't really set fashion trends. Now you have a few that have been able to do so — people like Pharrell, people like Kanye and even a Cam'ron who have had that kind of impact on fashion. But typically, a rapper's wardrobe reflects the environment that rapper comes from. So when you would see Run DMC back in the day with the jumpsuits, the Adidas, and the brims, that was a reflection of Queens at the time. That's how the hustlers dressed.
Even further back though, like Grandmaster Flash, and the Furious Five, you know, the earliest days of hip-hop coexisted with disco, and punk rock, and all these other alternative brands, and hip-hop was considered an "alternative brand" for many years, until, of course, we became very popular music. Now, it's very hard to even sell a product without something representing hip-hop. Hip-hop has always been a reflection of basically what the cool kids are into. For many people and particularly in the suburbs, the cool kids are in the hood, right? That's where the cool kids are. That's how the cool kids dress. They represent that experience, that walk, and everybody wants to have some proximity to that.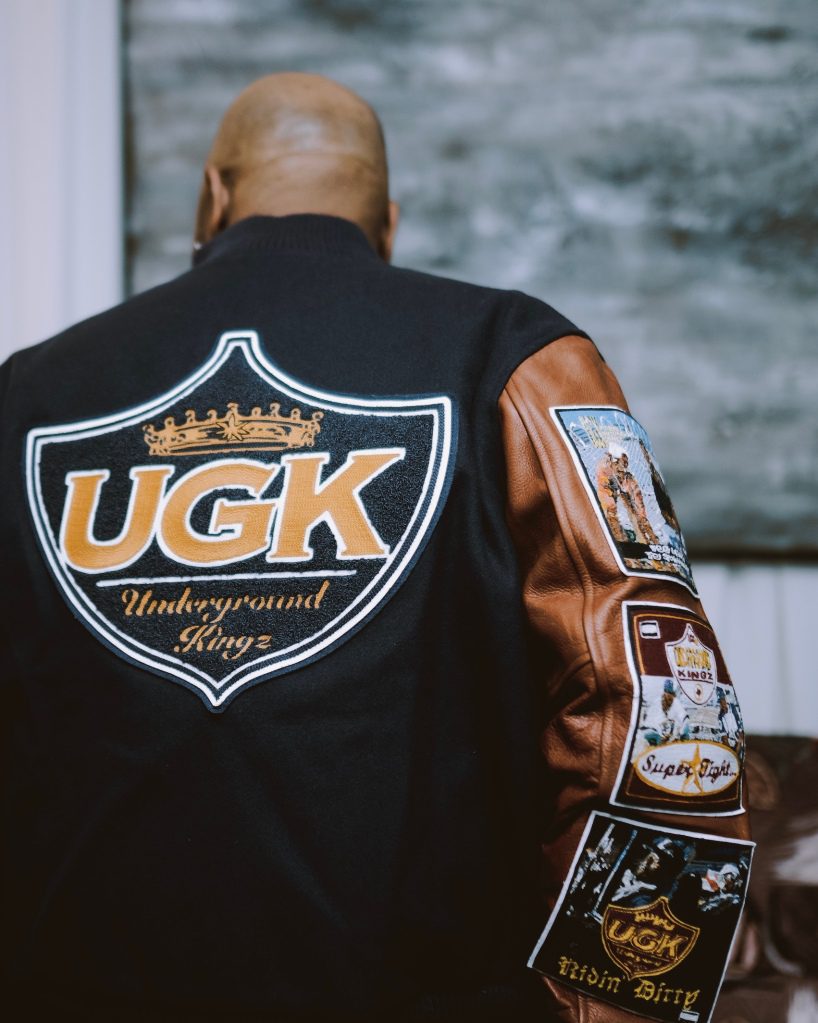 One of the looks you wore was a Golden Bear Varsity Jacket with patches that pays homage to each of the six studio albums you've released as part of UGK, so I wanted to ask you what is the first word or words that comes to mine when I say the title to each one of those albums. Let's start with 1992's Too Hard to Swallow.
Young.
1994's Super Tight?
Getting there.
1996's Riding Dirty?
Classic.
2001's Dirty Money?
Underrated.
2007's Underground Kingz?
The reunion.
Lastly, 2009's UGK 4 Life?
Title says it all. 
Your performance at the Houston Livestock Show and Rodeo also coincides with Black Heritage Day. Can you talk about what this performance means to you?
Last year we were asked to perform on Black Heritage Day as well and for an institution that's been going on for over 90 years now, Black Heritage Day is a newer edition. It's not new. It's a newer edition. It was created to pay respect to the black people that come to populate the rodeo, who ride the rides, spend the money, all of that. Then for many years, there was not a reflection of them available at the rodeo. So Black Heritage Day was put together to change that narrative.
To be a part of the rodeo in itself is one thing. To be from Houston, it's additional, and to be Black from Houston, is unheard of. So to do it on Black Heritage Day is like a penultimate moment for me as a Black Houstonian that makes hip-hop music. You couldn't really ask for a better stage to present yourself in the city. But to be very clear, Black Heritage Day is not like the day where all the Black people come out. It's the day where everyone comes out that celebrates Black Heritage. So we'll have a mix of people.
What is the energy like when you perform in not only the city that you are from, but one you have built such a legacy in with a ton of history?
The rodeo is generational. The first concert I ever went to, my mother took me and my brothers to the rodeo, and now we take our children and I take my grandchildren. So I'll perform with four generations of my family in that building. And there's gonna be entertainment for all of us. The rodeo prides itself on being a family-friendly environment. We won't be getting vulgar, we won't be grabbing our dicks. You won't hear any hard M's, F's, N's or B's. 
I think it's pretty cool that the genre of hip-hop is highlighted at an event like the Rodeo. I wanted to know what or who you credit to hip-hop's evolution as a genre that is now essentially worldwide?
So although the rodeo has been inclusive when it comes to Black Heritage Day and Black artists, hip-hop has been a whole different thing. And again, that goes to the point of the rodeo being something very family-friendly. So the idea of wanting to incorporate rap was there, but then it became who? Who would make sense in that room? Who could sell the tickets and who can represent the culture in the best way?
I performed twice before. Once with Slim Thug, when Beyonce brought Slim Thug and I out, and then again, I came out with Leon Bridges one year. We once had Cardi B, as a rapper headliner. I know the language was a problem to the point where like, her mic was muted for much of the performance and it just had her performing to a track for a lot of it, to try to curtail the cursing as much as possible.
The next rapper to perform was Chance. I've worked with the Rodeo to try to help diversify and when the idea of Chance came up, I was like, 'That's gonna be your perfect artist.' First of all he's got great music. He's gonna be a great performer, but also his demographic skews in the way that they want the Todeo to skew because the Rodeo was starting to become, quite frankly, more of an older event, there really wasn't much that they were offering for younger people. But over the last couple of years, we've been able to change that. We have been able to bring in some different people for that purpose. I hope to be at the beginning of a new era of booking locally because that's not something they really did. The only other live person to ever headline from Houston was Beyonce, aside from traditional country music acts. So I'm trying to make sure that every time that I'm given the opportunity to touch that stage that I don't fuck it up for the next generation of guys, because I would love to see like Travis Scott or somebody getting a night at the Rodeo once all that drama kind of clears up, but you got people like Don Toliver who's killing it right now with his new album. So there's still a little bit higher we can take this thing. 
I wanted to get your perspective on what you think of the new generation of rappers coming out Houston like Maxo Cream, Don Toliver and Travis of course?
They're all talented. So the talent part, that's pretty easy for them, but the way they've been able to maneuver through the industry, taking advantage of everything in front of them while maintaining professionalism and all these other things that we love to see with these artists, I'm proud.
Not only are they making the music to represent for us, but they're also handling their business in the right way for us. They're part of ushering in this new wave and a new guard and I'm all for it. I'm here for it. I want to see the next generation win. The best thing that the new generation has going for them is that for the first time ever, the music business operates in their favor — artists have never had as much control of their destiny as they do now.
Like, yes, there are still the typical industry things that could fuck you over like a 360 deal and shit like that. But the idea of having to sell one record in a record store that people had to walk into to physically purchase, is now replaced by releasing one song on eight or nine different streaming platforms and social media sites to build money in that way. Artists are now in a position to make more money off of their art than they've ever made before. Artists can now be in more control of their career than they've ever been before and to reach directly to their specific base than they've ever been able to do before. And I'm all for it.