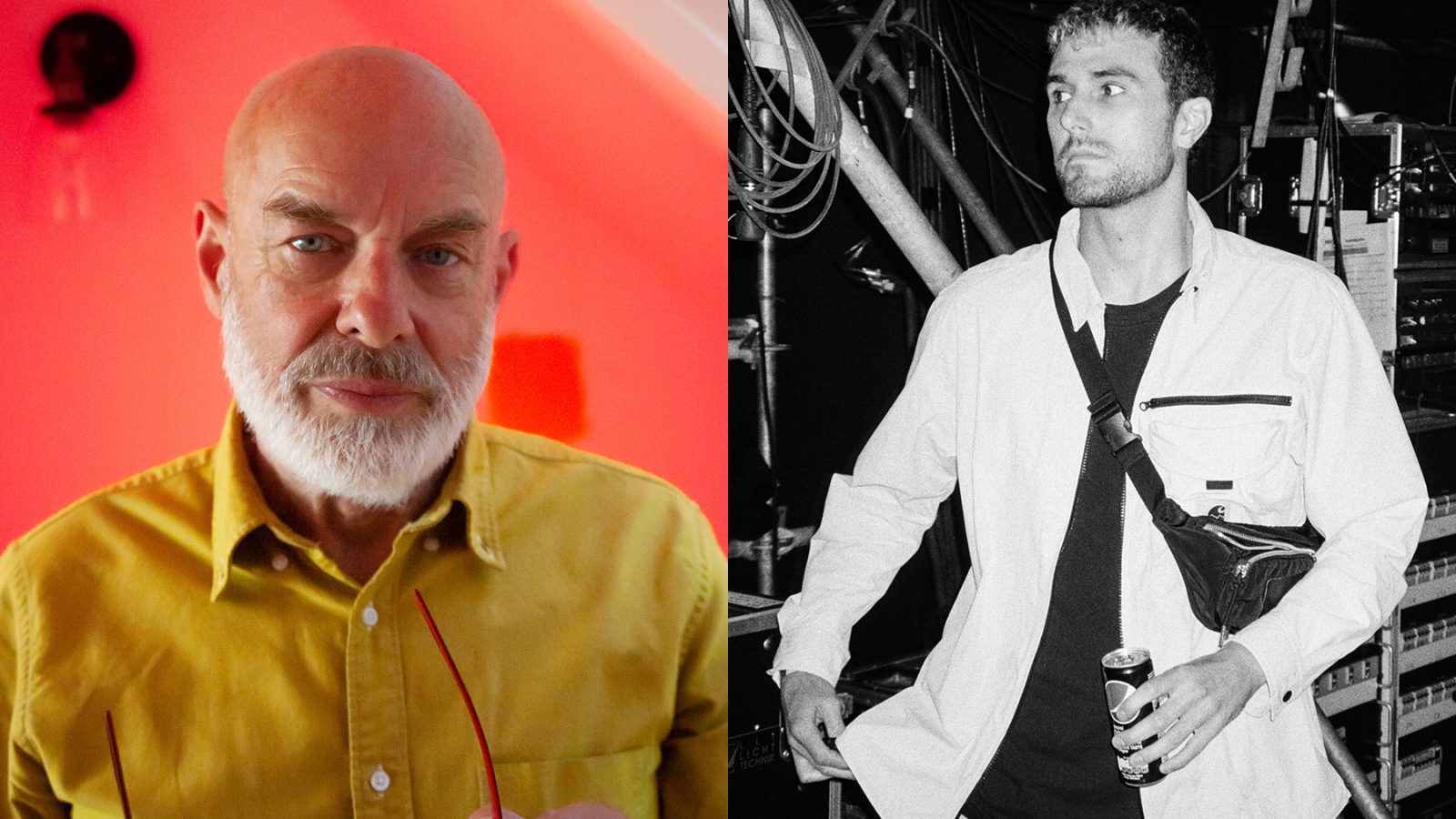 Brian Eno Coaxes Out Fred again..'s Serious Side On 'Secret Life'
Ambient music icon and rising house music star get together for a copacetic collaboration
U.K. dance producer Fred again.. is in a period of reinvention, and the whole world is watching. Frederick John Philip Gibson came up doing behind the scenes work for artists including Ed Sheeran and Rita Ora in the late 2010s, before quickly making a name for himself as a ludicrously speedy sample chopper. Just a few years into his career he's already one of the buzziest DJs in the world, with a sonic formula that uses snippets collected from everyday life to infuse house music with a personable playfulness that can sometimes feel self-consciously goofy. He has leaned into that image, branding himself as the type of artist to indulge in gimmicks like wearing generic Apple earbuds while DJing.
2023 has found Fred again.. soaring to lofty new heights. He headlined Madison Square Garden and Coachella alongside studio collaborators Skrillex and Four Tet, dropped a collection of plaintive piano pieces, and performed a captivating NPR Music Tiny Desk Concert. His new album Secret Life – a partnership with arty rock icon and ambient pioneer Brian Eno – is his most impressive move to date. Eno, of course, has been mentoring artists since the Seventies, producing classic albums by Talking Heads, U2, and others. Here, across 11 tracks, the 74 year old legend coaxes out a more nuanced side of Fred again's sound, highlighting his own vitality in the process.
Secret Life arrives via Four Tet's label Text, and the seasoned English artist took to Twitter to proclaim it, "the most beautiful album of 2023." While this is an overstatement, it is very pretty. On "Radio," warped vocals rest atop shimmering synths and distant piano notes. Opener "I Saw You" is deceptively driving, steadily building until things abruptly trail off into a naturalistic outro. "Enough" is the most commanding song on the record, centered on fabricated orchestral tones that harken back to prime Eno cuts like "An Ending (Ascent)" and "The Plateaux Of Mirror." Secret Life exists adjacent to Eno's signature strain of ethereal noise, but the duo find ways to put a fresh spin on his familiar synth drones and neoclassical composition style.
In an interview with Zane Lowe last year. Eno emphasized the give-and-take nature of his relationship with Fred again.., claiming to have learned from his innovative mentality in the studio. The fruits of their shared labor aren't perfect—one can pinpoint obvious echoes of Overgrown era James Blake on the album, and the prominent use of murky effects often feels like a crutch to distract from undercooked songwriting. But Secret Life is ultimately a strong outlier in each artist's handful of recent releases. The Eno records that have come out in the wake of his standout 2010 LP Small Craft On A Milk Sea have sometimes had a tendency to play like benign soundtracks for chain bookstores, and Fred again.'s hadn't accurately captured his newfound earnestness until now. Secret Life displays a creativity we haven't heard from Eno in years and reinforces that while Fred again.. might be laughing all the way to the bank, he isn't a joke.