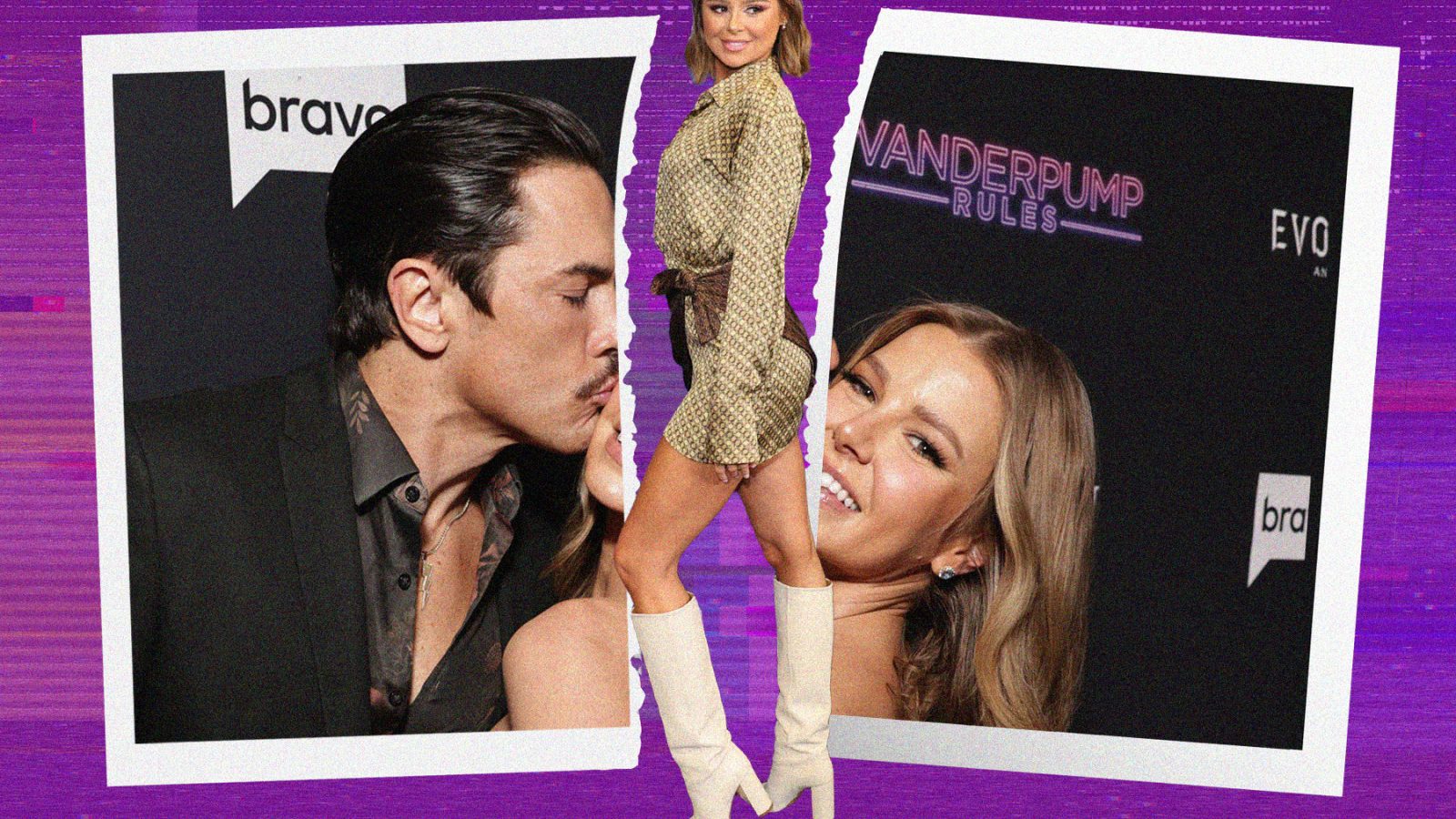 Breaking Down the Earth-Shaking 'Vanderpump Rules' Cheating Scandal
"Where were you when you heard the news?" is a question that normally only applies to the biggest world events. But it's one that fans of Bravo reality show Vanderpump Rules could not stop asking each other over the weekend. "This can't be real?!" they posted in unison, even comparing the story to the JFK assassination and Watergate. 
But it was real — and it was only just beginning. They had no idea how terrible their weekly screen-time reports were about to become.
Related: How to Watch Vanderpump Rules Online
On Friday, reality TV history changed forever when a TMZ article alleged that Tom Sandoval – original cast member of the show and its resident midlife crisis – has been cheating on his long-term girlfriend and co-star Ariana Madix with their co-star and close friend "Raquel" (actual name Rachel) Leviss. 
Soon, more details emerged: further reports have suggested that the affair lasted roughly seven months. Allegedly, the couple wore disguises to go on dates, secretly spent Christmas together, and even had sex while Madix was in the house. The relationship was reportedly discovered when Madix looked on her partner's phone to discover a recording of an explicit video call between them. 
A furious Madix then contacted Leviss, who was filming an episode of Bravo's late-night show Watch What Happens Live with her co-star Scheana Shay in New York. A distraught Shay — a close friend of everyone involved — allegedly punched Leviss after learning about the affair. As the scandal broke, Bravo's cameras sprung into action and began recording the fallout with the cast, with footage that will be added on to the current season.
Why is this such a big deal? For a decade, Sandoval and Madix's relationship has been one of the bedrocks of Vanderpump Rules. In a sea of infidelity, estrangement, divorce, drink-throwing and drunken brawls, they have been a rare constant. So far this season, there has been no suggestion that their relationship was in trouble — quite the opposite, in fact. And not only that, but Leviss is one of Madix's best friends. (Just this week, she gushed about their friendship on a podcast). 
Since 2013, Vanderpump Rules has followed a group of friends and mortal enemies who have all worked at SUR, a West Hollywood restaurant owned by former Real Housewives of Beverly Hills star Lisa Vanderpump. The show is like a much messier version of Below Deck, where the cast continuously fall out, get together and break up in an incestuous web, while matriarch Vanderpump watches the drama unfold (and occasionally stirs the pot). The crucial difference is that a lot of the cast have been on the show for years together, so the relationships and rivalries are deep-rooted and complicated. 
This scandal takes "complicated" to a whole new level. Not only was Leviss recently engaged to James Kennedy, a hot-headed British DJ who has starred in Vanderpump Rules since 2014, but she has also been romantically linked to Sandoval's best friend and business partner Tom Schwartz. In fact, the current season centers on the fallout of Leviss and Schwartz's courtship, because Shwartz is only recently divorced from Katie Maloney, who is another longtime star of the show that Leviss was supposed to be close friends with. (I told you it was incestuous).
Part of the reason why fans are so engaged with this particular story is because it's more relatable than the "big stories" we've seen on Bravo shows recently. On Real Housewives, multi-million dollar fraud accusations and indictments have become the norm. In January 2023, Real Housewives of Salt Lake City star Jen Shah was jailed for six and a half years for masterminding a nationwide telemarketing scam. Her co-star Mary Cosby was also accused of running a religious cult. On RHOBH, Erika Girardi has been embroiled in fraud accusations against her estranged husband Tom, a once-celebrated lawyer who stands accused of swindling tens of millions of dollars from vulnerable clients.
By contrast, "Scandoval" (as it is now officially known) feels like a return to what reality TV does best: interpersonal problems which are exaggerated, but not entirely removed from our own experiences of romance and friendship. It's a good old-fashioned cheating scandal.
When it comes to Vanderpump Rules, specifically, the show has often thrived on the desperation of its cast. Most of them, like Sandoval, were cast on the show in their early late twenties or early thirties. They had dreams of being actors or singers, which they were pursuing when they weren't bartending or waiting tables in mid-tier LA restaurants. With their big dreams slowly fading, they settled for a shot at reality TV fame instead — and their early antics reflected the fact that they didn't have much to lose.
As the years have gone on, though, the drama on the show has become less intense. The cast have grown up. Some of them have gotten married, divorced, and had children. They have beauty brands, podcasts, books, and businesses to their name. From selling sexy foot pics to recording Cameo videos, they've monetized their time in the spotlight. And now, they do have something to lose. 
This is what makes this scandal even more shocking. We've watched Sandoval go from a young-ish bartender who shaved his forehead in Season One, to a leathery-looking frontman of a below-average cover band with a minority stake in two West Hollywood bars. It feels like he should know better, or at least understand that his actions have consequences. But Schwartz and Sandy's — the bar Sandoval co-owns with Schwartz and other partners, which has been endlessly promoted on the show — put out a statement urging fans not to take their anger out on the business amid a spate of review-bombing. Sandoval eventually posted a peculiar statement that didn't mention Madix or offer an apology to her, but did seek to deflect anger from his businesses and Schwartz, who he claimed had no knowledge of the affair. (Needless to say, his clinical damage control has not gone down well).
These statements, alongside the furious reactions of their co-stars, have been dissected by the army of Bravo fan accounts. This isn't the first time that an affair has been a major storyline on the show: the first season of Vanderpump Rules explored former star Jax Taylor cheating on his then-girlfriend Stassi Schroeder in Las Vegas. But back then, there wasn't the organized network of Bravo-focused accounts that we see today.
Now, on social media, a whole other reality show is unfolding between the stars of Vanderpump Rules and their fans. James Kennedy urged his followers to throw tomatoes at Sandoval and on an Instagram Live Lala Kent assured us that she had Madix's permission to "torch" the pair. Accounts like QueensOfBravo, FacesByBravo and BestOfBravo have leapt into full reporting mode, giving fans updates on social media reactions, or trying to confirm various details of the story which have been speculated on pages like DeuxMoi. BravoHistorian's Samantha Bush even created a diagram to unpack the "cluster fuck" of the cast's entangled relationships over the last decade, while Bravo-focused podcasts recorded "emergency" episodes. 
Fan theories about "Scandoval" are running wild too. Did Leviss and Sandoval have matching lightning-bolt necklaces to secretly hint their love for each other? Was Leviss's romantic interest in Schwartz a carefully constructed "decoy" tactic to distract from her true affections? Amid this flood of speculation, Leviss is rumored to have hired a crisis PR manager, while Sandoval's core message seems to be that he and Madix have been on the rocks for some time. Bravo-obsessed accounts are documenting and analyzing all of these developments.
Bravo leaping into action to film the fall-out suggests that the network is moving with the times. It wouldn't make sense to wait until next season to capture this story — by then it would feel like old news. Additional footage was also filmed for the latest season of Real Housewives of Potomac because of major revelations that dropped on social media after production wrapped. Now that the fast pace of social media has the power to make Bravo's output look stale, the network is becoming more flexible in order to give viewers the most up-to-date drama and narrative cohesion. 
Ultimately, this scandal has taken the Bravo-verse by storm because of its core narrative: betrayal. It underlines that nothing brings reality TV fans together more than a villain (or villains) being sensationally unmasked — particularly when the villains in question have tried to craft an image of innocence in front of the cameras, which has now been shattered into smithereens by their actions when filming stopped. And it reminds us how much reality TV owes to other artforms: "Scandoval" is part soap opera, part Shakespeare, and part Greek melodrama. Twists, turns, secrets, backstabbing, sex and lies: it's got it all. 
After ten years of watching the Vanderpump Rules cast make up, break up and (almost) grow up on our screens, fans are clearly very invested in their lives and there is genuine hurt behind the outrage. Judging by their reactions, as they declare themselves #TeamAriana, it's evident that the cast care about each other too. 
For a show that was once drifting toward irrelevance, suddenly it's the only thing Bravo fans can talk about. What happens next in West Hollywood's Shakespearean nightmare? Who knows. But will I be watching every mortifying second of these now-infamous villains getting their comeuppance? Absolutely, for as many episodes as Bravo can make. Now get me Andy and a camera!