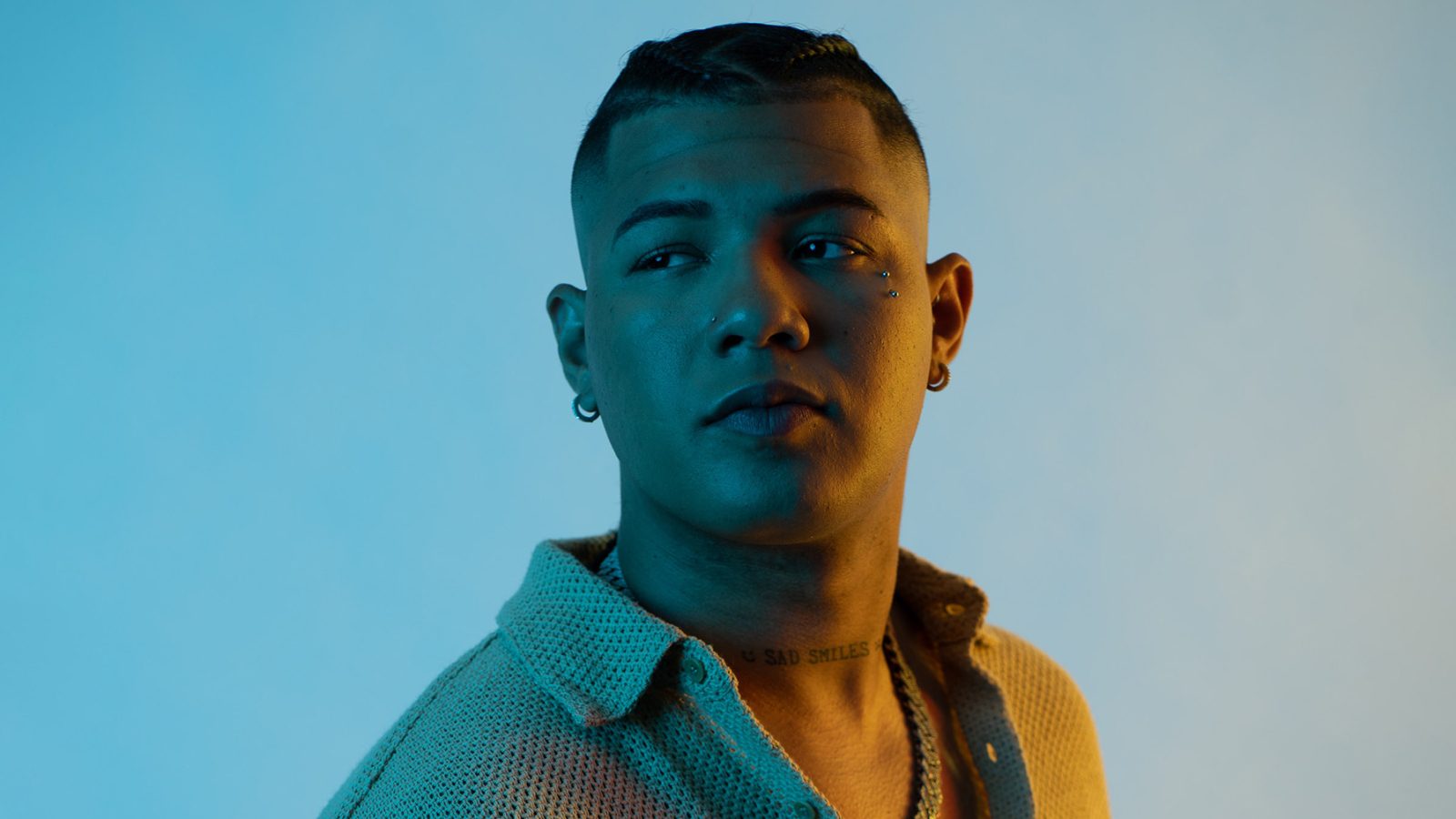 Boza Talks About Finding New Maturity — And Romance — on His Album 'Sin Sol'
Boza is letting love guide his music. Following his two prior releases Mas Negro Que Rojo(2020) and Bucle (2022), the rising Panamanian reggaeton star — whose real name is Humberto Ceballos — Boza poured his energy into a collection of love songs dotted with real-life vignettes and vital lessons, coming up with an emotional new LP called Sin Sol.
"When it comes to music about love, that comes from personal experience and one can say it's an experience I am still living," Boza tells Rolling Stone, calling from Panama, where he's still based. "It's definitely inspired from a person I fell in love with. From start to finish, these songs are real and are based on something true. It's based on how that person made me feel."
That helps explain why Sin Sol feels like a young man's journey through love and life, imbued with new maturity for Boza. It's like seeing an on-going beautiful — occasionally toxic — Instagram story of two lovers navigating the ins-and-outs of their relationship while driving under a gazillion of California palm trees. There's "Que Prefieres" featuring Colombian sensation Beéle, which calls out a flighty lover who leaves the 24 year-old confused about her intentions. And then there's "Pa Que Tu Me Vea," where Boza's voice floats above ethereal beach-beats as he tries to catch a girl's attention, despite the fact that she already has a boyfriend.
This is Boza's world, infused with different feelings hitting his heart like tidal waves. It's a new evolution for the artist, who had been toiling in Panama's music scene for bout four years before his single "Hecha Pa Mi" took off during the COVID-19 pandemic. The song went viral on Tik Tok and soon Boza's star began to rise.
"An artist always thinks big when trying to reach success, but it always comes at the moment you least expect," he says. "My song went viral on a global scale. That was my moment of seeing the light at the end of the tunnel."
He spoke to Rolling Stone about the latest chapter of his artistry and where he sees his music going next.
Reggaeton has roots in Panama, with artists like El General. Now, artists like you and Sech are bringing the genre back to Panama for the world to see. How does that feel?
Reggaeton has a beautiful story — from its trajectory to the many artists that have made what it is today. Most say that here [Panama] is where reggaeton started, then it obviously went to Puerto Rico, where the artists commercialized the music.
Time has passed and now Panamanian artists are getting back in the game with our musical essence Every time we come out with a new beat or style, we bring our Panamanian roots to it. It's nice what's happening to reggaeton because it's merging with other types of music. It's surpassing the simple term of reggaeton to really, a global genre of music. It's beautiful how many genres have united in making music together.
Describe Panamanian culture and how it's influenced your music.
In Panama, apart from reggaeton, we also make dancehall and we put together tropical sounds with Afro-beats. Panama is a country where everyone passes through, it's like having the whole world in one nation. In regards to how we make the music, we do it with so many different sounds.
When we make these different genres, we don't make a commercial sound. Panama is a small country, but we're trying to bring our style to the world. It hasn't been easy, but we're doing it. Sech came out and thank God I am here. In a nutshell, there is a lot of new talent coming from here. We're working hard so that people recognize our sound.
I think my responsibility is to introduce the world to Panama's sound and slang. Obviously, you can say that most of the world knows Puerto Rican and Dominican slang, despite it being very local to each respective island [because] they have made it globally commercial. I'd like to do that for Panama so that people understand what the music is saying that way, they can have a different perspective of it. If I sing a song that's very Panamanian, you might not understand what I am saying until I explain it to you.
Let's go back to the beginning: How did you meet your manager and how did you land a record deal with Sony?
I met him at a barbershop through a close friend. We lived in the same area, but we were living very different lives. He was in the music business, and I was still a young kid. I was all about being with my friends and playing soccer. They told him I sang, and one day my friend and I went to the studio with him. Eventually, we made a song. That was the first time I've ever recorded a song in a professional studio. At the time, I didn't know how to write a song. I didn't know what a hook, chorus or verse was. My producer (now manager) really helped me out with learning how to write a song.
In regard to getting signed at Sony, my producer knew Alberto Gaitan, who is a salsa artist from here. I met him and he believed in my music and everything else we were doing… He opened the door for me to go international and have the world know who I am. It's destiny. When God wants something to happen, he will make it happen. I never thought I'd be an artist, but God decided that's how it was supposed to be.
Why did you name your new album Sin Sol?
I named it Sin Sol because it has music for different parts of the day. There's music to just have fun with in the morning. Then there's music for the sunset part of the day to just vibe out to and relax. And of course, there are those that are made for nighttime.
The overall theme of the album is being in a beach on the water by bonfire, having a great time with a girl or a group of friends. It doesn't matter if its nighttime at the beach because things can still be good.  It also refers to the ocean, which translates to an ocean filled with different emotions.  I wrote the album last year while on tour in Europe. I used some European words on it from different countries, like Spain. I also walked in the beach in Barcelona at night. All of that served as inspiration for me.  
On "Malevola" you mention Rauw Alejandro and his song "2/Catorce," would you like to collaborate with him?
I like Rauw Alejandro and Rosalia's music. He has a style that's true to who he is. I also really like what Rosalia is doing. She is an epic artist what she makes is true art. That's why I used that reference. I also feel like they make a cute couple. I'd love to collaborate with them. They are the type of artists that inspire you as you watch their success and trajectory.
In "Talisman" you mention money's impact in life: "El dinero no es especial todo es superficial/El dinero compra felicidad artificial pero te hace cambiar." What have you learned about success and everything that comes with it?
A lot of people say that money changes a person. When you start having money you get to have things that you've never had. I come from a very poor background, so I know what it's like to not have anything.
It's not that people change once they have money; what changes is how people treat you when you have money. In turn, that change influences how you view them. You start to notice their attitudes and the ways they've changed. There are people whom I thought were my friends, but they were around me because of the money and fame.
At 17, you were incarcerated. How do you think your life would have been different if you hadn't gone to jail?
I don't think I would've matured. People showed their concern and gave me advice on how to stay on the right path, but I was very rebellious. If I hadn't gone to jail, things would have probably turned out a lot worse for me.
At the time I didn't see it that way; I just thought my life was over and went to nothing since I was just starting to get into music. I felt like being in jail held me back. But then as time went by, I started to think a lot about how things can change for me and what I had to lose versus all the things that I could accomplish. In the end, we all learn from our good and bad decisions those things  mold us as a person. I've always felt that every bad or good thing that has happened in my life has been God's purpose and will.
How would you describe your relationship with God?
My relationship with God is very intimate and complex at the same time. I believe a lot in God, but I also know that I'm a sinner. I know I make mistakes. When I pray it feels like when you go to your parents after doing something wrong. But I know he is always there in the moments where I feel afflicted and lonely. I live a very fast paced life and sometimes when I feel stressed, I feel like that's when God is telling me to come to him and pray. When I pray, I express myself and I feel heard and understood. When I ask for something— he gives it to me.
What do you think is the main difference between Boza the artist and Humberto, the person?
I don't think there is much of a difference between Humberto and Boza. Whether it's Humberto or Boza, I am always going to be me. And I am myself in all my songs. I think that's the fun part. A lot of people might perceive me differently when looking at me as just being an artist, but then when they meet me, they see who I really am.