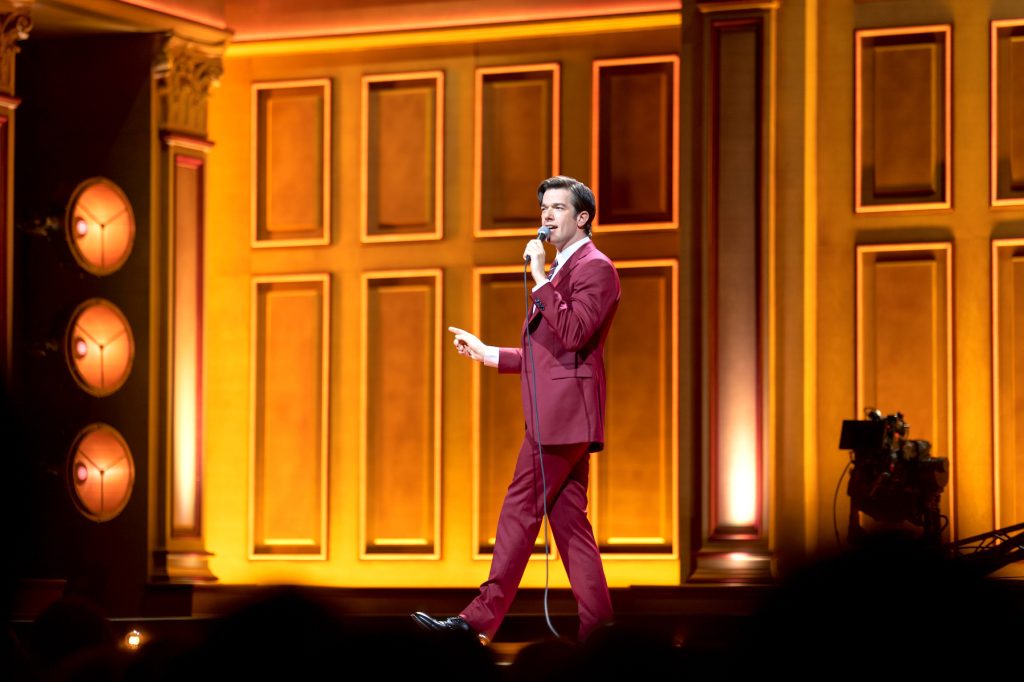 'Baby J': John Mulaney Makes Beautiful Comedy Out of His Addiction Struggles
It's been a turbulent few years for John Mulaney, the former SNL writer and ace stand-up comic. In December of 2020, Mulaney's pals — Seth Meyers, Bill Hader, and Fred Armisen among them — staged an intervention, prompting the comic to check into a rehab facility for addiction to alcohol, cocaine, and prescription drugs. He left two months later, and, in May 2021, announced that he would be separating from his wife of nearly seven years, Annamarie Tendler, who'd been such a fixture in his stand-up sets and social media channels that fans of his had formed parasocial relationships with them. Those admirers' Twitter fingers went into overdrive when, in September 2021, Mulaney and his new partner, the actress Olivia Munn, shared that they were expecting a child together. (He was even investigated by the Secret Service for telling a Trump joke.)
Mulaney, now 40 years old, sober, and healthier-looking, emerged from the sturm and drang with an hour and change of new material that he's brought to the eyes of the world in John Mulaney: Baby J, a wonderfully candid Netflix stand-up special premiering April 25. The title of the special, which was filmed at Boston's Symphony Hall, is a bit deceptive, as the comic mostly steers clear of his relationship change and fatherhood. Rather, the "Baby J" of the title refers to Mulaney's conception of his former, drug-addled self.  
Baby J opens with Mulaney, in an immaculately-tailored maroon suit, treating the audience to a fun little anecdote about how his siblings convinced him he was adopted as a child and that his real mother was murdered by Miss America, before addressing the elephant in the room.
"You know what I mean! We all quarantined! We all went to rehab and we all got divorced and now our rep-u-ta-tion is different!" he sings in his trademark carnival barker voice. "No one knows what to think! Hey ya! All the kids like Bo Burnham more! Because he's currently less problematic… Likability is a jail."
The funniest parts of Baby J aren't Mulaney's childhood recollections, but his droll observations about his addiction, star-studded intervention, and rehab stint — including the reason(s) why he ran late to his own intervention.
"I was two hours late. So, when I got there, everyone was madder at me," jokes Mulaney. "They were like, 'And you're late!' I was like, 'Hey, if you wanted me here on time, you could have texted me: John, we have cocaine. I would have been a half-hour early to help set up chairs."
According to Mulaney, he was running late to his own intervention because, among other things, he'd decided to get a haircut — at SNL, using his old ID, during the first year of the pandemic — prior to grabbing dinner with a college friend.
"At 7 p.m., coked out of my mind, I went up to the eighth floor of 30 Rockefeller Center, walked into the Emmy Award-winning hair department, and I said, 'Hey, can I have a haircut?'" Mulaney recalls. "And they said, 'Oh, John! You're not hosting this week!' And I said, 'Ha! Hey, can I have a haircut?' And you know that thing of when a junkie walks into your office and asks for a haircut and you're like, eh, would be faster to cut the hair? That's what happened."
That same day, Mulaney says he purchased a $12,000 Rolex watch with a credit card and pawned it for $6,000 to buy drugs, because he'd somehow overdrafted on Venmo. Then, armed with a new haircut and a backpack full of drugs, he found himself at the intervention, which he calls "a 'We Are the World' of alternative comedians over the age of forty," with about a dozen people there total (six were Zooming in from LA).  
"I stroll in there… I am cocaine-skinny with a new haircut," remembers Mulaney. "They've all been in heavy quarantine for nine months. They all looked like shit. I was the best-looking person at my intervention by a mile. Everyone there looked like Jerry Garcia."
One of the worst parts about the intervention, Mulaney cracks, is that it was a roomful of top comedians who were deadly serious, since they'd made a pact beforehand not to do any bits.  
"Fred Armisen was serious. Do you know how off-putting that is?" offers Mulaney.
Mulaney admits that he was addicted to cocaine, Adderall, Xanax, Klonopin, and Percocet, or what he calls a "Providence Special." And, once he landed in rehab, they confiscated his drugs, which were hidden in a special part of his winter coat.
Since his good buddy Pete Davidson couldn't make the intervention, owing to his production schedule, he phoned Mulaney as soon as he got to rehab.
"Fun fact about Pete: He changes his cell phone number constantly. I don't know why. That's his journey!" chimes Mulaney.
So, as a bit, Mulaney began saving Pete's number under the names of random celebrities, and it was currently saved under "Al Pacino." When the nurse saw Mulaney had a bunch of missed calls from "Al Pacino," she woke him up to answer. Pete was apparently worried he was "gonna get blamed" for Mulaney's relapse, but Mulaney would like to set the record straight.  
"Some people suggested that [Pete] and I did drugs together, because he has tattoos and I am plain. I never did drugs with Pete," maintains Mulaney. "He's always been very supportive of my sobriety."
With that, Mulaney uncorks one of his best jokes of Baby J, and it has to do with perhaps the least likely subject.
"I was in rehab for two months, from December 18th to February 20th. I was there on January 6th during the insurrection. Wouldn't have happened on my watch!" he exclaims. "Because I would've made sure it didn't. Was there ever an insurrection before I went to rehab? No. Has there been one since I got out? Absolutely not. They wouldn't dare. They know Baby J is back on the streets."
A running theme of Baby J is how Mulaney feels his reputation has taken a hit following his very public trials, but that frankly, he couldn't give a damn. He's already been through hell and back.
"I used to care what everyone thought about me so much. It was all I cared about… and I don't anymore," he says. "And I don't because, I can honestly say, what is somebody gonna do to me that's worse than what I would do to myself? What, are you gonna cancel John Mulaney? I'll kill him. I almost did."
Thank goodness he didn't.