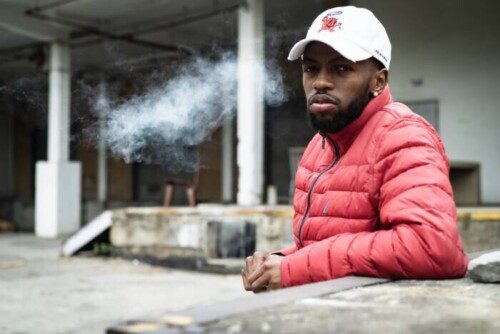 Atlanta Still in The Forefront of Hip-Hop AS JHONNY 1K HEATS UP THE CITY WITH NEW SINGLE 'A LOT'
Jhonny 1k is not just another lit microwave rapper from the south. Every so often a calculated individual walks into the game and surprises the masses around him. Jhonny 1k is every bit of that small percentage of solid artists. Not only is he hard working, but he is also putting in the effort to organically build a real fan base and elevate in his career.  He grew up in Decatur (east Atlanta), with his family. Growing up they moved around a lot in the Decatur, Dekalb County area, so it's hard for him to claim any 1 particular neighborhood. Decatur for the most part was where his stomping grounds were at. Even though the city was very crime infested, he made the best of his home city and loved it nonetheless. Like most young boys growing up in an urban neighborhood he had to avoid the street life and stay productive enough to make something of himself. That is where the love for music came from with Jhonny.
Music is life for Jhonny 1k who mentions it was a very important part of his household growing up. Everyone in his home played a musical instrument as per his mother's demands. 
"Ma' dukes didn't play that. You had to learn to play something if you was going to live in her house."                                                     Jhonny 1k
Jhonny took to the drums and made that his instrument of choice to master growing up. By 10 years old he also began to start rapping and the rest is history. Since a young boy, creating music was his passion in life. Life passed and in present day, Jhonny is a busy artist living in Atlanta and staying productive with his career. Rather he is hitting different stages around the city or in the studio with top DJs like DJ Plugg, this is a solid artist who is putting the work in. Balancing fatherhood with working towards building his foundation in the music industry keeps his hands full around the clock.
Crediting Atlanta legend Ti as a musical influence as well as being a bigger fan of Notorious BIG for his lyrical delivery influences Jhonny's creative energetic style. Jhonny is not afraid to let go with his art. When he takes the stage, he owns it.
"Tip always been cold at spittin', but Biggie was just a different breed with his word play, and the Ready to Die album was the album that changed my whole perspective on rapping."   Jhonny 1k
There are so many challenges with becoming a successful artist in the business. You have to act as your own manager, publicists, assistant, sponsor, and then take the stage to be the star you are. It can sometimes be overwhelming, and it can take a mental toll on you. Despite all the obstacles related to the grind the ARTIST who stays solid and keeps pushing will end up hitting the top of success! For Jhonny 1k that's exactly where he is headed. He is the type of artist who is prepared before he creates. When he's going into the studio, his lyrics, treatment ideas, the concept he wants to create is formulated and ready to build. With this method he can go into the studio and record 4 or 5 tracks easily with substance, and he salutes those who go in off the dome.
Currently his team is pushing his single 'A Lot' out now on all platforms. The song was written, mixed and mastered by Jhonny himself and produced by Torey Montana. It's a street banger for the city to bop to this spring. Listen to A Lot on Spotify Spotify – A Lot
"It gives you that trap vibe to where you can't do nothing but bounce ya whole body to it and pay attention to what I'm saying even if I'm not saying nothing lol."    Jhonny 1k 
He wants the song to resonate with his fans that he is a force to be reckoned with and he's not here to play. This year Jhonny 1k wants to grow his fan base farther and create a bigger buzz for himself. He is always looking to work with new artists and producers so reach out to him on Instagram!
Stream 'A Lot' out now on all platforms
Official Website: https://www.jhonny1k.com/
Apple Music: https://music.apple.com/us/artist/jhonny-1k/1475851473
Spotify: https://open.spotify.com/artist/0aB0O8xn9hYmSe2odETcHd
Follow Jhonny on Instagram J H O N N Y 1 K    (@jhonny1k) • Instagram photos and videos
© 2023, Brxton. All rights reserved.