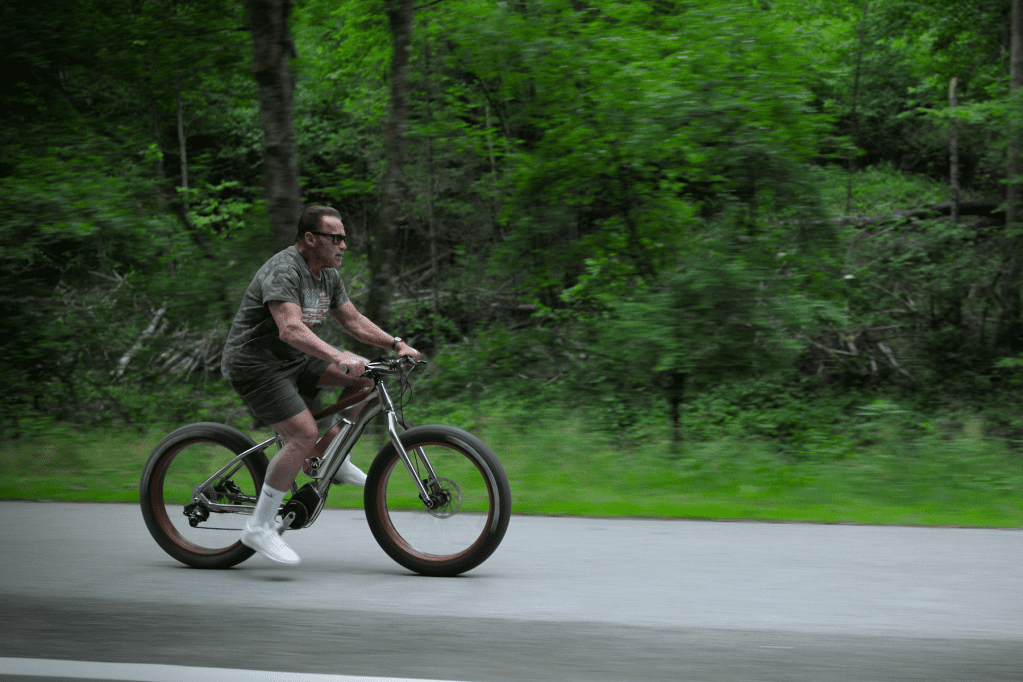 Arnold Schwarzenegger Apologizes for Groping Women in Netflix Docuseries
Arnold Schwarzenegger has gone all-in on Netflix. First came FUBAR, a rollicking action-comedy series where the former Terminator stars as an aging CIA operative who embarks on one last mission with his daughter. And now there's Arnold, a three-part docuseries directed by Lesley Chilcott that explores the 75-year-old icon's journey from Austrian bodybuilder to Hollywood icon and California governor. In the film, Schwarzenegger is joined by pals like director James Cameron, co-stars Danny DeVito and Jamie Lee Curtis, and even his '80s rival Sylvester Stallone.
"He's the most competitive maniac I've ever met," offers one of Schwarzenegger's pals at the start of Arnold.
And it's this psychotic drive (and steroids, which he admits to pumping his body full of) that propelled Schwarzenegger to the top of the Hollywood food chain. There are a number of fun stories in Arnold, which runs around three hours, including how film producer Mike Medavoy initially wanted O.J. Simpson for the role of Terminator and Schwarzenegger as the rebel soldier Kyle Reese in The Terminator. During a meeting with Cameron at an L.A. restaurant, however, the filmmaker became convinced that the hulking former Mr. Universe would be perfect for the role of the time-traveling assassin.
"During our conversation, it became clear that no one was really hooked to O.J. Simpson playing Terminator because he could not be sold as a killing machine," jokes Schwarzenegger.
The aging actor also shares a fun anecdote about wanting to change his celebrated Terminator line to "I will be back" because it sounded more machine-like, only to have Cameron reply, "Are you the writer? Well, then don't tell me how to fucking write."
One of the docuseries' most entertaining sections concerns the heated rivalry between '80s beefcakes Schwarzenegger and Stallone.
"I always need an enemy," Schwarzenegger says, later adding, "Every time he came out with a movie, like Rambo II, I had to figure out a way of now outdoing that." (So, he did Commando.)
Stallone describes their rivalry as akin to "Ali versus Frazier," conceding that he was the underdog who "got my ass kicked constantly," whereas Schwarzenegger typically emerged from his cinematic exploits with barely a scratch. "We were incredibly antagonistic. We couldn't even stand to be in the same room. People had to separate us," Stallone recalls.
"We were competing about everything," Schwarzenegger admits. "The body being ripped and oiled-up. Who is more vicious. Who is more tough. Who uses bigger knives. Who uses bigger guns. Sly and I were at war. Without Stallone, I maybe wouldn't have been as motivated during the '80s to do the kind of movies I did and work as hard as I did."
Then Schwarzenegger decided to get into politics, running in a recall election as a Republican for governor of California — a decision his pal DeVito, a lifelong lefty, calls "absurd" and "ridiculous" in the doc.
Five days before the election, the Los Angeles Times ran an investigative story where six women came forward to accuse Schwarzenegger of groping and humiliating them. As Carla Hall, one of the reporters on the story, explains in the doc, "When Schwarzenegger announced he was running for governor, the staff of the LA Times immediately went into high gear to start looking into stories that we had heard for years, but no one had actually investigated them fully. We had barely six weeks to work on this, and we started talking to women."
The backlash was swift — against the Los Angeles Times. People accused them of "holding" the story until just before the election, even though Hall maintains that that's absurd and the story merely took them that long to report out. Furthermore, Schwarzenegger called the story untrue and attacked the media left and right for "tearing" him down, first vaguely admitting that he's "behaved badly sometimes" and then backstepping and saying the reports were "made-up" and he "never grabbed anyone."
A total of 15 women ultimately came forward to accuse Schwarzenegger of groping them over three decades. In Arnold, Schwarzenegger finally offers a halfway decent apology for his actions.
"My reaction in the beginning, I was kind of… defensive," says Schwarzenegger. "Today, I can look at it and kind of say, it doesn't really matter what time it is. If it's the Muscle Beach days of forty years ago, or today, that this was wrong. It was bullshit. Forget all the excuses, it was wrong."
The story didn't have any effect on the polls, though, and Schwarzenegger surged to victory.  
"Personally, I was surprised that it didn't have more of an effect on the election. I thought that more people would be offended themselves," recounts Hall.
Arnold doesn't really offer a frank assessment of Schwarzenegger's fairly disastrous time in office as California governor, but in addition to getting him to discuss the groping allegation, the filmmakers also ask him about fathering a son, Joseph, with his Guatemalan maid, Mildred Patricia Baena. The news of Schwarzenegger's love child in 2011, who bears a striking resemblance to him, caused his wife Maria Shriver to leave him. (Joseph appears in the docuseries working out alongside Schwarzenegger.)
"The reason why I really feel reluctant talking about it is just because every time I do, it opens up the wounds again. And I… And I think that I have caused enough pain for my family because of my fuck-up," explains Schwarzenegger. "Because everyone had to suffer. Maria had to suffer, the kids had to suffer, Joseph, his mother, everyone. I'm gonna have to live with it the rest of my life. I mean, you know, people will remember my successes, and they will also remember those failures. And it's a major failure. I mean, I have failures in the past, in my career. But like, this? This is like a whole different ballgame; a whole different dimension of failure."
He continues: "As I saw Joseph developing into a fantastic human being, and a fantastic man, he makes me feel proud, and I feel really good about him. It was wrong what I did. But I don't want to make Joseph feel that he's not welcome in this world because he's very much welcome in this world. And I love him. And he's turned out to be an extraordinary young man. I am very happy that, within this sad story, we were able to raise the kids really well."