An 11th Victim Has Died From 'Extensive Injuries' Following Monterey Park Shooting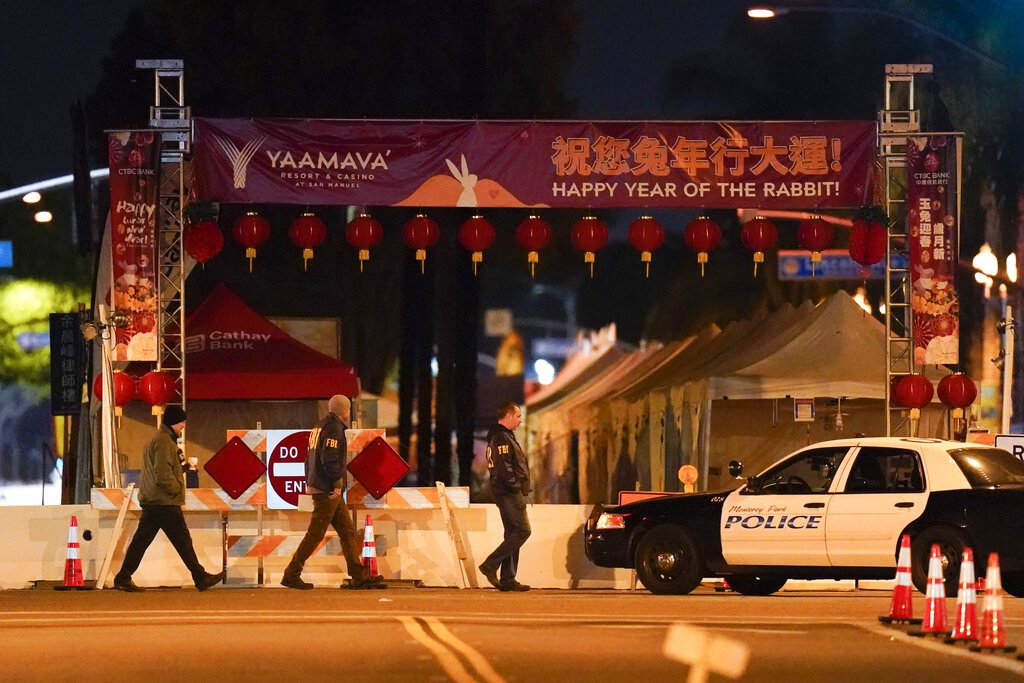 At least 11 people were killed and a dozen more injured in a mass shooting Saturday night at a dance studio in Monterey Park, California, a predominantly Asian community that was celebrating the Lunar New Year. The 11th victim died Monday from "their extensive injuries," according to LAC+USC Medical Center via CBS Los Angeles.
"Of the remaining victims receiving care at LAC+USC Medical Center, one remains in serious condition. The remaining two patients are recovering. Our medical teams are working around the clock to care for them, and we remain hopeful for their complete recoveries," LAC+USC Medical Center CEO Jorge Orozco said in a statement.  
Los Angeles County Sheriff Robert Luna confirmed on Sunday night that the man they found dead in a white cargo van after an hours-long standoff was the person they suspected of carrying out the mass shooting the night before, as CNN reports. Luna said the alleged suspect was found dead from a self-inflicted gunshot wound. The alleged suspect was identified by authorities as Huu Can Tran, 72.
Earlier in the day, law enforcement said they were searching for an Asian man, between 30 and 50 years old. "We need to get his person off the street as soon as possible," Luna said. 
"Officers from the Monterey Park Police Department responded to a local business in the 100 block of West Garvey Avenue in the city of Monterey Park regarding a shots fired call," Capt. Andrew Meyer of the Los Angeles County Sheriff's Department said at a press conference early Sunday morning.
"When officers arrived on scene, they observed numerous individuals, patrons of the location pouring out of the location, screaming. The officers made entry to the location and located additional victims." 
The shooting occurred at approximately 10:22 p.m. local time, roughly 80 minutes after the city's annual Lunar New Year celebration — which draws about 100,000 people to the city of 60,000, 65-percent of whom are Asian — had concluded at 9 p.m.
"We will look at every angle as far as whether it was a hate crime or not. It's just too early in the investigation to know," Meyer added. Police have not yet released the names of the victims (five men and five women, law enforcement later revealed) because they have not been able to identify them. A witness told the Los Angeles Times that the suspect was firing indiscriminately with a long gun.
On Sunday, the Los Angeles Sheriff's Department released photographs of the suspect, who they described as an Asian male between 30 to 50 years old:
Soon after posting pictures of the suspect, police encountered what could be the suspect's white cargo van in Torrance, California. That led to an "tactical incident" and "barricaded suspect situation," Luna said at a Sunday afternoon press conference, with SWAT vehicles boxing in the van in a parking lot to prevent it from moving.
After breaching the vehicle, authorities found the driver dead from a self-inflicted gunshot wound, law enforcement sources told the Los Angeles Times.
"We believe there is a person inside of that vehicle, we don't know their condition," Luna said. "Could it be our suspect? Possibly." Luna added at the time that authorities would not yet name the suspect.
At least 10 people were also sent to area hospitals with injuries sustained during the shooting; their conditions were not detailed by police. As of 9:30 a.m. local time, authorities had canceled the second day of the Lunar New Year celebrations, which had been scheduled to begin at 10 a.m. Sunday.
Law enforcement were also on the scene on Sunday morning at another dance studio in in Alhambra, about two miles north of the Monterey Park shooting.
Luna said a man walked into the studio with a gun but was disarmed by people inside. Luna said at a Sunday afternoon press conference that the two incidents are likely connected, as photos of the suspect came from the Alhambra incident.  
"Our hearts go out to those who lost loved ones tonight in our neighboring city, Monterey Park, where a mass shooting just occurred. Monterey Park is home to one of the largest Asian communities in Los Angeles County and many were out celebrating the Lunar New Year." Los Angeles City Controller Kenneth Mejia wrote on Twitter.
"To have this tragedy occur on Lunar New Year weekend, makes this especially painful," Mayor Sasha Renée Pérez of Alhambra, a city two miles north, tweeted Sunday. "Monterey Park is home to one of the largest #AAPI communities in the country. This is a time when residents should be celebrating with family, friends, and loved ones — not fearing gun violence."
Saturday's mass shooting is California's deadliest since 14 people were killed at a Christmas party in San Bernardino, California in December 2015, an incident that was ultimately deemed a terrorist attack. The Monterey Park mass shooting is also the nation's deadliest since 21 people, including 19 children, were killed in the tragedy at an Uvalde, Texas elementary school in May 2022.
The city's Lunar New Year celebration was scheduled to continue through Sunday, but the event has cancelled following the shooting "out of an abundance of caution and in reverence for the victims," Monterey Park Police Chief Scott Wiese said.
The Los Angeles County Sheriff's Department Homicide Bureau and the FBI are assisting the Monterey Park police department in the investigation in the small city outside of Los Angeles where violent crime is somewhat of a rarity: According to an FBI crime database, Monterey Park had zero murders for the entire year of 2019, the New York Times reported.
This story was updated on Monday at 3:46 PM ET with news of an 11th victim dying. The story was updated on Sunday at 3:35 PM ET with news of the police standoff as well as Los Angeles County Sheriff Robert Luna's afternoon press conference, and again at 8:50 p.m. ET following news of the suspected shooter being found dead by a self-inflicted gunshot wound, according to the sheriff.