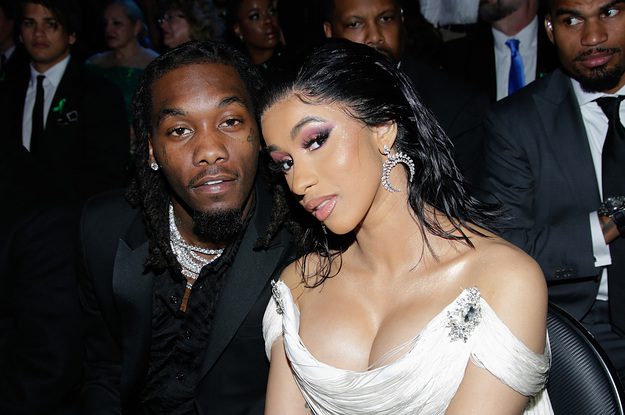 A History Of Cardi B And Offset's Relationship
Date: May 2020
In honor of Mother's Day, Cardi B took to Instagram to show off her luxury gifts from her hubby, including massive floral arrangements and not one, but two Birkin bags. "Thank you papasotee," she captioned the post, referring to her husband. 
Cardi B filed for divorce
Date: Sept 2020
Ahead of their third anniversary, Cardi B called it quits again. In documents obtained by Hollywood Unlocked, Cardi filed for "dissolution of marriage" in Fulton County Superior Court in Georgia. The reason for their split was irreconcilable differences. 
"We're told she wants Offset to have joint custody of Kulture and is determined to have an amicable, co-parenting situation," close sources told TMZ. 
At the time, the rumor was that Offset had once again cheated on Cardi which led to her filing for divorce. Later in the month, Cardi opened up about her decision and claimed it was not due to Offset's betrayal. 
"The reason for my divorce is not because of none of that s–t that ever happened before. It's not because of cheating," she cleared up. "I'm seeing people be like, 'Oh, he has a baby on the way.' That's a whole f–king complete lie. That's the second time people are trying to pin babies over here. No, that's bulls–t. I just got tired of f–king arguing. I got tired of not seeing things eye to eye."
Cardi hinted at a reunion with her estranged husband
Date: October 2021
The Hustlers actress discussed her relationship on Instagram Live, possibly hinting that the two were back together. "When people be saying I be doing sh*t for attention, with this and that, no, I'm just a crazy b*tch," she confessed. "One day I'm happy, the next day I wanna beat a n*gga up … I just be starting to miss [him] … It's hard not to talk to your best friend. It's really hard not to talk to your best friend. And it's really hard to have no d*ck."
The divorce is called off
Date: November 2021 
Cardi B's lawyers officially dismissed the divorce filings, calling off the separation, per TMZ. This news came after the two were spotted together celebrating Cardi B's 28th birthday. The pair packed on the PDA with lap dances and kisses throughout the night. The night ended with Offset's luxury gift to his wife, a Rolls-Royce.
Cardi B announced her second pregnancy at the 2021 BET Awards