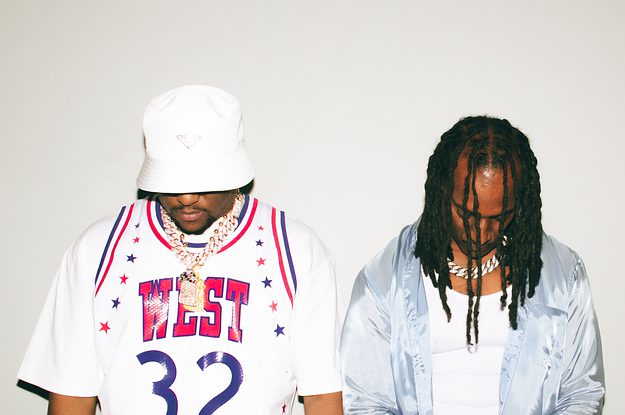 A Hip-Hop Family: Hit-Boy Discusses His Legacy, Working With Nas, And His Father Big Hit's Debut Album
Hit-Boy has maintained his position as a premiere producer in rap over the last several years, and he somehow continues to find a way to better his craft. The West Coast beatmaker struck gold with Nas yet again on their surprise 2023 album, Magic 2, and now his father, Big Hit, is stepping into the rap arena with his own solo album and unique style.  
"I'm versatile, I just go with the flow," Big Hit tells Complex when discussing how he's adapted to the current sound of hip-hop while still remaining true to his '90s roots. "But it's different now because back in the day, everybody wasn't tripping on making no bread instead of creating what they wanted and how they were feeling at that time. Now, niggas are really focused on trying to make hits and rapping about things they aren't living."  
Hip-hop has evolved greatly in the last 50 years, and Hit-Boy has been at the forefront of its metamorphosis thanks to the groundbreaking songs he's produced, including Jay-Z and Kanye West's "Niggas in Paris," Kendrick Lamar's "Backseat Freestyle," Travis Scott and Drake's "Sicko Mode," and several others. But what has taken Hit-Boy's career to the next level over these last few years has been his work with Nas. The duo have teamed up on five albums in the last three years, including their King's Disease trilogy and most recently the sequel to their 2021 album, Magic.
"I'm right with him, I'm going," Hit-Boy says when asked if he and Nas have more projects they want to make. "I'm in that mode. Not even to prove some shit, but it's just like I got so much more to offer the game. And it's just allowed me to be the real producer I want to be."
The freedom that Nas gives Hit-Boy is evident in his work with Big Hit, with whom he shares their tape Surf or Drown Vol. 2, but the elder Hit is also working to be recognized beyond his son's star power.
"[I'm excited] to be recognized as a real artist that gets his respect from spitting, and not just riding on my son's coattail," Big Hit says. "Because he can make anybody sound like that nigga, but I'm really cut like that. [Adding Hit-Boy] is just like icing on the cake, but don't get it fucked up, it's still a bomb cake without the icing."
Now, the father-turned-rapper and his hall-of-fame producer son are teaming up with Amazon Music to host a remix challenge to the Hit-Boy-produced beat of Big Hit's lead single, "Boo Bop," off his upcoming debut studio album, The Truth Is In My Eyes. In a challenge Hit-Boy has hosted himself before, fans will be able to take the "Boo Bop" beat and show off their lyrical ability via TikTok stitch. 
We talked to Hit-Boy and Big Hit about their collaboration with Amazon Music's Hip Hop 50 & Forever for their remix challenge to "Boo Bop," reflecting on some of Hit-Boy's most memorable production moments, working with Nas, and what he has coming this year.
The interview, lightly edited and condensed for clarity, is below.