A Bold New Alt-Rock Scene Is Brewing in Mexico's Noisy, High-Powered Underground
It's not uncommon to hear that rock music is on the way out. Rock enthusiasts have noticed that bands who used to headline festivals are getting demoted down bills or even relegated to the nostalgia circuit, and it often seems like there are few emerging bands ready to take the old guard's place. But anyone feeling pessimistic about rock's future should turn to a rising underground scene, smoldering with exciting bands known for a maelstrom of noise, energy, and future-leaning sonic approaches — and they're exploding out of Mexico. 
Bands such as Margaritas Podridas, El Shirota, Mengers, Austero, Sgt. Papers, Mint Field, Belafonte Sensacional, Diles Que No Me Maten, and others are making some of the most inspired music at the moment, getting airplay at stations in the U.S., such as KEXP. Some of these bands have recorded with legends such as Steve Albini and Jack Endino, and labels like Sub Pop and Suicide Squeeze are releasing their music. Others have been playing at festivals like HOCO in Tucson, Ruido Fest in Chicago, and Freakout Fest in Seattle, showing the world with every set that the future of guitar rock is raging in Spanish. 
"I don't think anybody would have guessed that [Mexican] bands constantly touring in the United States would be a reality," says Ignacio Gomez of El Shirota, a band from the outskirts of Mexico City who play noisy yet melodic rock with nods to the Nineties. "It's great that young people are finding a way to share their music with many people in as many cities as possible."
Rock music in Mexico first broke in the early Sixties with clean-cut groups like Teen Tops, Los Locos Del Ritmo, Los Rebeldes Del Rock, Los Camisas Negras, and others who mostly sang Spanish versions of hits  by icons like Elvis Presley and Little Richard. Later in the decade, a full-on hippie revolution dominated the scene, thanks to bands like Three Souls In My Mind, Los Dug Dugs, and La Revolución de Emiliano Zapata. The genre's momentum was nearly quashed in 1971, when the counterculture spirit of the historic Avandaro Rock Festival led to such a moral panic that the Mexican government did its best to stifle rock's popularity. Despite that, a new generation of bands — along with acts from Spain and Argentina — ushered the Rock En Tu Idioma movement to greater commercial success around the mid-Eighties. Caifanes, Maná, Café Tacvba, Maldita Vecindad, Molotov, and dozens of others came to define Mexican rock for a few generations, but by the end of the millennium, many newer bands were relegated to the underground.
And while many Mexican rock bands tour the world — Maná is one of the highest-grossing live bands on the planet — few have made inroads to the international stage. The U.S. and the UK have historically dominated the rock conversation, and it's been dispiriting how little acceptance there has been for Mexican bands in the United States in the past. Luckily, that's all changing now.
The current wave of alt-rock bands hail from different cities in Mexico. Each has a distinctive style, yet they consider themselves part of the same scene. "I think everything has come out in a very natural way," says Carlos Calderon of Mengers, a young Mexico City band whose latest album i/O was one of the most lauded of 2022 because of its hard-driving, punk-infused style. "We'd look for a gig and then another and another and all of a sudden we realize there were a bunch of bands playing together. It felt pretty unique." 
This scene has started to make waves outside the confines of their country, thanks to their enthusiasm and originality. "I remember when I first saw El Shirota live, I thought they were the best rock band in the world right now," says Albina Cabrera, Latin American Content Producer at Seattle's independent radio station KEXP as well as co-host of the show El Sonido. "[I realized that] there was a scene that is happening in tandem with the rest of Latin America, both with important messages within their songs. Mexican bands just had more rage to them."
The rise of these groups can be attributed to several factors: Some band members actually credit reggaeton, saying the genre played a role in audiences finding them. "I think reggaeton and trap have made it possible for people to get used to listening to music in Spanish," explains Carolina Enriquez, vocalist and bassist for Hermosillo, Sonora's Margaritas Podridas. "I think that's how people can listen to rock in Spanish and eventually this sound can become part of the mainstream — at least, that's something I want to aspire to."
"Whenever there's something happening in the mainstream, someone will try to come up with an alternative. They feed each other without being aware of it," adds Cabrera, who played many of these bands on U.S. radio for the first time and helped them secure live sessions. "Changes in the industries will bring something more interesting."
Enriquez also credits the internet with her band's success, and, like others, notes that a digitally connected world has allowed bands to break away from media capitals like Mexico City and Monterrey. "I think being from Chihuahua made us feel like we were too far away from everything," says Rafael Ruiz of Austero, a trio who play skronky and sludgy rock and whose latest album was recorded by Albini at his Electrical Audio studios in Chicago. "Now the internet has broken borders and people can check out our music in other places. It's great to know that we can be part of this new movement even from our corner of the country." 
Despite new trends, bands are building their audiences the old-fashioned way: by putting on a hell of a live show. "I think the fact that we have a lot of energy, we have a potent sound, and people can sing along to our songs is what has made us stand out," says Enriquez, whose Margaritas Podridas have a sound that's influenced as much by grunge as shoegaze and punk. 
Part of the industry in the U.S. has taken note and helped these bands along the way. In addition to Austero's association with Albini, Margaritas Podridas have worked with long-running indie Suicide Squeeze and will be part of Sub Pop's 2023 Singles Club, the legendary run of one-off releases that has previously featured Nirvana, Sonic Youth, and The Jesus and Mary Chain, among dozens of others. Another key behind-the-scenes player has been Devil In The Woods. Founded in the late-90s by Mike Cloward in Modesto, California, the label found a new purpose when Cloward heard El Shirota and offered to release their Tiempos Raros album. Since then, Devil In The Woods has put out albums by such bands as Mengers, Sgt. Papers, Los Blenders, Marion Raw, Silver Rose, and others, as well as compilations featuring more Mexican talent.
"With total confidence, I can tell you that any band on our roster can be heard anywhere in the world. These bands are not just confined to the small rock en español niche or Latin rock or whatever," says Carla Sariñana, label manager at Devil In The Woods who also records as Silver Rose and plays bass in Ruido Rosa. "The bands we have on our roster can build an audience anywhere in the world and that can be accepted by audiences in the United States. We have a mission to internationalize these bands while also building their audiences at home."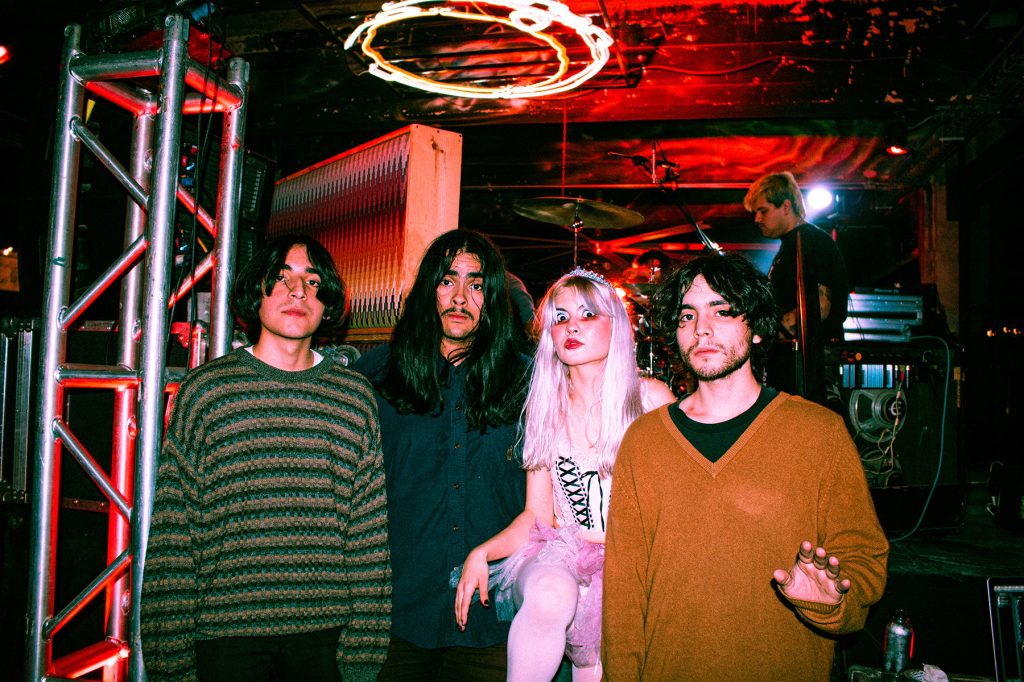 This comes with a whole bunch of obstacles. Playing live shows might be the best way to win fans but setting up a tour from Mexico can be tricky, not to mention costly. "You have to strategize and really think it through," says Enriquez. "Everything is very expensive, gas, lodging, food. I think getting invited to a festival with a good fee and then adding some dates around it, that's the easiest way to do it." 
"We plan our tour to the point where every member of the band has worked and saved enough money so that touring doesn't become a strain," adds Gomez of El Shirota. "None of us are rich so it's always a bit of a gamble to go out there."
Still, the new generation is offering something vital that can't be found anywhere else. While there's no lack of great guitar music, this wave of Mexican alt-rock bands are bringing a sincere take on music with nods to the past without recreating genre tropes. Such an approach bodes well for them and could lead to an even  bigger movement. "There's a difference between wanting to be something and being something," says Gomez. "I think there was an era where a lot of people wanted to be a lot of things, either bands or promoters or whatever, and now we're doing things by any means necessary. We're making our own reality. We're a bunch of bands who haven't given up and are making things happen."
These bands are also changing the genre from the inside: "Personally, I'm very excited to see girls raging with guitars," says Cabrera. "I love seeing them rocking out, like Margaritas Podridas or Vondré. When audiences grow up with bands like that, they make better generations." 
For all of these artists, it's time for something new and they are ready to take charge. "We used to see bands from other countries and we would be very intimidated by them," says Mengers' drummer Pablo Calderón. "Now I think we have what it takes to play in their league, even win on their own turf."